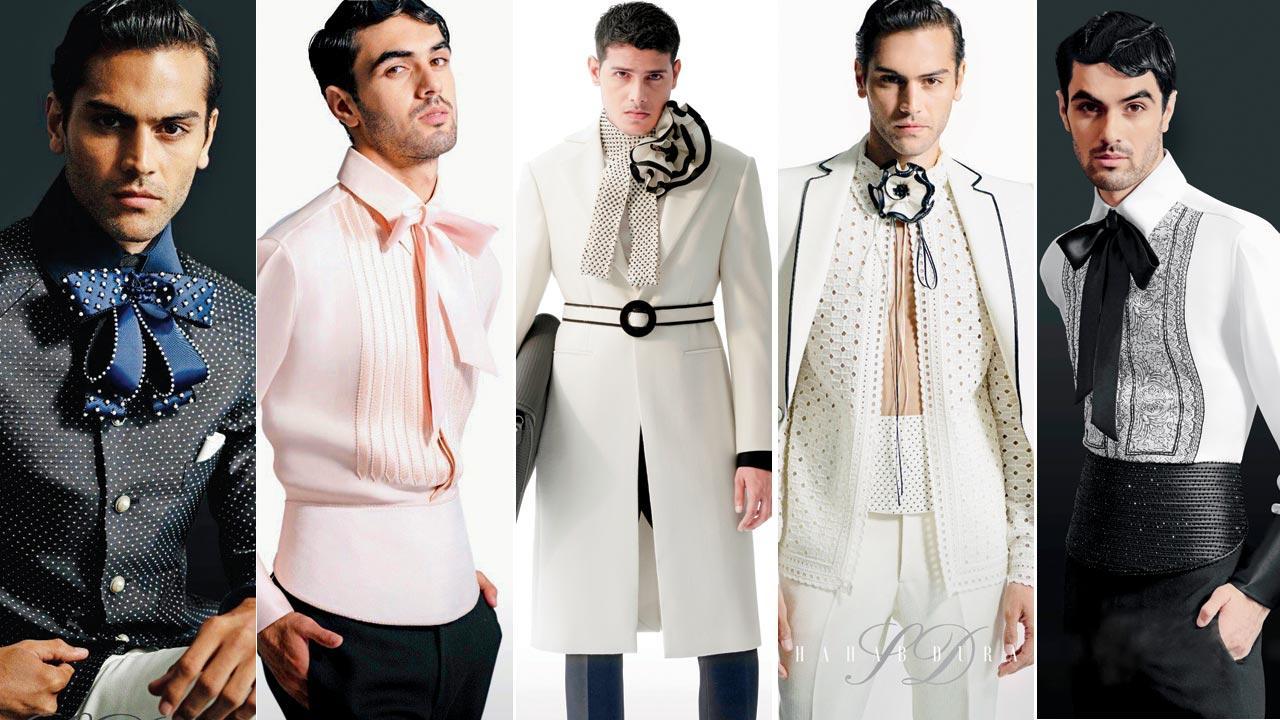 Shahab Durazi, how have you changed. Over the years, you've been luxurious but a bit cool and caramel. But now, you are free, young, cool.
These are the immediate feelings we get when we look at the couturier's first gender-neutral collection, titled Fine & Dandy, which was recently unveiled on social media. It comes at an interesting moment in the cultural timeline of Indian fashion, marked by greater awareness and discussion of gender identity.
Answering the question of who wears the pants at the moment, Durazi thinks, both.
"It was a challenge to strike a balance between elements that are neither too masculine nor feminine, neuter nor bisexual," says Durazzi, who is creating the couture collection. "I've designed gender specific, conservative classics but this is my first gender-fluid collection. I think I've got the right vibe," said the couturier, who launched her namesake brand in Mumbai in 1988.
Shahab Durazi
And that vibe is far from subtle. It's in clothing, but also in attitude: enthusiasm, unattainable regalia, and the perception of the other. There are some interesting historical cross-references to the English dandy, such as the tight stand-up collar and elaborately tied neck and bow ties; Claiming a feminist solidarity with an almost cat-bow necktie.
Would "real" men wear pearl-and-beaded bow ties? Durazzi, 59, makes no effort to hide his "minor" concern. "That's why I've shied away from making it overly flamboyant. I hope men dare to turn their necks." He says the bow tie and neckerchief are detachable pieces.
Durazi is seen in person in straight-edged and solid-height polo shirts and trousers almost every time he makes a rare social presence. Would he wear a lacy bow tie from Fine & Dandy? "Certainly, if there is an opportunity," he says with a laugh.
Photographed by Rafiq Saeed, the 46 Roop reflects the designer's ever-evolving eye, his wit, a distillation of rich experience and his knowledge of line and proportion. "I used the two lockdowns to completely redesign my paper patterns for western wear," he says. Although the campaign is shot with a cast of male models ("due to logistics"), Durazi reasons that tailored clothing preferences are the same for women of all ages. The main styles in the collection—large chest, round shoulders and narrow waist—are cut for both men and women. "It's just clever pattern cutting," he says.
He produces wild wardrobe variations, with short-cut bolero jackets with narrow, rounded shoulders to resemble ribbed knitwear, and raglan-sleeve bandhgalas; Wrists linked to Netflix's Peaky Blinders, Downton Abbey and Bridgeton in terms of pearl, Swarovski and laser-cut lace details and style. Her models dressed in satin and organza and wore embroidered waistbands and skirts as ironic a detail on tailored trousers. "It's a twist on the kurta-layered-bottom-jacket pairing. Men often complain of a kurta being cumbersome, so it's replaced with a fitted skirt. It teases the illusion of a kurta while taking away the weight of the extra fabric." It is," Durazi explains.
An interplay of feminine and masculine modes, washed in shades of monochrome, navy, rose-pink and camel, keeps things exciting as Durazi focuses on the four accent points; Waist, wrist, shoulder and neckline instead of hemline. "Apart from the skinny trousers and underpants versions, the bottom half is pretty conservative," he admits.
Soft-spoken and polite to a fault, Durazi is delightful company during this telephonic interview. Their answers seem to be succinctly reasoned and are usually preceded by long pauses. But this is not the case when asked about the current male fashion landscape. "I am tired of seeing the sherwani covered in embroidery. Why is men's fashion limited to wedding dresses in India? While everyone's narrative is different, a designer's job consists of talking about the ideas, technology, and aesthetic they want to promote. Embroidery or embellishment is the craft language of the artisans, not of the designers."
Is he wondering if this collection will sell? "I am wandering not for the market but for my sensibilities. When I started working on the collection, I wanted to do it for my own creativity."