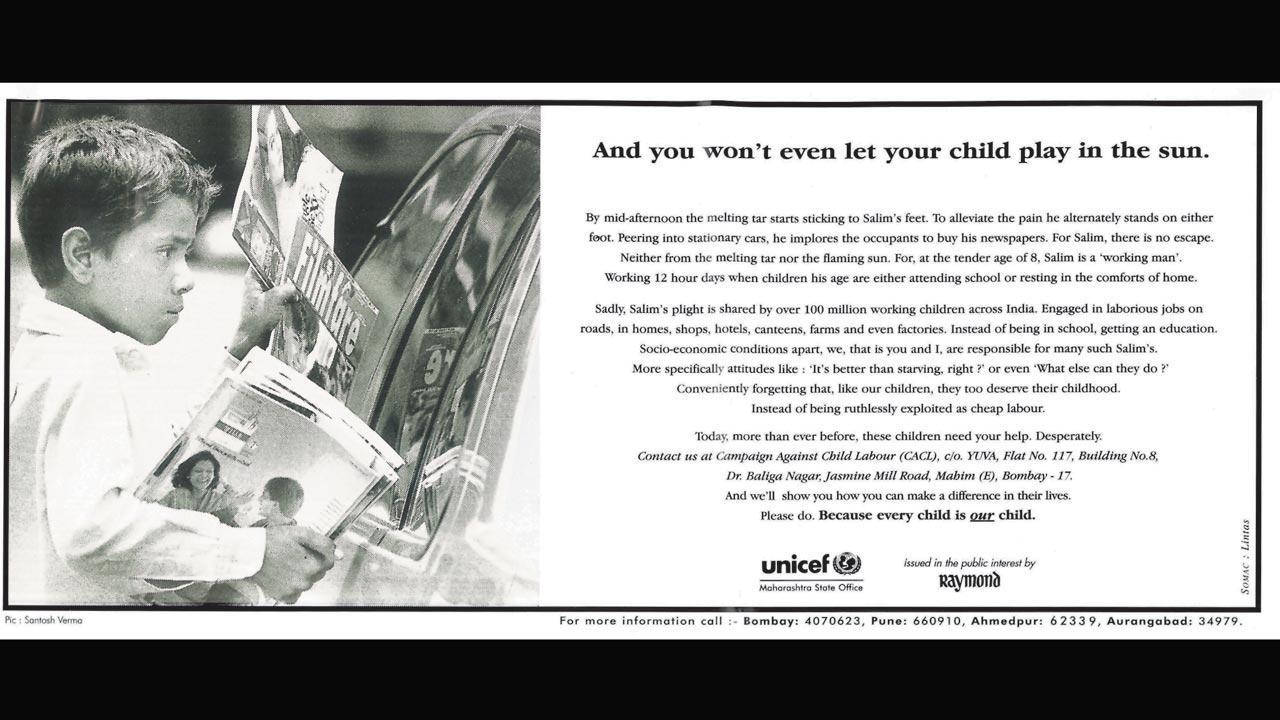 The origins of SOMAC resulted in unprecedented and far-reaching support for concerns across the country. Fully harnessing and expanding the power of communication for public service advertising, its long-running campaigns changed the lives of thousands of people, across India.
The NGO and donor community saw value in knowledgeable professionals finding effective solutions to social causes. Although never an inspiration, SOMAC won the Global Award at the New York Festival Advertising Awards and the first prize from the Association of Business Communicators of India.
Former collaborators recreate lessons learned from that memorable early era of public service communication from the 13th-floor Express Towers office at Nariman Point, where it all began.
Why was Somac unique and how did you get involved?
GK: Before SOMAC became a specialized department within Lintas, Alyque Padamsee created a number of Public Service Advertisements (PSAs). Tara Sabavala worked with him on an HIV and AIDS program of the Government of Maharashtra. SOMAC was a natural progression, specifically handling communications for the development sector – becoming a full-fledged division offering professional communication strategy and media planning to national and international NGOs, and community-based groups that want to make a difference. Huh. Tara left as the head of Concern India. After I joined, SOMAC was "official".
TS: I was part of the Lintas Public Service work from 1989 to 1992, before which SOMAC was an independent entity. Alik was already providing 30-second films on topics ranging from dowry to the dangers of tobacco for TV channels and cinemas. Lintas personnel from the creative and customer service teams had the opportunity to volunteer volunteering for NGOs coming to us for communication materials. Alik demonstrated that you can serve the nation from wherever you are, with the same skill set that you will use to grow at your workplace.
No: I worked in the 1990s with an HIV prevention program focused on Kamathipura sex workers. We have created a SOMAC campaign with the government, providing and disseminating accurate information on a large scale.
Vice Chancellor: When I joined SOMAC in 1994, what stood out was that one advertising agency invested in a team dedicated to communicating social issues that no other agency had.
Gulan Kriplani, Radical Transformational Leadership Practitioner-Coach; Tara Sabavala, social development professional; Varsha Chavda, Behavior Change Communication and Brand Planning Strategist; CY Gopinath, writer, filmmaker, cook, nomad; Nandini Oommen, Global Health Expert and Founder-CEO, The Women Storytelling Salon and Parveen Verma, Growth Sector Consultant

How was this PSA answered at the time?
TS: Persuasion is often required for participation. I remember meetings with the editor of the Indian Express to run the Cause and Concern series, a well-researched article on education and population. There was no budget. If the media did this for free, then we created a campaign.
GK: We were a huge asset to fledgling initiatives that were trying to appear, simply unable to afford paying agencies. Most of the NGOs hardly have money to spend on any kind of communication.
No: AIDS was not recognized as a public health problem in India until the late 80s. The biggest challenge was a campaign communicating everyone's risk of becoming infected with HIV. We had to destroy it. Initially, many acted as if it was a foreign problem or thought gay men, sex workers and drug users alone were at risk. We created a campaign that didn't scare but raise awareness about HIV transmission.
CYG: PSA advertising was heavily funded internally. We worked on a low budget, excited to come up with great ideas without costing a bomb. There was no push for systematic evaluation or measurable, monitorable action. When the work was collaborative with NGOs, metrics of feedback and impact were usually built into the project. A single LINTAS/SOMAC intervention can be part of a larger plan.
PV: Exposure to PSA left an indelible mark, deeply influencing career and life choices like mine. Lintas gave birth to social communication as a discipline in India. The first batch of Sumit Roy's apprentices, we expected to hear the success stories of Alyk- the famous Lalitaji and Liril campaigns. Unexpected as ever, he shared public service films produced by Lintas, diligent pieces of communication that changed hearts and minds.
What were SOMAC's outstanding campaigns?
TS: Our campaign against amniocentesis for sex determination was instrumental in banning the practice in the state. We also ran a question-and-answer column with Indira Jaising and Lawyers Collective, inviting questions from women and providing guidance on using the law to exercise their rights. Although it was in English, we were flooded with mail from across the country in every conceivable language. Our HIV campaign for the Government of Maharashtra addressed misinformation and stigma. This was before SOMAC was formed as a unit.
GK: The largest was for DFID (Department of International Development) in collaboration with NACO (National AIDS Control Organization). We designed and built the "Healthy Highway" campaign with the aim of preventing AIDS among truck drivers and sex workers. It covered every state, with over 40 NGOs constantly in touch with truckers on the highways.
Nationwide, outreach workers interacted with drivers at dhaba rest stops and sex workers in brothels. Multilingual content—mobile photo exhibitions (a Somac invention that includes blow-up photos, real locations, actors, dialogue in word bubbles), movies, flip charts, booklets, audio tapes, condom boxes, bumper stickers, posters, flyers—have arrived . Transport company managers, STD doctors on highways, wives of truckers, dhaba and bar owners. We best trained workers to use less time with drivers to emphasize the importance of safety.
What we did with PSI (Population Services International) was unconventional and innovative. Visiting brothels, we talked to sex workers about condoms, did various infotainment programs including popular dances on specially created platforms in Kamathipura. John Matthew Mathen's film Bodyguard was a huge hit for us. We gave free passes to sex workers, their clients and touts.
Another influential collaboration was with the Campaign Against Child Labor (CACL) and UNICEF. A corporate partner paid for the media release. Hundreds of directly affected laborers were taken off the streets and put in schools.
CYG: I was involved in a movie-hall intervention where sex workers were given tickets to favorite clients. The film paused before a song or dance and a theater skit on HIV survival skills would be performed. We wrote the script for Champadevi, a dynamic sex worker character who becomes his mascot.
No: The AIDS campaign was my first encounter with the public sector in a project that productively maximized private-public partnerships. SOMAC could not have implemented state-wide public health communication without DHS (Directorate of Health Services), Maharashtra, and DHS could not design a mass media campaign without SOMAC content and copy.
Vice Chancellor: "Will Balbir Pasha have AIDS?" One of Lintas' most impressive pan-India campaigns. That experience is rooted in our ethos of communication based on real consumer insights. Balbir pasha became a phrase and Harvard Business School case study brand builders refer to it today.
"Help a Child Reach 5" was promoted throughout India, Indonesia and Kenya, winning the Cannes Gold and Effie's Award. It supported Lifebuoy's mission to change children's hand-washing behavior, thereby preventing under-5 diarrheal deaths. Our 4-year leprosy campaign for the Ministry of Health helped eradicate this disease.
What other aspects of this journey have been gratifying?
No: It was an exciting time in India as the issue of public health began to appear as various organizations worked on HIV prevention. Each played a role in the response to HIV in Bombay – raising awareness, advocating for rights, delivering real programs to communities. No single institution can deal with public health, partnership between different bodies is important.
Vice Chancellor: I divided my 25 years in Somac/Lintas into the pre and post Balbir Pasha eras. The funny thing is how your recommendations matter once you have a campaign like this. Sarkari Babu, notorious for boring communication, was ready to move out of his safe zones. I do not differentiate between brand and cause advertising. SOMAC effectively used brand advertising tools in social campaigns.
PV: Many of us moved from corporate to social because Gerson da Cunha and Alik saw Lintas as something much more than an advertising company. I worked for relief in riots, bomb blasts and fires. The mission brought people together to celebrate their differences rather than be separated by them. How do we miss this kind of approach and leadership in endeavors at present.
CYG: As far as I can tell, public service advertising now covers more topics, from COVID safety and climate change to waking up, racism, white supremacy, the importance of embracing and disease prevention.
GK: We spent time understanding the issues, listening to those affected, striving for holistic communication, nurturing an enabling environment for change. The monthly themed messages on our Babulnath hoardings contain a contact number for people to connect with a relevant NGO, volunteer for it.
After the horrific violence of 1993, we worked with NGOs, CBOs, Educational Institutions, Sheriff's Office on "Hands of Harmony" stretching from Colaba to Mulund. Citizens scared to leave the house for weeks also formed a human chain. That incident apparently helped start some healing.
TS: Alik gave us a certain rigor that isn't limited to media campaigns. After the Babri Masjid demolition, we organized a public meeting to spread hatred and fear. Alik shows by example how to "do," not as a silent observer of what needs to change.
Writer-publisher Mehr Marfatia writes fortnightly on everything that makes her love Mumbai and love Bombay. You can contact her at meher.marfatia@mid-day.com/www.meher marfatia.com