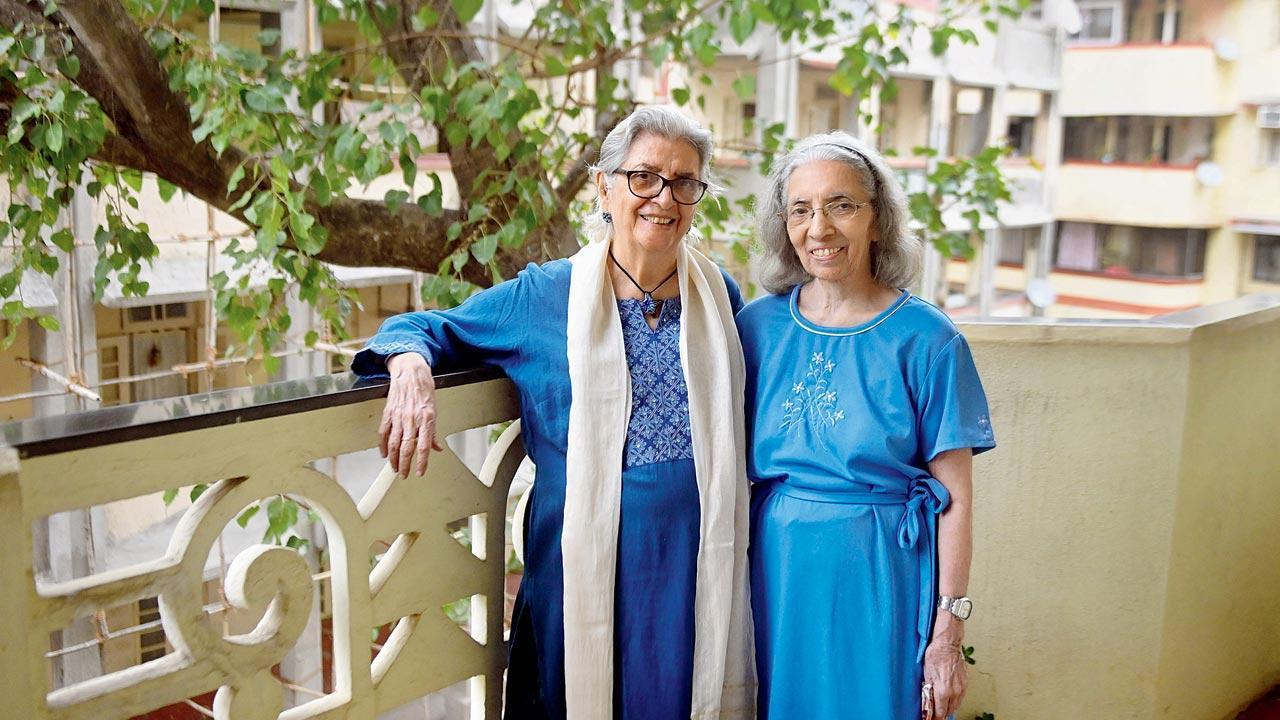 Rati Wadia, 80, teacher and former principal
Dinu Damania, 80, housewife
Meeting almost daily for over seven decades is extraordinary by any standard. These two friends take turns doing the same thing between facing blocks G1 and D12-A at Shapur Bagh on Grant Road.
Rati Wadia and Dinu Damania on the Block G1 balcony of Shapur Bagh in 2022 and 1963; (right) at the Queen Mary School, 1957
Octogenarians Rati Wadia and Dinu Damania grew up in their neighborhoods rich in local and community history since the 1940s.
The conversation is further heated by cups of "phudna ni choy" – a mint tea flavored with lemon grass, best flavored by Parsis. Rati, the renowned teacher and principal of Queen Mary School, continues to replenish, who continues to share the joys of Shakespeare with young Bombayans.
Rati Wadia: Our family bond consists of three generations. We have put everything together starting from New Model Infant School and Queen Mary School (QMS). Even today, at the age of 80, we eat together every evening in houses opposite the colony.
By the 1970s, Shapur Bagh offered wonderful recreational activities. Then popular plays cast men for the roles of women. My father Dara participated in the game. He belonged to a small Parsi musical group in Grant Road. We were reunited with the exclusive songs, "Papri e papeta sathe kidha lagaan" and "Soonmai Lamba, Mallya Mane Samba, Hata Bau Kamna…".
Dinu Damania: We really enjoyed those traditional leelas and hand-playing with rhyming chants like "Tuj-Khallu-Pejun-Savak" and "Kakaryo Kumar". Running through homework, we descended to play Eye Spy and sail paper boats in the water channels on the side of the buildings. We roller-skated, walked the compound on stilts, and played a lot of music throughout the day during the holidays.
Dara Vania, Rati's father, in the role of a woman for a colony play, 1949
RW: Our colony has produced great creative artists, including dancer Astad Debu and violinist Silu Panthaki, who performed with Yehudi Menuhin.

dd: My husband's family settled here early. A month before the war broke out on September 3, from August 1, 1939, Shapur Bagh—probably the first Parsi colony equipped with lifts in buildings—welcomed residents.

RW: Life is centered around QMS, Bag and next door Aslaji Agiari from the 1860s. Our parents were very close- Me, Vaniya from Surat and Dinu from Karachi. They became each other's pillars of strength. Just as I am talkative and Dinu is a listener, my mother Frenny plans picnics and fun fairs with her mother Naju Aunty offering quiet support.

dd: My father Noshir Dubash was the Honorary Treasurer of Parsi General Hospital. Franny Auntie also used to accompany us on outings and set our hair in curlers.

RW: The mother gathered Dinu and her sister Julie, along with me and my sisters Parviz and Heera, as well as many other garden children, to tell wonderful stories of Zarathustra and the Shahnameh, Krishna and Jesus. I have inherited his immense love for mythology and poetry.

dd: In school we were foursome with Sohini Kapadia and Sunita Mohinder. Rati's strength was English, my maths. Franny Aunty spoiled us a lot while studying, so we waited for the exam, never scared of them. She'd serve delicious french fries and paper-thin potato-cheese sandwiches at midnight as we prepared for the morning paper.

RW: Coming from the UK as a breath of fresh air, our principal, Betty Shelton, brilliantly designed the new QMS, from its entry steps and auditorium to the corner rooms and storage spaces. He introduced physics-chemistry-biology as subjects instead of physiology and hygiene. Dinu and I helped him convert the lab for it.

dd: The boys at Wilson College teased us for dressing alike! On the first day, we joined a student procession to protest the suspension of a professor and demanded the removal of the Vice-Chancellor of the university.
RW: That incident attracted me to activism. Dinu married labor lawyer Firoz Damania. Both of us husbands were self-made men.
Mine, dad, was a chemist, a true companion and soulmate with Siba Gigi, who let me focus entirely on QMS. He completed me completely like Firoz did Dinu.

dd: We got married after doing BA in economics. Firoz fought worthy cases free of charge with unshakable faith and honesty. Fond of classical music, he bought new audio equipment as soon as a certain technology hit the market. I learned piano while completing Trinity College certification by grade 8. I remember repeatedly practicing the Turkish March and The Maiden's Prayer.

RW: After graduating in English Honors, I kept hearing Miss Shelton's words in my ears: "Come back Rati. The torch should go on. "I started teaching at QMS at the age of 22 and continued for 36 years, retiring as principal in 2000.
I had complete faith in my girls. Queen Mariannes are overall honest, exemplary women who are making their mark in the society. I have given them confidence in one of Keats' favorite lines: "Beauty is truth, true beauty – that is what you know on earth and all you need to know."
I married in 1969, four years after Dinu. We went on a family trip to Matheran, Nainital and Nashik to Sai Baba's ashrams. Our children came and went to each other's homes the same way we had, celebrating individual occasions and feasts like Navroz. Dinu was a beautiful housewife and excellent cook. The kids loved his Chicken Steak, Prawn Curry and Chinese Fried Rice.

dd: Of course, not everything matches. Our food tastes completely different. Rati can happily survive on bread-butter-jam, cottage cheese and eggs. I hate butter and eggs. My weakness is a sweet tooth.

RW: Ha-ha yes. Deenu is very practical but has a stubborn nature.

dd: Closer than sisters, we wouldn't hesitate to say anything to each other. Such openness is not possible even with one's own daughter or sister.

RW: Despite health issues, she is brave and always cheerful. The most important thing is to maintain morale. We had a great time in my flat when it was being renovated recently. This new year she insisted that we dress up and take pictures. The children were away. I had a sleepover in his house.

dd: Life is uncertain. Sukh-Dukh Na Vakht Ma Saathi – Sharing the good and bad times – we realize how blessed it is to be together daily at this stage of our lives.
Writer-publisher Mehr Marfatia writes monthly on the friendship of the city. You can contact her at meher.marfatia@mid-day.com/www.meher marfatia.com