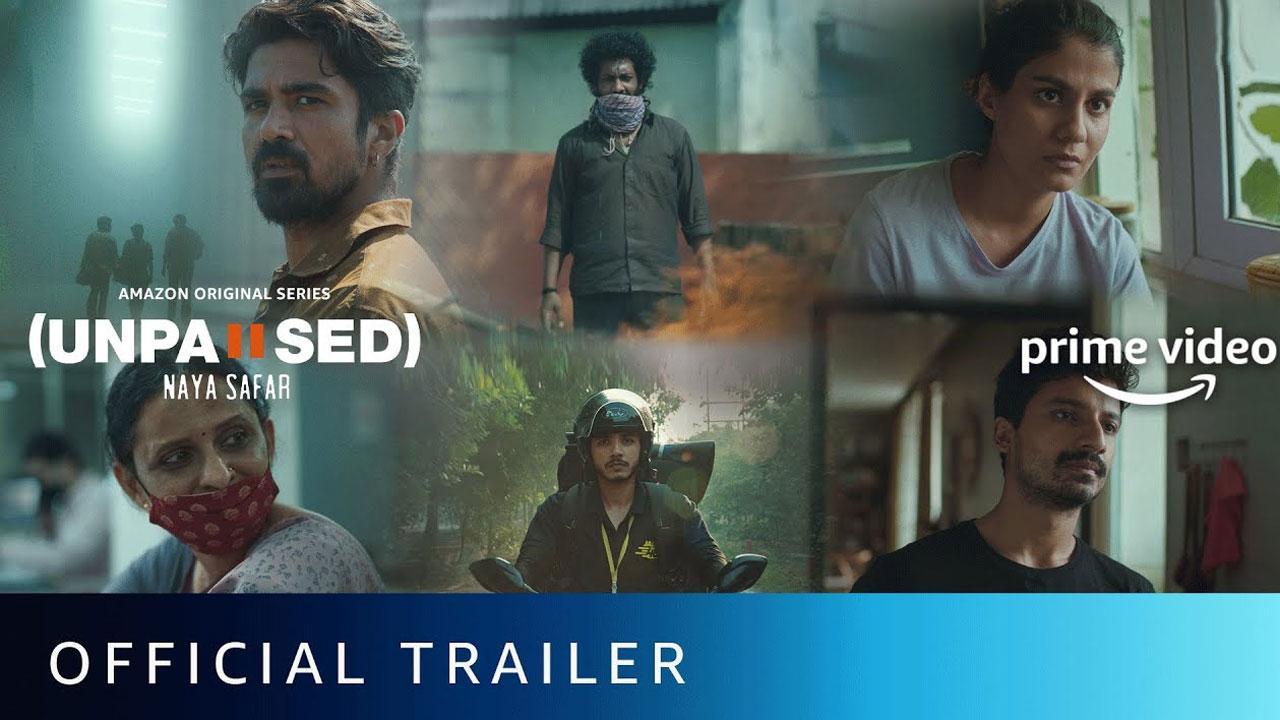 Prime Video has launched the trailer of Hindi anthology, Unpaused: Naya Safar, which will premiere globally on January 21, 2022 in over 240 countries and territories. Following the overwhelming response to the first edition, Unposed, which premiered in 2020, the sequel to the Amazon Original anthology will feature five Hindi short films, each uniquely delving into the challenges that the pandemic has hit everyone. Emphasized, while it is emphasized. There is a need to adopt a positive attitude as everyone welcomes the new year.
Featuring an ensemble cast including Saqib Saleem, Shreya Dhanwantri, Neena Kulkarni and Priyanshu Painyuli among others, Unpaused: Naya Safar is a heartfelt reminder that there is always light at the end of a dark tunnel, as beautifully depicted in the trailer. Filled with love and positivity, this compilation urges us to make a fresh start with the start of this new year.
The short films in the anthology include –
• Teen Tiggada directed by Ruchir Arun; Starring Saqib Saleem, Ashish Verma and Sam Mohan.
• Duet directed by Nupur Asthana; Starring Shreya Dhanwantri and Priyanshu Painyuli.
• Gond Ke Laddu directed by Shikha Maken; Starring Neena Kulkarni, Darshan Rajendran and Laxveer Singh Saran.
• War Room directed by Ayyappa KM; Starring Geetanjali Kulkarni, Rasika Agashe, Poornanand Vandekar and Sharvari Deshpande.
• Vaikunth directed by Nagraj Manjule; Starring Arjun Karache and Hanumant Bhandari.
Ruchir Arun, Director, Teen Tigda said, "Unpaused: Naya Safar Anthology boasts of compelling narratives, showcases a multitude of emotions and we are really excited to have our film as a part of this anthology. Teen With Tigda, our endeavor was to uncover the threshold of human emotion, amidst the sufferings of an ongoing pandemic that hit us like a storm. The film has a unique story, beautifully translated on screen by the actors and We hope it will resonate strongly with the public as well.
Nupur Asthana, Director, The Couple, said, "The layoffs were a dazzling reality of the pandemic that hit professionals across the world very hard, leaving them uncertain and frustrated. The couple captures the emotional turmoil and complexities caused by such a professional setback and how it affects the personal relationship between two people that changes their realities. The first edition of the anthology struck a chord with the audiences beautifully, and we are hopeful that the now unreleased new journey will certainly open up to the same kind of love and appreciation.
Shikha Maken, Director, Gond Ke Laddu said, "The pandemic has affected one and all in ways that are unpredictable and unwanted. We all worry for our loved ones who are far away and are looking for the means to connect and care for them. Explore. Distance. And sometimes we even find connections with strangers. The idea of ​​Gond Ke Laddu was to showcase the spectrum of human bonds, but with a twist. This film with an amazing cast and crew It was an enriching experience to shoot for those who breathed life into it. It is a subtle yet tangible story. We are sure that the story will connect with the audience on an emotional level."
Director of the War Room, Ayyappa KM said, "The War Room reflects the vulnerability of the frontline workers, who faced adversity during the outbreak of the pandemic. It is a gripping story that explores a different aspect of human emotions under pressure and I am indebted to the entire team for bringing it to life so beautifully."
Nagraj Manjule, Director, Vaikunth said, "Naya Safar's Anrok anthology captures a range of emotions with each of its films, and Vaikunth fuses it with a unique balance of hopelessness and despair brimming with unpredictability. We, as a team are humbled and honored to bring this story as part of this anthology and we hope that it stays with the audience for a long time. ,
,