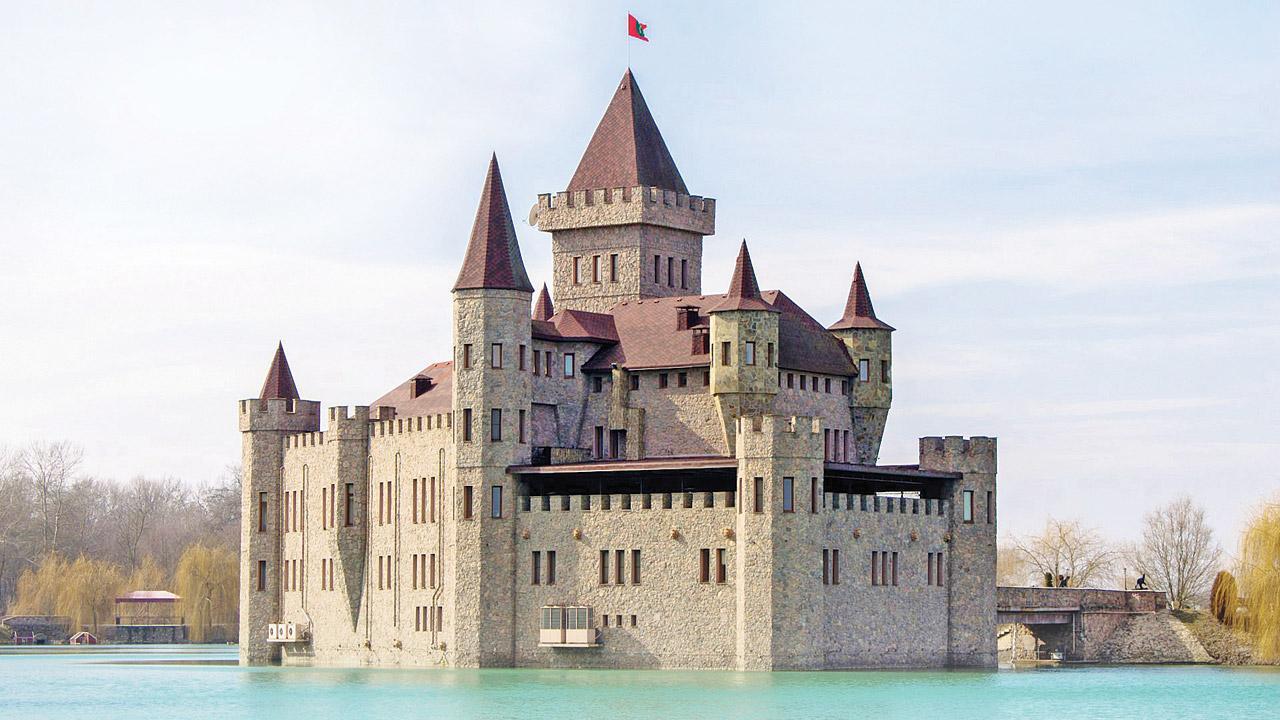 Chateau Erken, in the Kabardino-Balkaria Autonomous Republic of the Russian Federation, looks like an extremely well-preserved medieval castle, but in fact, this architectural wonder is just over a decade old. Located in the vineyard countryside of Kabardino-Balkaria, Chateau Erken is a tourist attraction unlike any other in Russia. Not only does it imitate the fortress-like design of a European medieval castle, but its location in the middle of a man-made lake filled with fish and wild birds is equally impressive. People from all over the country come to visit Chateau Erken in person in this rural area of ​​southern Russia. Pictures and videos of this amazing palace have been going viral on social media for years, but some people still cannot believe that it exists and it was not built by a king but by a great businessman.
Tembulat Erkenov is synonymous with the wine industry of Kabardino-Balkaria. After graduating from the Faculty of Agricultural Sciences, he was sent to work in a communist collective, but quickly rose through the ranks and eventually became deputy chairman of the Kabardino-Balkaria government. Later in life, he founded his own winery, Chateau Erken, which is recognized as one of the best in Russia.
Inspired by the palaces he visited during his many travels through Europe, Erkenov decided to build his own medieval castle; Not just a small scale replica, but an actual life size replica. The architectural wonder was completed in 2010. Today, the main operations of Chateau Ercan are located inside this magnificent palace, but the place also serves as a local tourist attraction. Those who want to see the place inside have to pay a visit, but apart from the palace and the lake, there is a lot to see from outside. It is surrounded by forests and tourists often come here to get away from the city and see wild birds. Erkenov died in 2017, leaving his son to handle the affairs of Chateau Erken. The five-storey palace built by him remains as a testament to his work.
More Americans Use Melatonin to Sleep
In a study published in the Journal of the American Medical Association, authors from Beijing's Dongzimen Hospital and Zhiyuan Hospital and the Mayo Clinic in Minnesota noted that the prevalence of melatonin supplement consumption increased significantly from 1999-2000 to 2017-2018 across all demographics of use. Additionally, the team wrote that – although remaining "very little" – the prevalence of self-reported use of more than five milligrams per day also increased over time. "These estimates may raise safety concerns, especially given that the actual content of melatonin in marketed supplements may be up to 478 percent higher than the labeled ingredients, and there is evidence to support the use of melatonin for sleep disturbances." The evidence is weak," he said.
we one, our eight
Thai man lives in perfect harmony with his eight young wives
Ong Dam Sorot, a young tattoo artist specializing in the traditional instrument style, recently met up with a popular Thai comedian for an interview about his controversial marital status. Sorot is married not to one woman, but to eight, all of whom live under one roof and consider themselves one big happy family. In the show, which has so far garnered over three million views on YouTube, Sorot introduces each of his wives and explains how they met. Eight women described their husbands as the kindest, most considerate men on earth and surprisingly claimed to be together.
The young polymath met his first wife Nong Sprite at a friend's wedding and quickly asked for her hand in marriage. The second, Nong El, he met in the market, and Nong Nan, his third wife, in the hospital. Sorot's fourth, fifth and sixth wives were found through social media, Instagram, Facebook and TikTok, respectively. The seventh wife, Nong Film, was the man she met during a visit to the Phra Pathom Chhedi Temple. As for his eighth and final wife, Nong Mai, he had met her while vacationing in Pattaya with his four wives.
get a tattoo, show off
A tattoo fan who has an unusual ink on his forehead defended the etching, insisting that it be one of all his designs. The woman, identified as Nikki, took to TikTok earlier this week to share a video of herself showing off some transition contact lenses, but was quickly flooded with comments from people who saw the tattoo on her forehead. which looked like wavy lines. "Am I the only one seeing the lines on him?" One person inquired. Nikki then returned to the social media site to post another video, where she defended it: "I love the crown tattoo of my little forehead."
Caught wandering hen
A local animal welfare organization said a chicken was caught sneaking around a security area in the Pentagon. The chicken was found near the headquarters of the US Department of Defense, the Animal Welfare League of Arlington wrote on social media. A league employee took the chicken into custody.
Man eats raw meat for 75 days
A carnivore is testing his love for meat by conducting an experiment to see how long he can survive eating raw meat every day. The man has so far consumed uncooked foods for 78 days, including chicken breast, steak and swordfish, apparently without food poisoning. He has documented his discovery on the Instagram account @rawmeatexperiment.
Norway bans breeding of 'cute' dogs
Norway's Oslo District Court has ruled that the breeding of Bulldogs and Cavalier King Charles Spaniels is a violation of Norwegian Animal Welfare Act section 25 and will no longer be tolerated. This decision was prompted by a case brought by Animal Protection Norway in November 2021 out of concern for the dog breed's multiple, significant health issues.
This story is taken from a third party syndicated feed, Agencies. Mid-Day accepts no responsibility or liability for its dependability, reliability, reliability and data of text. Mid-Day Management/Mid-Day.com reserves the sole right to change, remove or remove the Content (without notice) at its sole discretion for any reason.