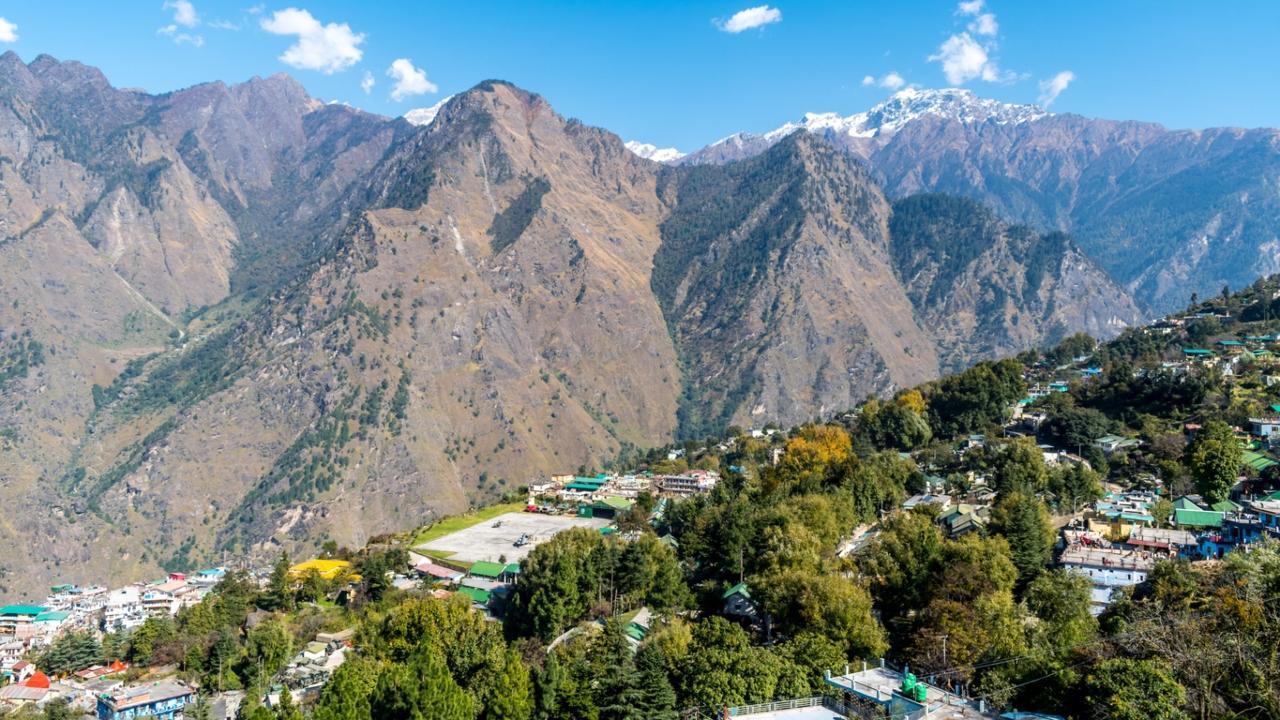 Call it stuck-record syndrome but I have a weakness for finding the slightest excuse to reminisce about my adventure when I had to interview Ruskin Bond at his home in Landour exactly seven years ago. Needless to say, that meeting is one of my most memorable meetings as a journalist. But I'm being tricked. Because this time, Joshimath is in the news for all the wrong reasons, there is no picturesque end to my reference to that trip.
My heart was in my mouth as the car circled the hilly, rugged terrain of the lower Himalayas towards Landour. Not for the faint-hearted or vertigo-sufferers, beyond our gasps of fear—were wowed to get drenched in stunning scenery. The beauty of this mountainous region needs to be experienced in all its rugged character, and a single visit to this magical ecosystem is never enough. The interview is over, when I ask him my last question before lunchtime, Mr. Bond laughs, "What drives you to write with such enthusiasm after so many decades?" After letting out a long, almost childish laugh, he shared, "Look out this window…" Turning our attention to the beautiful, lush green hillside view from his study, "Who could be more inspired?" Need it? It's fresh mountain air. But that's where our dreamy, mountain-inspired script begins and ends.
Read also: The authorities should ensure that the repaired roads remain intact
A few days ago, when we landed at the Dehradun airport, and were still reeling from the breathtaking views of the Himalayas that the window of our tiny plane could bring in, we also witnessed a dismal contrast when we hit the ground. We didn't do the usual touristy things in Dehradun, but did have a proper look at the city's street scene, including the popular music store Pratap, Rishikesh, or Ellora, the popular confectionery and bakery the Beatles frequented during their musical pilgrimage. Somehow, it was the eyesore made up in our heads – from haphazardly placed hoardings shouting in our faces about new 'international' schools and new villas professing English 'country' life to unplanned, haphazard development , poorly maintained roads and precariously placed hotels and guesthouses that were literally falling apart. I was in shock. This was not the 'hill station' I had seen on TV, glamourised in Hindi film song scenes and travel shows. There was nothing flashy or strange to see; In fact, far from the usual set of adjectives used to describe hill stations, I found myself repeating words like 'lousy', 'ugly' and 'crowded'. The mighty Himalayas were lost behind the large signboards of life that greeted me at every corner and turn. It didn't end with the main city; Even on the outskirts, we were horrified to see badly planned structures that showed no respect for the natural beauty of the area. It was a hill station only in name.
Closer to home, glitzy resorts and 'Bali style' bungalows are getting closer to paradise [we mean higher along the Sahyadris ranges] Every time we hit the Mumbai-Pune Expressway in the twin hill stations of Lonavala and Khandala. Now on the receiving end of decades of uncontrolled, mindless construction, I'm not sure whether environmental guidelines ever were in place. Even as you walk through the congested markets and byways of these hill stations, there is a feeling that the environment is the last thing on the minds of its civic authorities.
Likewise with Matheran, a getaway that takes one of the nostalgic, slo-mo trips all the way to the top thanks to the toy train journey. Here, the locals are fighting desperately to preserve this precious piece of land, given that it is the only motor vehicle-free hill station in India. For how long, only the gods can tell.
The horrifying and heart-wrenching scenes emerging from Joshimath can be played out in any well-planned Indian hill station today. Shocking details emerge every day that local residents are forced to leave their homes without any risk. How did this apocalyptic scenario come about? Crooked, selfish business interests and infrastructure projects seem to be the root cause here, according to the facts and figures pouring in below. We can hope that this serves as a wake-up call to city planners who continue to disrupt the topography of these sensitive, fragile ecosystems. I suspect a doomsday peek at this column may have ruined your Monday morning brekkie.
A scary possibility could be lurking in our backyard, and it's a worrying scenario. The heavy rains and landslides that followed are reason enough to pay attention to possible occurrences. Unless the authorities wake up and resort to effective, eco-friendly and sustainable solutions with the help of experts and ensure that these plans are implemented quickly, the generations to come may find it difficult to believe May be Khandala or Lonavala were hill stations. point.
Mid-day Features Editor Fiona Fernandez loves the sights, sounds, smells and stones of the city… wherever the ink and inclination takes her. she tweets @bombayana
Send your feedback to mailbox@mid-day.com