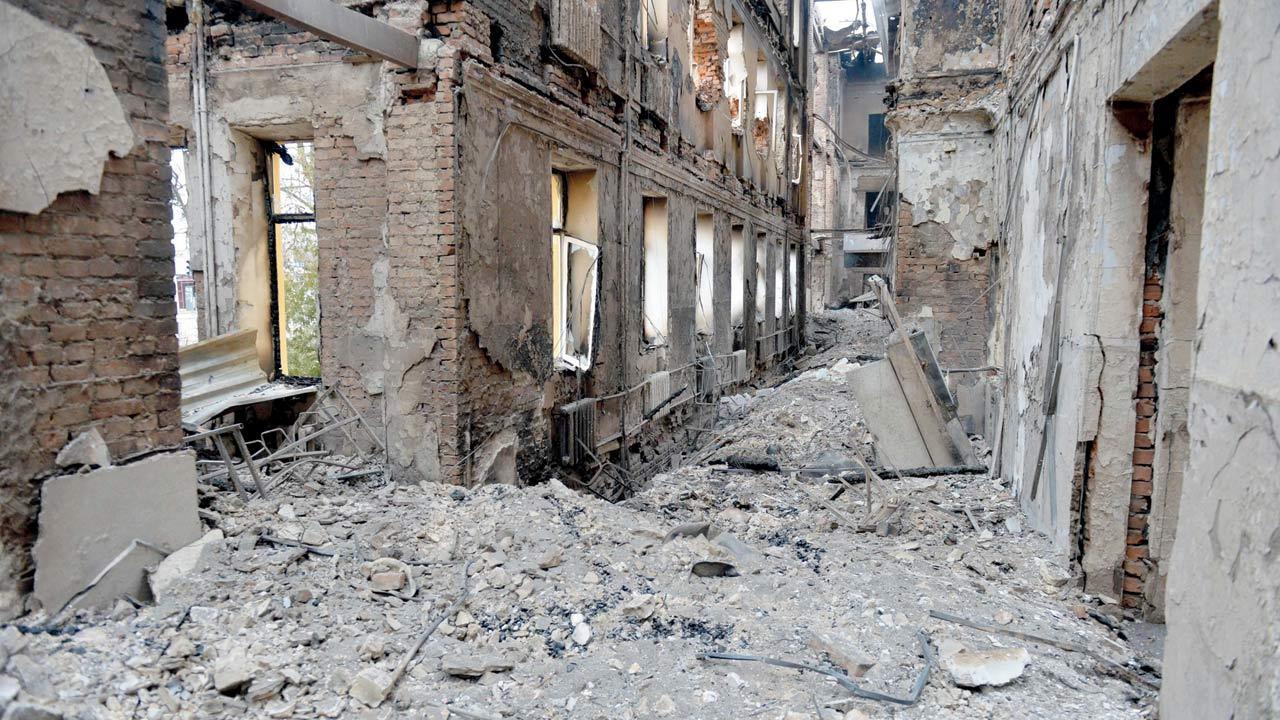 On Monday, Russian forces shelled Kharkiv, Ukraine's second most populous city, while Kyiv and Moscow delegations held talks along the border with Russian ally Belarus. At least 11 civilians have been killed and dozens more injured, regional governor Oleg Sinegubov wrote on the Telegram app.
Russian forces seized two small towns in southeastern Ukraine and the area around a nuclear power plant, but participated in stiff resistance elsewhere, Interfax news agency said on Monday. The goal was an immediate ceasefire and the withdrawal of Russian forces, the Ukrainian president's office had previously said. It was not immediately clear what Putin wanted in the talks. While Ukraine sent its defense minister and other top officials, the Russian delegation is led by President Vladimir Putin's culture adviser – an unlikely envoy to end the war and a sign of how Moscow views the talks. . It was unclear whether any progress could be achieved after President Vladimir Putin launched the biggest attack on a European state since World War II on Thursday.
A pediatric hospital on Monday moved its beds in Kyiv to the basement, which is being used as a bomb shelter. pic/ap
protests in small towns
On the fifth day of the conflict the invading Russian army met with strong resistance from Ukrainian soldiers and civilians. Russia's defense ministry said its forces had captured the cities of Burdiansk and Enerhodar in Ukraine's southeastern Zaporizhzhya region, as well as the area around the Zaporizhzhya nuclear power plant, Interfax reported. The operation of the plant continued as normal. Ukraine denies that the nuclear plant has fallen into Russian hands. Russia has fired more than 350 missiles at Ukrainian targets since Thursday, some of which are affecting civilian infrastructure, a senior US defense official said.
NATO allies send weapons
Chief Jens Stoltenberg said in a tweet on Monday that partners in the US-led NATO (North Atlantic Treaty Organization) defense alliance are providing air defense missiles and anti-tank weapons to Ukraine.
The Kremlin accused the European Union of hostile behavior, saying arms supplies to Ukraine were destabilizing and proved that Russia was right in its efforts to oust its neighbour. It declined to comment on whether there was a risk of a confrontation between Russia and NATO. Russia has demanded that NATO never accept Ukraine.
Children battling cancer see a sign saying 'Stop War' in a bomb shelter at an oncology center in Kyiv on Monday. pic/afp
Ukrainian President Volodymyr Zelensky said on Monday that he had signed an official request for Ukraine to join the European Union. He called on the European Union to allow Ukraine to gain membership immediately, as it defends itself from invasion by Russian forces.
Russian media sites hacked
The websites of several Russian media outlets were hacked on Monday, posting an anti-war message and calls to halt Putin's invasion of Ukraine.
Google disables live traffic data in Ukraine
Google said it has temporarily disabled some Google Maps tools for Ukraine that provide live information about traffic conditions and how busy different places are. The company said it has taken action to globally disable the Google Maps traffic layer and deliver live information at busy locations such as stores and restaurants in Ukraine to protect local communities in the country, after consulting with sources including regional authorities. .
16
Number of children killed in Ukraine so far
363
Total number Number of civilians killed in Ukraine so far
5 lakh
Number of Ukrainians who have left the country
This story is taken from a third party syndicated feed, Agencies. Mid-Day accepts no responsibility or liability for its dependability, reliability, reliability and data of text. Mid-Day Management/Mid-Day.com reserves the sole right to change, remove or remove the Content (without notice) at its sole discretion for any reason.