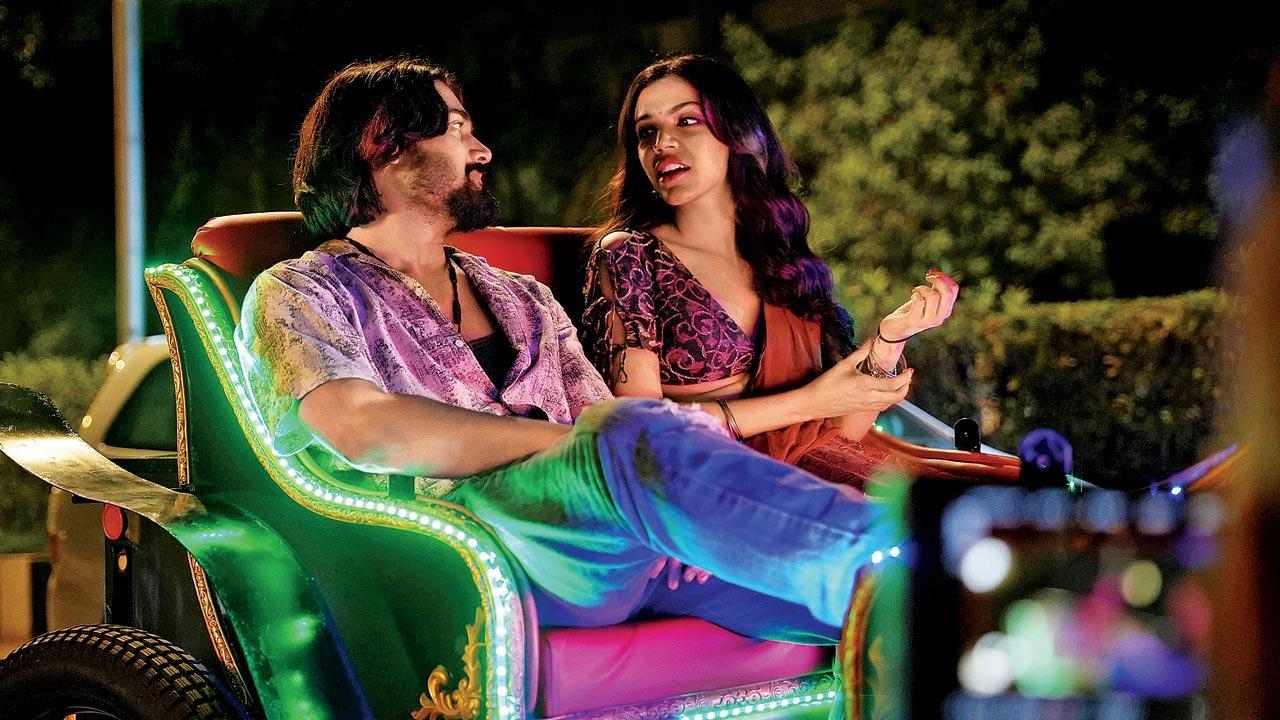 breaking news
On: Hotstar+ Disney
Director: Himank Gaur
Cast: Bhuvan Bam, Shriya Pilgaonkar
Rating: 2/5
There is such a thing as Mumbai of the public imagination – it is a living, breathing cliched city, though entirely derived from an inanimate thing called cinema/showbiz! This is where people speak the language of Khokha (crore), Ghoda (gun), Khaneka, Peeneka, Bhai se Milneka…
Sadak (1991) and Satya (1998) mainly in this dark lit world of 90s dreams and nightmares as we see in this series: Dalal Dalal, Shilpa Shukla (Chak De India), sex- worker, Shriya Pilgaonkar (the current No. 1 star of OTT), her diabolical client, JD Chakraborty (remember 'Satya'?), lover, Vasya (Bhuvan Bam).
And then there's the ghetto that surrounds them – with friends for families, like Peter for a pakiya-type loafer, Dayalu Mehboob bhai, Deven Bhojani ('Ghansu' of JJWS), making/selling bread.
I've given you the big, rough picture. From here you will get the drift. But you don't—while you look at the poor 'I' (mother), who works hard as a Kamwali Bai, that too to support her alcoholic husband.
None of this comes with a sense of irony. It is exactly as it is. If we must extrapolate from the '90s as they really were roadsters for Fiats and Ambassadors, think of this as an early gimmick (2004/5-ish), Jannat-type, Mukesh/Mahesh Bhatt breeding- Starring Emraan Hashmi, but without Sufiana songs, or enough sex.
It is about a scruffy looking guy who gets rich overnight, through shady ways, ditches his friends, hangs out with the high-class in his S-Class.
Sure, there's at least one decent, action 'money shot' involving a human head exploding through a wash basin. The actors seem confident about the world they are in as well. It just tells you how good these actors are.
Because it's not a 'Bollywood film', for God's sake – why would it want to be, unless it's a parody. This is a BBVK production; Means Bhuvan Bam's wines.
As in, starring in the major, top, desi YouTube sensation. This is the OTT debut of Delhi based Bam on India's leading streamer Hotstar+Disney. Given how the expectations vaguely didn't match the results – the internet sensation is more of an immediate burnout, if you ask me. What was the hope of starting with anyway?
Anything close to Bam's first series, which dropped on YouTube during the pandemic, Dhindhora (2021) by the same director (Himank Gaur). Even if you weren't an old timer of Bibi ki Lataan/short-videos—which was a long-form version of Dhindora—you could easily recognize Bam as the absolute king of repertory, pun K Rajkumar was throwing crackers – one liner after another.
It became difficult to choose the best bam out of 16 characters in one go – Banchoddas, Sameer Fuddi, Titu Mama, Bablu, Janki, Mrs. Verma, Adrak Baba, Mr. Hola, not relying on anyone but instantly. Papa Makichu, Detective Mangalu, Dr. Sehgal, Babli Sir….
However here lies the 'Sunil Grover Paradox'; if you want to call it. With someone so good with spoof-like miming/mimicry- does it make it difficult to take the comedian seriously as a serious performer with a strong purpose on screen; Do you think? Well, ask Ali G., or Sasha Baron Cohen, about that, I guess (catch Cohen's last drama, The Trial of Chicago 7, on Netflix, if you've got the time).
But yeah, that's the point. Chain breaking news– thankfully, only six episodes long, roughly half an hour long – BB is, Bollywood being, in its head. To be thought of as a real actor, in a real movie, reality happens in movies as we know them. Rather than a YouTuber, I guess.
The show's concept is credited to Aziz Dalal; The authors are Abbas and Hussain Dalal. I don't know if these three are related, like the Burmawalla brothers (Abbas-Mustan-Hussain). However, Hussain Dalal, the big league of Bollywood, was the keyboardist behind Brahmastra's much-loved dialogues.
What is the concept here, as it is separately credited in the initial sequence? That our main man finds, presumably, a city-based news app that reports him on future events. Given this knowledge he can earn a lot of money. He does it from shows like KBC to slums like Mumbai.
There is no deliberate jest in any of this. Some zany characters, yes. But no one is making fun of anyone or anything. This idea more or less overstays its welcome once it is introduced.
I should finish the show because I have started.
Also, for BB. Which, I think, is why some of the best screen talent surrounds him – look at Mahesh Manjrekar; He is the same person who made Vaastav (1999), which may have also inspired the world of this show.
It's great to see a YouTuber getting progressively ambitious with his time as well as immense talent. In that way, Bam feels like our own boy in the mainstream, doesn't he? Of course it is. Imagine playing around with something that looks downright stale for an experimental series, though—he could definitely do with a better script, too.
Also read: After working on it for two years, let go: Bhuvan Bam