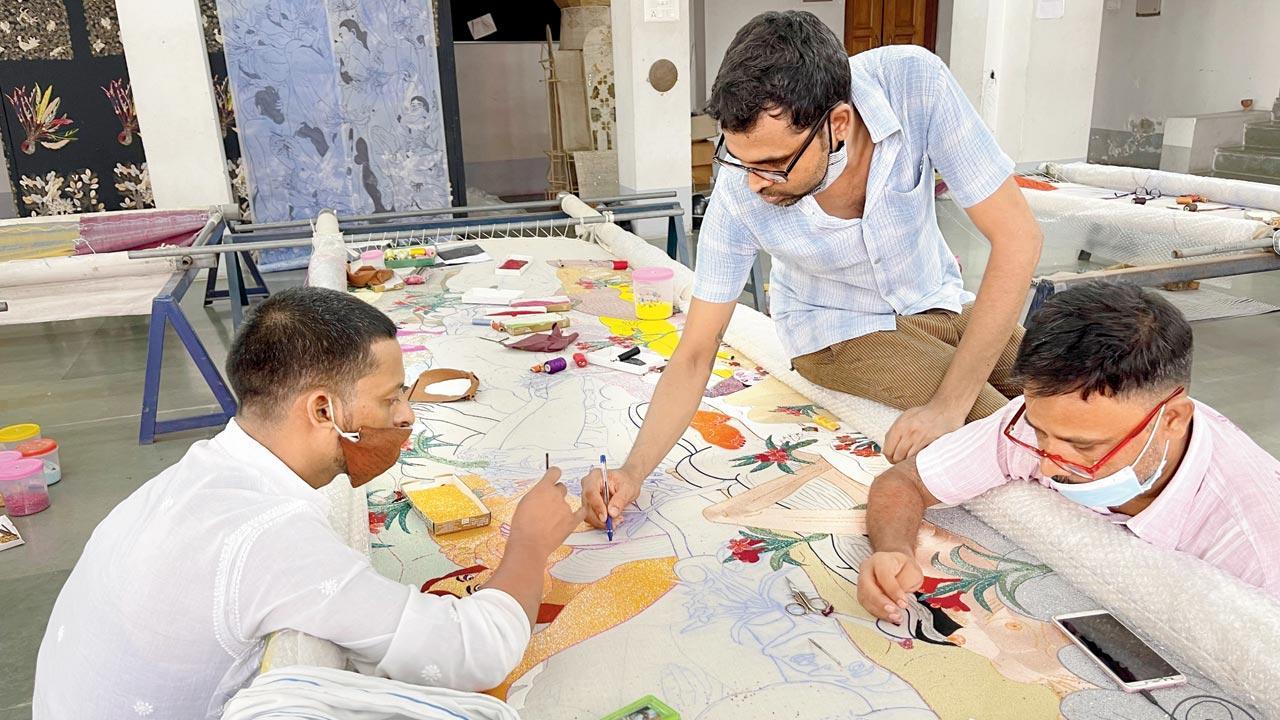 The thread lends itself to many metaphors. We think about our lives – and about stories – spun, spread out, or intertwined with others in the fabric of a community, culture, mythology or nature. And artists T Venkanna and Smriti Dixit are using this opportunity to present everything from sexual freedom to feminine power and the link between art and sustainability. Showcasing at Gallery Mascara and Art Musing respectively, they make for a worthy multidisciplinary story to emerge from the recently concluded Mumbai Gallery Weekend.
In Baroda artist Venkanna's As I Am Embroidered painting, this thread becomes a medium to discuss longing, joy and despair. Co-created with master zardozi artisans from the Kalahath Institute in Lucknow, the exhibition is a revelation and a delight as needles replace paintbrushes, while "blurring the boundary between arts and crafts, artist and artisan", Veer-Curator Abhay keeps it as mascara.
Abhay Mascara
In Savage Flowers, Dixit captures the natural flow and harvest of tactile possibilities. She knits, sacred for their inclusive, homely and meditative qualities, deliver an eclectic punch in both material and personality, by replacing wool with industrial plastic tag fasteners. Housewives from his Kandivali neighborhood join him in needlework sessions.
The work of both artists is related to our times, except that they look back as much as they leap into the future, suggesting that the craft is part of a wider visual language today.
T Venkanna ///
Method: Embroidery
Material: thread, sequins, beads
Dentata, 2021, part of T Venkanna's As I Am series of embroidered paintings
It's impossible to look away from T Venkanna's art, and the longer you look, the more wild and imaginative it appears. Flat black-haired woman standing buttocks-naked, her nipples folded happily. She reaches up to a branch to pick up a phallus-looking fruit, the other hand gestures as if she is feeding her brains that have popped open. Does leaning on a mammal branch imitate its action, or is it the other way around? The work, titled Dentata, 2021, is part of Venkanna's As I Am Solo show (viewing till March 12).
Woven-colored grills and grids underline her curves, flesh and muscle texture, said Venkanna, 41, before envisioning the matrix of threads and sequins that would be hand-embroidered by zardozi. Wasn't easy. Artisans of Lucknow. The merging of the two mediums is gorgeous in detail, shimmering on the surface and shining against the dimly lit gallery space. This collaboration is a product of perseverance and persuasion. "Embroidery artisans were apprehensive about the forms and subject matter," smiles Venkanna. "They were trained in making traditional motifs of birds and flowers on clothes like Ghaghra. But once they understood my work, they were not only on board but also offered suggestions on texture and color.
photo courtesy / Fabian Charueau
Another piece, named Lovers, is placed horizontally like a tabletop, as if to suggest that it still looms over the Calhath Institute. Lovers are bisexuals, who happily associate with each other, sniping at puritanical society. "Art, like sex, is the human impulse. The artist wants you to think about how we are divorced from our body, its pleasures," says Mascara.
Venkanna agrees, placing sexual fervor over social modesty. "A person derives pleasure from this simple act of day-dreaming." And this desire roams freely, generalizing to his world where domesticated cats, dogs and chickens occupy as much place as the mythical eagle. "There is no one defining story," explains Mascara. "The mind has to step back and let the imagination lead" [when you view his work], [For some] It is the melody of the colors and the intensity of the embroidery that speaks to them. For others, it's about [being one with] nature, and then about Indian history and mythology."
Venkanna lets it flow freely through the line drawings on the canvas before the colors arrive, the craftsmen working on their needles as he watches them "paint" with his vision. Does he feel a loss of control? "Material and method are secondary, what I want to convey is important."
Smriti Dixit ///
Method: Weaving, Weaving, Dyeing
Material: Cotton, String, Nylon, Plastic
Smriti Dixit's manifesto is in the shape of a uterus, woven from cloth and wire
A giant mass of vermilion cotton and algae nylon with lateral nets and a 'tail' sits on the art gallery floor like a sea creature on the ocean floor. Shocked, we squat to take a closer look. "You can touch it," gestures gallerist Sangeeta Raghavan. "of memory" [Dixit] The work is tactile, so we invite everyone to feel it."
Curated by Nancy Adajania, part of Dixit's solo exhibition, Savage Flowers (on view until March 15), the Annunciation is a textile sculpture that holds the female uterus as a point of inquiry, even as it challenges patriarchal taboos. Ho. Thick cotton in menstruating red, and her form stings like a pain as if pulled from a wound too far from the sordid realism. This gimmicky interpretation of female anatomy is made of nothing but fabric held together by threads, which net it like pulsating blood vessels, as the ovaries are suspended in the shape of tiny cocoons of cloth at each end . It is wonderful, scary and stimulating all at once.
Sangeeta Raghavan
Dixit, 50, says the controversial Sabarimala case in which women of menstruating age were banned from entering the temple was the starting point. The Kamakhya temple in Assam is dedicated to the bleeding goddess, her mythical sanctum sanctorum. But menstruating women are denied entry to temples. "Anything that is extremely powerful has been reduced to power. It's the same with power, the woman—the only one who has the power to create another," she thinks.
Deep disparities are as important to her work as the unconventional method. There is no armature of declaration inside the cotton. Dense, solid vagina (vagina), knitted with plastic tag fasteners spray-painted black, not too hollow. Every piece talks of long hours and labour, something that Dixit says women are accustomed to.
As a young girl in Bhopal, Dixit was drawn to weaving. "My mother gave me three bales of wool, and that is all I will get. I would knit during the day, and undo it at night, so that I could make something new the next morning out of the same material." For some, it equates to futility. For Dixit, it is meditative and magical. "Creating something new from the old; To do, rebuild and redo, isn't it about sustainability?"
Working from her Kandivali studio, Dixit uses what comes from the environment, and some, she buys; Plastic tags in bulk from Crawford Market and clothing from Natraj Market in Malad. Sliced ​​into long, ribbon-like threads, she selectively dyes them before weaving them into sculptures, all manually, becoming an extension of her arm work.
The Lounging Sculpture is a group of perforated screens that hang from the rafters of the gallery – surreal waves of dyed maroon, orange with blue flowers and splashes of butterflies – that you can walk through. "Are these trees or totem poles?" Adajania did wonders in the catalog of the show. They can be anything you want them to be. Like the artist himself. In 2017, Dixit showcased a range of handcrafted jewellery, at Lakme Fashion Week. She joins a growing chorus of creative minds by asking: Who gets to make art?