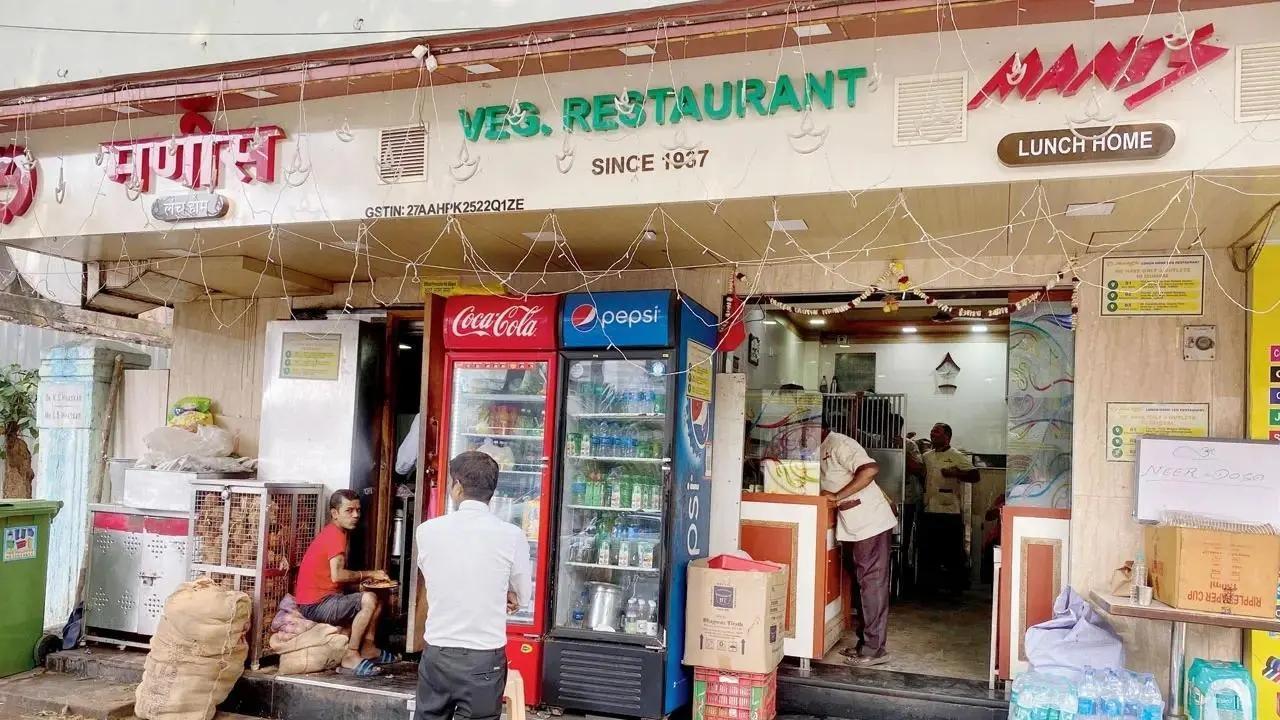 For those of you who follow this column, you would know by now that when it comes to roaming the streets of this city, it is one of the areas that provides immense satisfaction, pleasure. [and, of late, pain too] But most importantly, insightfully, Matunga ranks up there.
So a few days ago, when we were craving some authentic Udupi food, we found ourselves passing through the rapidly changing streetscape of Kings Circle and Matunga after a day at the office. As we polished off the memorable Bene Masala Dosa [that my eating companion referred to as a 'clutch' since its shape bore an uncanny resemblance], the star among many other goodies, after which we managed to catch the odd glimpse of the buzz around us. It was a no brainer to find out why the eatery was doing brisk business. Simple menus, hearty fare, good service, an old-timey family-run establishment—it had all the ingredients to make for a long-lasting success story.
Before we could be swayed by Sheera who was singing her melodious voice to us, or Filter Kaapi who always had a quick uppercut, we decided to call for Bill, and instead, walk through the streets of this neighborhood I burned some calories by walking. Since it was before the Cinderella hour. As we walked through these familiar stretches, we noticed a noticeable change in the ecosystem of the area.
In the past, thanks to our association with Matunga that goes back to our college days, we always associated it as the go-to place for all things South India – delicious, traditional by its Udupi cuisine From rent , from its colorful flower markets to easy grocery stores that sell everything from banana leaves to spices and household necessities and audio CDs by MS Subbulakshmi to set mundu. For the city-dwelling South Indian, it was a slice of home in the big city, and for people like us, it was a reassuring stamp of the cosmopolitan vibe of Bombay, a city well known for its status as a 'melting pot' of cultures. Used to repeat the tag, where the different locations represented their unique identity. Like Bhuleshwar, Bandra and Bhindi Bazaar, Matunga was an important point on the multi-cultural map to remind us how the maxi city, despite being space-starved, ensured that the whole of India and beyond Communities can create their own space.
The last decade also saw a thriving night food market that sprung up along the broad footpaths; They queued up retail outlets that went quiet after working hours. Initially, we would see a few vendors in operation, mostly from handcarts- these makeshift kiosks would prepare everything from pav-bhaji to greasy Indian Chinese fare; Hungry and thirsty people would have filled their mouths with the fare of this road while sitting on mats; Often the bonnets of parked cars serve as temporary tables. All this will be near their Udupi counterparts. It seemed like a harmless coexistence of the old and the new.
However, that night as we were taking our usual route to grab coffee from another Udupi, we noticed that these kiosks had sprung up in many other parts of Matunga, standing cheek-by-jowl, and dare we say Are, when seemed more in demand than OG. From Kebabs and Spring Rolls to 'Chopway', people flocked to this dish. Interestingly, one of these clusters was just a few blocks away from the popular Udupi that was shifted to an under-construction site a few blocks away from its original address. No prizes for guessing why—yes, its previous home was in a building that had gone in for redevelopment. This was in stark contrast to what was probably being played in other parts of the city at the same time.
Read also: Caught between budget promises and old pension scheme
If anyone were airdropped to this place, they would guess it to be a typical foodie street in any corner of India – same Ajinomoto, same oily fare, and same plastic cutlery. It did not make for a pleasant sight for this columnist, who has been a devoted observer of these parts for more than two decades.
But it came as a rude wake-up call, about a phenomenon that seems unstoppable. With redevelopment becoming the norm rather than the exception taking away the original city and its suburbs, this dangerous change could rob these parts of their true identity from a cultural and culinary perspective. As the Matunga-ites live in sky-high towers, or decide to move elsewhere, one can only guess what will happen to the neighborhood.
If this is a sign of things to come, will we see more parts of the city known for their distinct identity losing their tag like Matunga, the 'mini Madras'? Will we see more cultured eateries like this take over neighborhood eateries, as similar dishes and fare become the preferred option? It spelled a bleak prognosis, one that even the delicious taste of Benne Masala Dosa couldn't save us from. It is up to us, the average Bombaywalla, to offer continued support to the real culinary ambassadors who define its rich, diverse cultural fabric.
Mid-day Features Editor Fiona Fernandez loves the sights, sounds, smells and stones of the city… wherever the ink and inclination takes her. she tweets @bombayana
Send your feedback to mailbox@mid-day.com