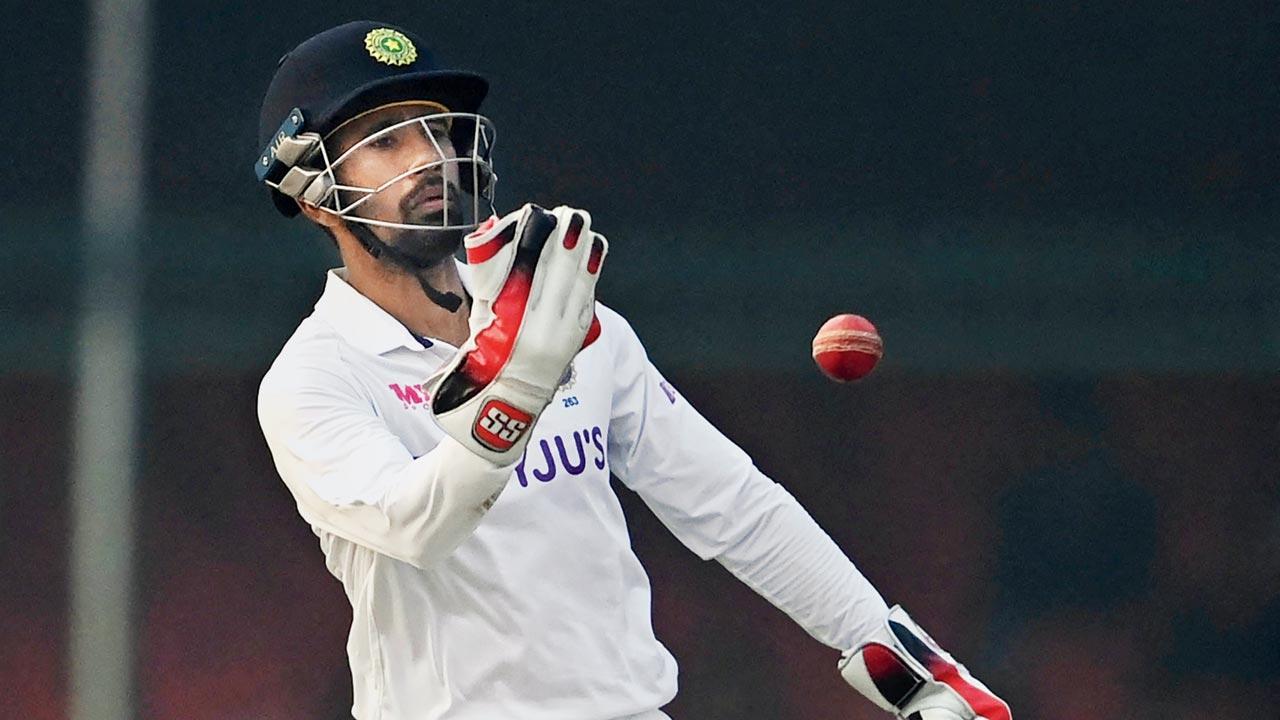 We live in unique times. And I am not talking about the pandemic alone. India wicketkeeper-batsman Wriddhiman Saha's revelation that he was threatened on WhatsApp by an unnamed journalist, smarter than him not to be interviewed, is straight out of Ripley's Believe It or Not. Or perhaps a master batsman intimidating a fast bowler.
Over the years the media has been at the mercy of the players and the board, but here a BCCI contracted player has been put in a position where he will be targeted for his decision not to interview a journalist.
The journalist in question thought he could avoid reprimanding Saha, who has been controversial before the latest incident. Maybe he didn't consider the fact that he was dealing with an angry 37 year old who was just told that he is not in the selectors/team management's plans for the future, however these There are two different issues.
Hopefully, the Saha saga will not lead to a situation where journalists will be kept further away from the players.
Gotta feel for Saha. On one hand, South Africa head coach Rahul Dravid told him that he should not be surprised if he is not picked for the Test series against Sri Lanka as the team management and selectors were looking to create a "new". Face." Upon his return from South Africa, chief selector Chetan Sharma wanted to know if he was playing Ranji Trophy. In the same conversation, Saha was told that he would not be considered for India from now on.
Sharma hinted at the virtual press conference after selecting the team for the Sri Lanka series, how important it is to play domestic cricket. He told the media, "I cannot tell you on what grounds he has been dropped. It is up to the selectors. All I can tell you is that he was asked earlier and asked to play Ranji Trophy. , which is the ladder of the Indian team. We can't tell you what we discussed. Why they didn't play Ranji, State Association CAB [Cricket Association of Bengal] can tell you this. This is not my jurisdiction. As selectors, we wanted them [referring to Saha and Ishant Sharma] to play. We are not looking at age."
Dravid did well to make Saha aware of where he stands on the road ahead. Usually selectors have such chats. Here, the head coach became active. The former India captain also displayed maturity and understanding when he told the media that he had no problem disclosing a private conversation with Saha.
Be that as it may, it would be fair for Saha to believe that he deserved better. In 11 years, he has made it to only 40 Tests. Only when MS Dhoni was injured or banned for slow over-rate (as he was for the 2011-12 Adelaide Test) could Saha make it to the playing XI.
Naman Ojha, Parthiv Patel and Rishabh Pant have kept wickets for India since then, and Saha is the first choice for the job of stumper, despite being the best for a role that has expanded to the batting in the last few decades. Not there. Who knows what the next trend will be? Maybe a fast bowler will be considered only if he is not a dummy with the bat.
If the recent Mumbai Test against New Zealand is Saha's last Test, then so be it. Whatever opportunities he got, he did his best – after the stellar Test stint of the all-time great Dhoni and before Pant became a game-changer. Saha will have to chin this potential international edge.
Meanwhile, cricket pundits around the world should stop taking themselves so seriously. Gone are the days when players could make or break.
No controversy is sweet, but it's just distasteful. The media game has changed. Nevertheless, the journalist fraternity and sportspersons have to coexist.
The media don't expect to be invited to the dressing room after a day's play, as was the case in the Second Era, but if both sides respect each other's needs, that area will be a better place. .
Visiting the dressing room…Ah, it reminds me of the great Australian cricket writer Ray Robinson. Australia's wicketkeeper Rod Marsh knew Robinson was suffering from ulcer and therefore he could not drink fresh beer. He liked the prospect of Robinson coming in for a chat after playing in the dressing room, so Marsh would open a few bottles a few hours before the stumps to make sure the flat brew didn't harm Robinson's health.
Such respect for a journalist is rare and almost impossible in this era. But this is a true story and, like the Saha saga, it involves a wicketkeeper. There is something to be said here about the difference between genuinely influential journalists and those who consider themselves to be so. But the less said on that subject, the better.
Mid-Day's Group Sports Editor Clayton Murzello is a purist with an open stance. He tweeted @ClaytonMurzello
Send your feedback to mailbag@mid-day.com
The views expressed in this column are those of the individual and do not represent the views of the paper