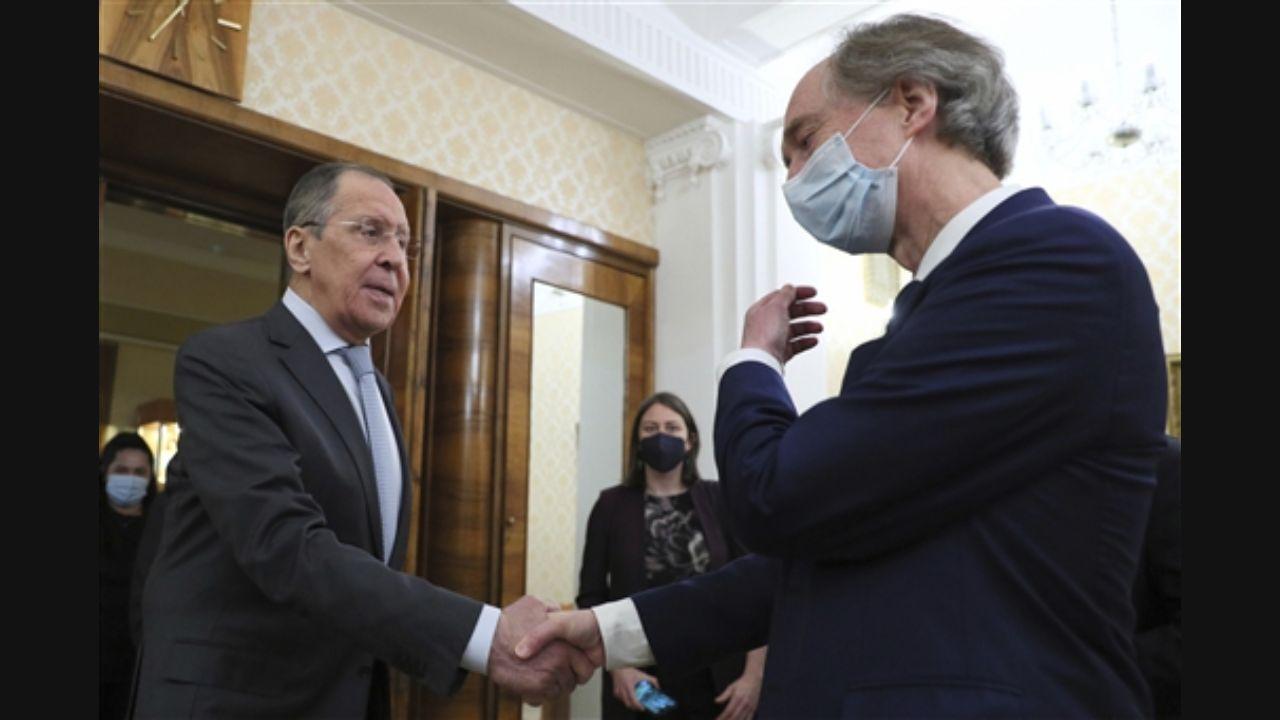 Russian Foreign Minister Sergei Lavrov said Moscow is ready for talks with Ukraine "any moment" when the Ukrainian military responds positively to President Vladimir Putin's call, ends its resistance and lays down its arms. Lavrov also said that Russia's military operation in Ukraine is aimed at "demilitarizing and discrediting" the Eastern European country and that no one is going to occupy it.
The Russian top diplomat made the remarks after talks with Sergei Persada, Deputy Foreign Minister of the Donetsk People's Republic (DPR) and Vladislav Denego, Foreign Minister of the Lugansk People's Republic (LPR), state-run TASS news agency reported. On February 21, President Putin signed treaties with the leaders of the DPR and the LPR, recognizing the two regions of Ukraine as independent.
"We are ready to negotiate at any moment, once the Ukrainian Armed Forces have responded to the call of our President, ended their resistance and laid down their arms. No one plans to attack and harass them. Let us return to their families, and let us Ukrainian people decide their future," Lavrov was quoted as saying by TASS news agency. According to reports, the Kremlin said on Friday that President Putin is ready to send a delegation to Belarus for talks with Ukrainian officials.
The development comes after Ukrainian President Volodymyr Zelensky said he was willing to discuss a non-aligned position for Ukraine. President Putin launched a multifaceted all-out attack on Ukraine on Thursday, rejecting international condemnation and sanctions and warning other countries that any attempt to intervene would have "results" he had never seen. President Putin announced in a televised address on Thursday morning that in response to a request from the head of the Donbass republic, he had decided to launch a special military operation to protect those who have suffered abuse and genocide. Kiev rule for eight years.
Putin said the Russian military operation aims to ensure "demilitarization" of Ukraine. Putin urged Ukrainian troops to "immediately lay down their arms and go home." Later, the US and its allies have decided to block assets of four large Russian banks, impose export controls and sanction oligarchs close to Putin. Lavrov said Russia has always called for dialogue, claiming that Russia has no plans to "occupy" Ukraine.
"No one is going to occupy Ukraine. The purpose of the operation has been openly declared: demilitarization and demilitarization," insisted Russia's top diplomat. Lavrov alleged that Russia sees no possibility of recognizing the Ukrainian government as democratic, as it is "repressing and using genocidal methods against its own people."
This story is taken from a third party syndicated feed, Agencies. Mid-Day accepts no responsibility or liability for its dependability, reliability, reliability and data of text. Mid-day management/mid-day.com reserves the sole right to change, remove or remove the Content (without notice) at its sole discretion for any reason.