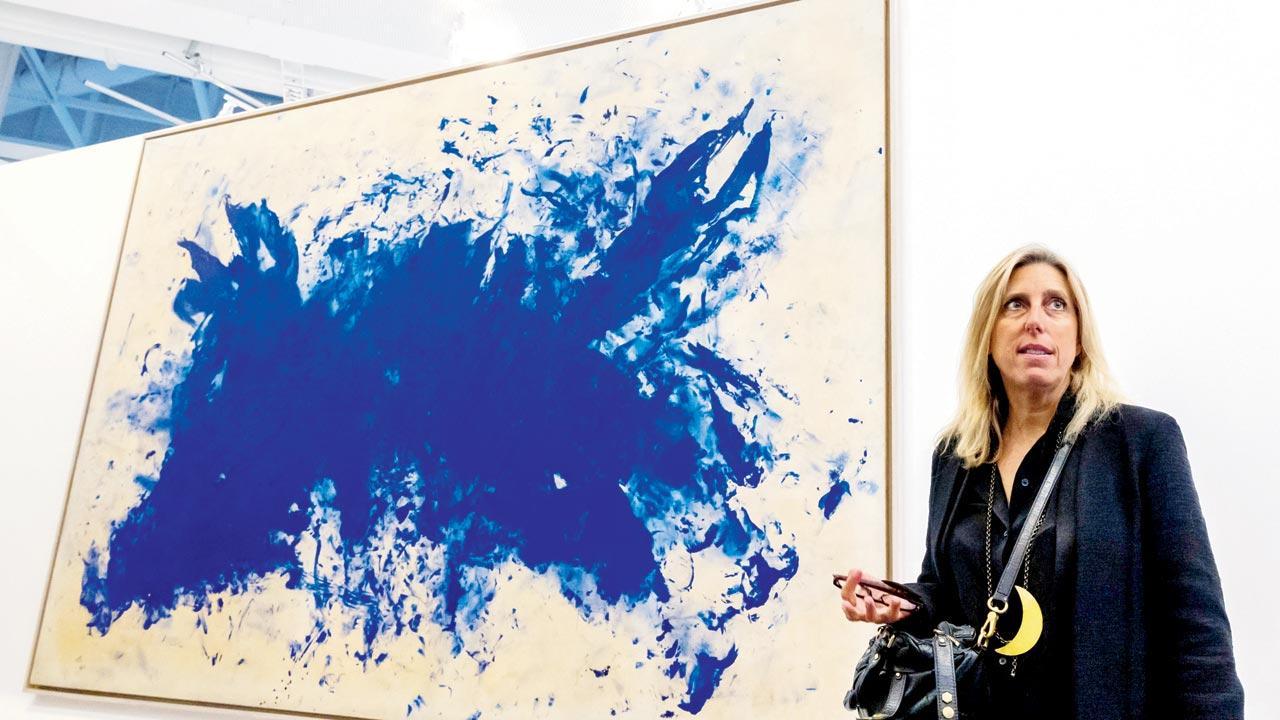 Three years in the making, and two years and nine months to wait. Gaurav Jai Gupta's The Sky Is Mine, a craft couture project for his label Akaro, is finally ready. He calls it a huge undertaking, not only in the realm of fiction but in patience and passion, or what Urdu describes better.
craziness
Portrait of Yves Klein (1928–1962) from the late 1950s. photo/Getty Images
Originally scheduled to show at the FDCI-led India Fashion Week in March 2020, the launch was postponed due to the pandemic. "My clothes live through COVID," laughs Gupta, 40. "The project has its own journey and life. It also took a while to do a live show because we weren't happy with the opportunities that came our way, until we decided to present it in an art gallery instead as part of the Fashion Week calendar. ,
Handwoven Merino Wool Chevron Blue Silver Blazer with Liquid Molten Ice Blue Oversized Kurta and Metallic Blue Textured Culottes; (Right) Handwoven Silk Engineered Striped Wraparound Trouser with Jamdani Silk Top and Circuit Patterned Overcoat
On 30th September this year, Kiran Nadar Museum of Art (KNMA) Noida presented a display of many blue spirits of Gupta; More specifically French artist Yves Klein's patented shade named International Klein Blue (IKB). "Akaro is not fake; This is a genuine, unapologetically straightforward brand. that 15 minutes [of the show] My film is where I take you into my world," he insisted.
Akaro's team first created different combinations and patterns with mixed media using ultramarine blue, black and white.
From a glimpse of the first model wearing an indigo khadi tunic and 3D textured cotton bomber jacket to look like some interplanetary headpiece—with hand-woven damask silk wrap—to the following 40-odd robes, the visuals intrigue The bright blue color palette and clothing drape remained constant. Clearly, these garments were created with a look at the lines and an incredible sense of flow, to the point where different garments blended into each other, or turned two sarees into a raw, sensual squeeze. was given. It had become impossible to tell whether the drape was actually a saree. "Nikhil Do [stylist for the show] And I wanted to create a vibe with drapes, and it starts with the fabrics that we bring in," says Gupta, focusing on handspun wool, silk, cotton-silk, cotton and jamdani.
Gaurav Jai Gupta with Kiran Nadar at the launch of The Sky Is Mine Show at KNMA, Noida
Gupta's interest in Klein goes back to a trip to Paris in 2018, when he visited the Center Pompidou, and came across the late artist's work of patent monochrome blue gouache painted on white canvas. "Yves Klein was the trigger; there was something about [IKB] Saturation, its intensity and mystery. Till then I didn't know how much blue is in my wardrobe, in my own subconscious or in my sadhana. It took me to a mental place of questioning everything. Indigo [blue] Did all that for me," explains a curious Gupta.
Nile (laundry agent) was mixed with acrylic binders to try to get the shade closest to IKB
Upon his return, he worked at his Lado Sarai studio, exploring patterns and proportions with mixed media on paper, before understanding the materials, weaving and dyeing techniques to be employed. He says that the blue color took him back to school, when his mother used to wash his uniform in Neel. Klein used various and sometimes theatrical media, such as sponges, fire, and even humans, to paint his canvases with colored pigments.
Binders were obtained from screen printing units and mixed with neon blue ultramarine pigments and bluing agents. Art silk threads sourced from Mubarakpur were dyed, adding a bit more shine to the yarn and bringing it closer to IKB.
To achieve this dense shadow, Gupta and his team lit blue LED lights to give a physical context to the Diors in Delhi; Digital references were proving to be a failure. "But even the lights were not very helpful. Diers found the references confusing," he says. During his student years at London's Chelsea College of Art and Design, Gupta worked closely with colours, and refers to his knowledge of color as one of his strengths. A visit to Mubarakpur in Uttar Pradesh, known for its significant weaver and dyer community, changes the game. "He had this line of blue thread but in synthetic silk," says Gupta of what he thought at a weaver's home. "We brought it back to Delhi and spoke to technical experts and colorists at a few textile mills to understand how we could get the right pigment."
monofilament silk bobbins used for weaving
His team discovered synthetic blue ribbons in local markets in Delhi in the hope that they would find a shade closer to IKB. A physical sample will work best. "Someone would have to speak to Dior in a language they would understand, we can't possibly tell them: 'Need a little spiritual blue'. They would like to see the shadows to recreate it.
After a point, I said, let's do different versions out of the blue and see how many we can crack in a single project. We were eventually able to get 28-30 shades of the colour."
Gupta likens the process to recreating ultramarine pigments and putting together a show similar to "climbing Mount Everest". He also believes that it has become easier to go against the grain over the years. "I was looking for [fashion] An intimidating, and emotionally exhausting industry. He thinks going back to the basics and learning to let go has helped.
Gupta launched his own brand of Indian textiles in 2008 with a master weaver. "In my mind, I am a weaver, not a designer. The first purchase for my studio was a loom. I was trained in a studio, and most of the work we do, including weaving, was developed here is," he says of his engineer.
Clothing which he calls "craft clothing".