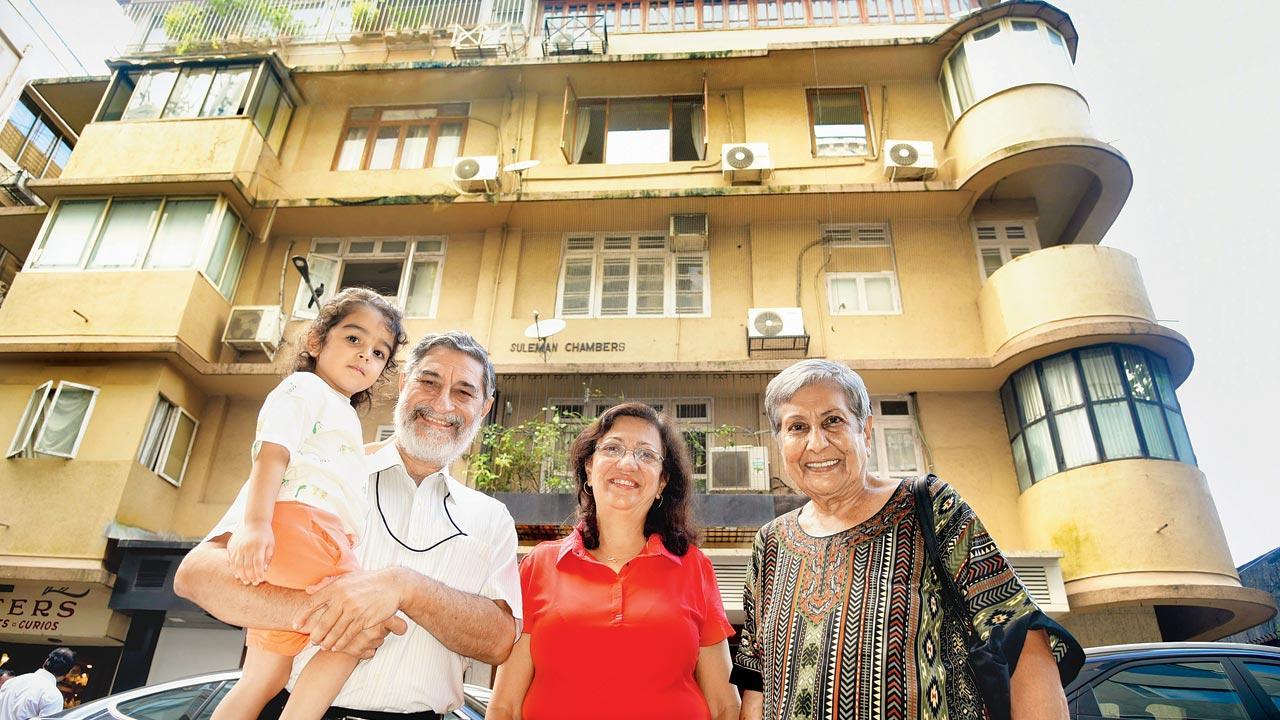 Where is that?" is the irreverent reaction to any mention of Battery Street. This short Colaba lane haunts the delivery man and the cabbies until they reach "the street behind Regal".
I would have been equally surprised, had it not been for my journalism guru Ammu Joseph's wonderful 21st birthday gift: membership of the Center for Education and Documentation (CED). Better known as the Dock Center, the library is located on Battery Street's Suleiman Chambers, a building that grew nearly 10 years after the cinema was in 1933.
Since the soldiers of the CED moved here on August 15, 1978, on Wadby Road after three formative years—its contents were bundled on a pair of handcarts. Afterwards, point to this post-emergency center for civil liberties and press activists.
The Jets at Ambassador Hotel, 1965: (from left) Michael Kirby, Malcolm Mazumdar, Napoleon Braganza, Suresh Bhojwani
Battery Street connecting Apollo Bunder Road to Lansdowne Road is located to the left and behind the Regal Theatre. This points to the passive saluting battery on this section – a role performed today by the Navy's Middle Ground Island Battery installed on a basalt rock reef on the sea side of the Gateway. A black stone slab at the entrance to the Suleiman Chambers, drilled with large holes, indicates that some guns were probably bolted into position.
Until the mid-1960s, Colaba was dominated by Anglo-Indians, Europeans, Parsis and Goans. Of the small group of buildings lining this street—the Sulaiman Chambers, Gordon House, Lansdowne House, Readymoney Building and the Apollo Hotel Building—Sulaiman Chambers was the heart and soul of the street.
Valerie Jr. and Darryl Kirby, who emigrated to New Zealand, are a couple who harbor vivid memories of their childhood home. Darryl corresponds to Auckland, where he is settled, "At the top of the Battery Street intersection with Apollo Bunder Road to your right, where the Shell Service Station is, there was a lovely garden for the residents of Suleiman Chambers." "Too valuable to waste as a green oasis, land sold until 1950-51. We had a requested address. As residents left, this Art Deco building stopped getting the attention it largely deserved. ,
Oil on board painting of Battery Street neighborhood by Darryl Kirby
His wife Valerie elaborates: "We were a friendly bunch, going back to 1945 when my grandmother's family moved into two apartments in the then new building. With neighbors like saxophonist Hal Greene and drummer Eddie Jones, as well as my three aunts who played the piano, it didn't take long for a Friday evening party to swing at Grandma's house. We were the next generation, like the A-team. We roller skated, bike rides, hula hoop around our stamping grounds. We won cricket matches against Dhanraj Mahal team."

The mid-1960s became ripe for a second wave of young musicians on the block. Enter Jet. Their name popped up on Bombay's beat scene, inspired by West Side Story's half-fighting gangs, three Campionites and one St. Marian. Michael Kirby (Daryl's brother), Malcolm Majumdar, Suresh Bhojwani performed with drummer Napoleon Braganza at Ambassador Hotel, Taj and Sun-N-Sand on lead, rhythm and bass guitar respectively. Their bowler-hating, frilly-shirted manager Ashok Daryani still has a foothold in Sulaiman Chambers. "We rehearsed in Kirby's Flat No. 31," recalls Daryani. "It was just great to play in the city with a huge appetite for Western music."
Another Colaba boy yet to taste fame—Jabalpur-born, Dublin-bred, Nashville-star country singer Roly Daniels—joins the jam sessions. Though rock-and-ruling in a nutshell, from 1964 to '66, The Jets' sensational farewell show preview read: "Every teen worthy of his Beatle wig makes a beeline for 'Walk Don't Run' at Bhulabhai Desai Hall."
John D'Souza at the Center for Education and Documentation. photo/sameer markande
The Suncity Apollo Hotel was the 1950s Pyrcase Apollo Hotel and Restaurant in Brightlands, the building into which the Gia Oriental Kitchen has been relocated. Pirkes was its cake and chocolate shop packed with restaurants. "Below that mouth-watering array, well apart from it, thank heavens, was a dull, dark surgery with doors permanently closed. Through the frosted glass window we saw a lonely, dim light Will see the bulb. A white sign with black letters announces, 'Dr. So-and-so, venereologist'," laughs Darryl.
Rustom and Shernaz's lawyer arranged for me to meet Daryani at their apartment. Relatively recent residents, since the 1990s, have been admirably cautious about the civic issues of the Shernaz area. Lawyers introduce old neighbors. One is 80-year-old Bano Kalantri. His father Khodamurad Mehrwan fled to the city of his dreams as a 15-year-old peasant boy from Afkham Yazd. While sweeping the floor of the New Majestic restaurant below the Capital Cinema for Rs 5 a day, he ended up killing a fellow in the cafe.
Across the street is the ReadyMoney Building, now the Kalapesi Trust Building, in an arresting hybrid of Renaissance-design elements with a local wood-screened façade. It features the style's trusted arbiters, Hiramenek & Son and De Popley. Classy low-key, effortlessly elegant, Muncherji Hiramenek's 1882 venture clearly outweighed its purveyors. Muncherji's son Ardeshir's keen eye for quality Mughal objet d'art and English hallmarked silver invited connoisseurs.
Dwarkadas Popli outside his family shop in the ReadyMoney building, late 1960s
Ardeshir's wife Perin and son Mehrnosh pass their inheritance on to the Bijoux of their marriage to Twinkle Khanna by the Parsi aristocracy. Hiramenex enjoys regular patronage in the main complex of the ReadyMoney Building and in front of the jewelery store at Sulaiman Chambers.
Back in the Readymoney Building, De Popley was founded in the 1920s as Casey Popley & Sons. Karam Chand Popli of Rawalpindi, Punjab procured Kangra paintings and stone works for the customers. Karam Chand's son Dwarkadas (D of the company name) expanded the operations. Dwarkadas' son Shashi and grandson Akshay continue to engage with a particular clientele.
There are quietly glowing poppy fan files with rare gems and illustrated manuscripts. A polite communication from a Diwan, printed on royal letterhead, assuring him of his position to pay the Maharaja's dues. A note from the Office of the Royal Italian Consul General praising "interesting, valuable, moderate in prices with useful emporium items". A letter from Krishna Nehru Huthising, who was shopping for her brother Jawaharlal, complains that the shop does not open early every morning.
Captured in au Courant by the old guard, the pages of the archived album feature photos of Calvin Klein, Donna Karan, supermodel Naomi Campbell, fashion maven Fern Malis, Cold Play's Chris Martin and Elton John's husband David Furnish. "George Harrison also came when he was in Bombay," says Shashi Popli.
I recall a report in the London Financial Times on De Popley's recommendation: look for the door that has the D on it (no confusion with the Bathyjas outlet whose name is next door) and don't miss the espresso. While sipping a cup of joe on that hot afternoon that oozes energy, I noticed an old image. With a Dodge taxi, Pontiac sedan and Ford van in the foreground, the ReadyMoney building photo impressively represents a mid-20th century eastern street corner. Behind these vehicles, naval and military stores and restaurants were spread out at right angles to where the table currently stands. Its Battery Street wall had tall billboards of movies in Metro and Eros. The line features the original Casey Popley & Sons signboard.

Hotel Suba Palace practically covers the ReadyMoney building. Mansoor Mehta says, "Given the influx of Arabs in the 1970s to make medical tourism big in Bombay, my grandfather Mohammad Mehta and father Abubakar started a guest house on the first floor. As demand increases, so do the upper floors. It became Suba Palace from 1994 onwards. We have kept it thoroughly clean, unlike the hunky-panky ones associated with many Colaba hotels. ,
An early example of such a questionable boarding house-verging-on-Bordellos stood at the Gordon House. Aptly named The Lady May Guest House, it earned popularity with sailors, notoriety with angry residents. One of the later may be Mrs MA Price, a pillar of Wodehouse Church, on many of its committees. Ironically, how her flat became possible thanks to the disco poli Esther of Sanjay Narang's Gordon House Hotel.

"I have seen Hindi screen actors enter Lady May with their escorts," smiles Mohamed Sham deliberately at Essage's flagship store in Lansdowne House. The faithful swear by the antiques, furniture, and art of their ancestral atelier. The clan's fame goes back to the 1890s, with Abdul Qadir Esaji using fine tapestries from Iran, sourcing jewelry and priceless collectibles, especially for rulers such as the Nizam of Hyderabad. Mohammadi's father, his son Saifuddin Sham, studied Indian bronzes and miniatures. "We sell with authenticity and have the guts to buy back," says Mohammadi, whose experience has grown the business internationally. One completion project was the restoration of parts of the 26/11-damaged Taj lobby and chandeliers by Essajees.
We want a comprehensive restoration to save this road. CED's D'Souza has expressed regret over his changing scenario. "Like a charming Parisian thoroughfare, covered arcades let pedestrians walk and talk with vendors. Archways are lost, eateries dodge the sidewalks, between these buildings the jobs and activities of ordinary people are lost. Claims." Longtime mentor and co-founder of CED (with Pradeep Guha, Aspi Mistry and Ayesha Kagal, along with screenwriter Anjum Rajabali), he explains, "When we started, the newspaper was a part of communication. Used to lead. Social media themes should be consumption and production conscious. Annotating, storing and passing is key to the future. Our center Media Lab encourages this in a digitally secure environment with sessions, video work and shared posts does.
Power on, Little Library. Thanks for the introduction to Battery Street.
Writer-publisher Mehr Marfatia writes fortnightly on everything that makes her love Mumbai and love Bombay. You can contact him at meher.marfatia@mid-day.com/www.meher marfatia.com