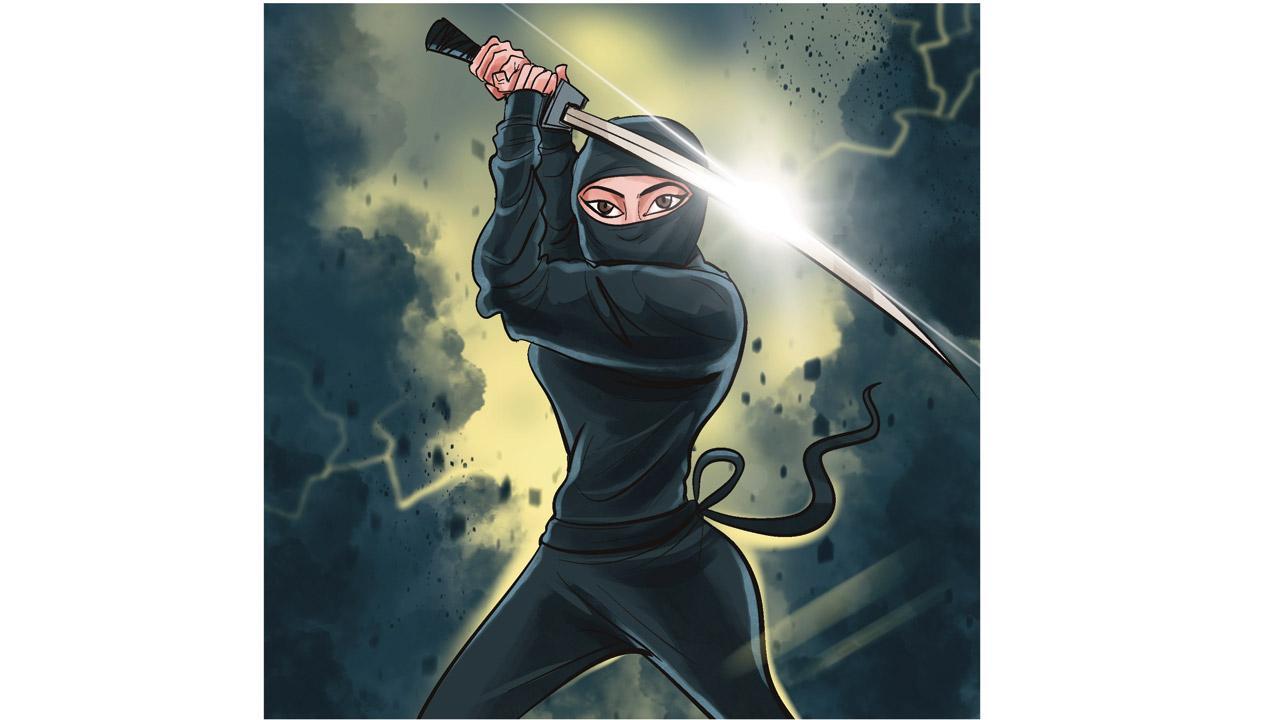 It was an important day. "Feeling like popping over for a cup of tea?" Natasha aka Nat, my 18-year-old neighbor invited me over, something she had never done before.
I prepared myself for its messy abode, imagining clothes strewn around, dust-laden surfaces, teen posters.
My impressions, assumptions were not wrong. Nut lived as he thought it—sloppy, messy, feisty, everywhere, a kaleidoscope of chaos, disorder, millennial mayhem.
"Your flat is… uh… cute… uh quite bohemian," I tried.
"Fuck dude, it's a mess, I can't be bothered… no one is really going to move on… haven't really got a worthy guy to share my space with… so' Whatever'!" (twisting eyes)
Placed in the middle of this clothing illusion was a giant iMac.
"Rahul Bru… I'm a graphic animator."
"I uh… didn't know… sorry, I never asked what you do. What do you 'animate'?"
"Come with me," she said.
And with that, bats with nuts and red striped hair led me to a white antique door in the flat. As we entered, he said, mysteriously…
"I'm taking you to a place where no man has gone before…or women…Welcome to my doja, Rahul Sain."
Then he opened the door to a quiet and quiet room, opposite his outer room.
"Dojah… he's the one…," I began
"Yeah, this is a Japanese meditation room. This is another part of me," she said.
"You're half Japanese, Natasha?" I asked disappointedly.
(Eyes roll, eye roll, 'Hrumppuff' combined with a deep breath)
"Jeez, Rahul uncle, I knew it was a mistake to let you into my secret world, don't be literal, man. I have two sides, the outer and the inner."
"Okay chill, Natasha, it's just that this, uh, room is the exact opposite of the room outside. I can't believe this fiery girl I know has a spiritual side to it."
"Yes, this is my secret world, there is no one here except you, you feel honored …"
"I am."
"No one will understand…"
Nat became very calm.
"Rahul San… it's not a room, it's a private room, it represents a side of me that no one knows… no one should know… and if someone does, then I'll find out who said that on me, and I'll follow you."
"Don't worry, your secret is safe with me."
"I'm a 'ninja,' a 'ninja,'" he offered, and showed me a tattoo on the back of his neck.
"It's me, my ninja avatar, Nyoki."
"You're a ninja, as you cover your face, revealing only your eyes, you leap from roof to ceiling, stealthily, with a samurai sword, that kind of ninja?"
"Yeah bruh in a manner of speaking, figuratively… in my head… I close my eyes… and I'm closed… exploring the world, doing wrong things, sometimes of alertness take to."
"Okay nuts, tell me…"
"It's Nyoki… Rahul San, here, it's Nyoki."
"And what did Nyoki do today?"
"I cut my boss into many little pieces," she said simply.
"Why?" I asked scared.
"Because he's El Crepo… and he must be stopped… He was harassing all the ladies in the office, this morning he was smoking on the terrace, I ran after him, he didn't see me coming." .. I cut it off."
"That's what happens in the TV show Dexter."
"It's in my head, Rahul Bruh (eye roll) … Try to expand your mind a little, it's imagination … I live in two parallel universes, one, Natasha, is from Hoshiarpur, here Lives in Mumbai, dealing with the crap that the city throws at me… and then here I come, take a look at my ninja tattoo, close my eyes, and I channel Nyoki, and I'm here I'm out of … Got it? Anyway, gotta go now, Rahul Bru!"
"Wow, so are you Nyoki now, going to conquer the new world… Flying through space and time, locked in mortal warfare and engaging in sword fighting, espionage and murders with evil samurai… Tell me, tell me, Nyoki?" I asked fascinated.
"No man, now I'm Natasha, I'm going to get some lunch for us, come?" Nat smiled.
Rahul Dakunha is an adman, theater director/playwright, photographer and traveller. Contact him at rahul.dacunha@mid-day.com