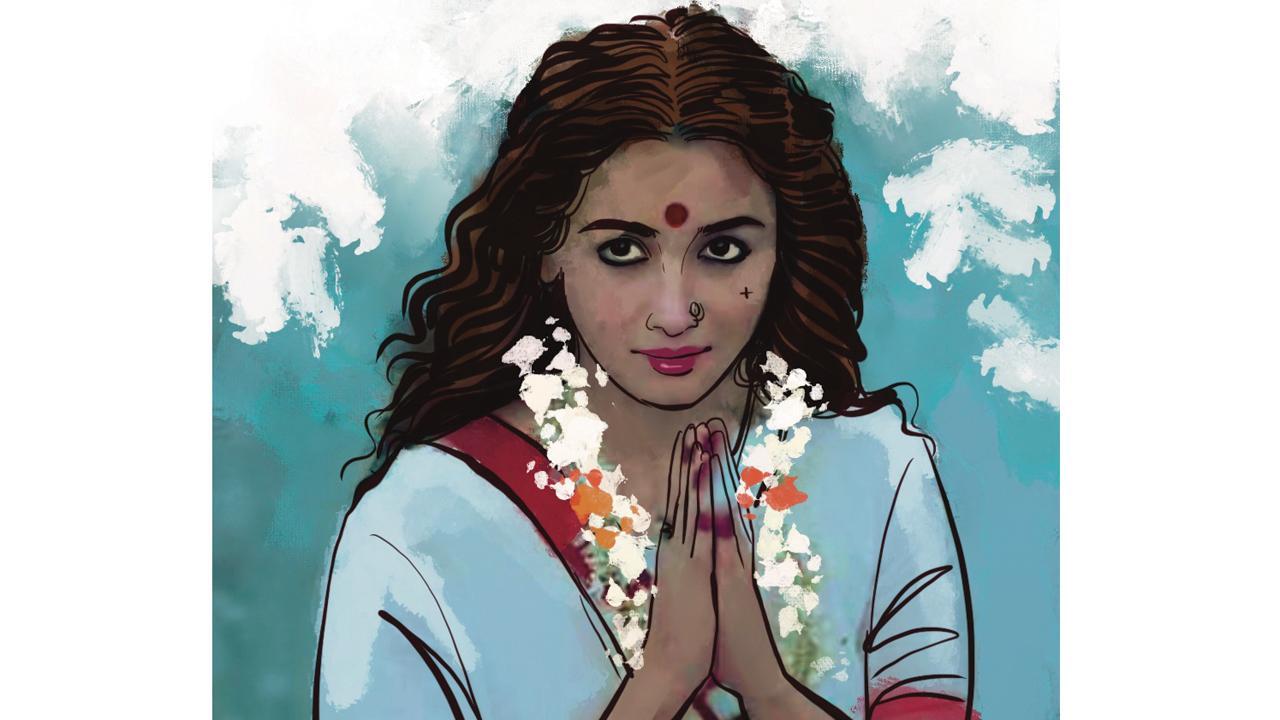 Sanjay Leela Bhansali's Gangubai Kathiawadi is a feisty, feminist biopic of the real-life Gangubai, a sex worker who ruled Kamathipura, Bombay's red light district in the 1950s and 60s. Starring Alia Bhatt, it had its world premiere at the Berlinale Special Gala last week at the Berlin Film Festival. This is Bhansali's second film at the Berlinale after Hum Dil De Chuke Sanam in 2000. And this is Alia Bhatt's third film in Berlin after Highway (2014) and Gully Boy (2019). The film opens in theaters worldwide on February 25. Being a heroine-led film in conservative Bollywood and releasing theatrically across the world at this time instead of OTT, the film bravely takes a number of risks.
Bhansali has previously played strong female characters including Devdas, Black, Ram Leela, Bajirao Mastani, Padmavat and now Gangubai Kathiawadi. Gangubai flees with her husband from Kathiawar to become a film star in Bombay, but he sells her to a brothel in Kamathipura. She fights back, becomes a brothel madam, and turns into the matriarch of Kamathipura, who fights for the rights of sex workers. The film is based on the non-fiction book Mid-Day by KS Hussain Zaidi and Jane Borges, Mafia Queens of Mumbai. Bhansali told me that he grew up one lane away from Kamathipura and lived there for 30 years.
The name of the heroine, the holy river, Ganga, immediately reminds of a woman in Ram Teri Ganga Maili. But Bhansali's film presses all the right buttons, completely rooting for a feminist character, while being very entertaining. This film will definitely be liked on the big screen. The film celebrates a colorful character with financial, mafia and political clout. She made a famous speech at Mumbai's Azad Maidan demanding legalization of prostitution and even met Prime Minister Pandit Jawaharlal Nehru and successfully banned the eviction of sex workers. She also fought for girls' education and single women's rights.
Bhansali's direction and craftsmanship are sure. He is director, screenwriter (along with Utkarshini Vashisht), editor, producer and composer – a rare distinction. He makes fun of feminism with song and dance and whistle-blowing dialogue. Alia Bhatt carries the film on her shoulders very well. Although young and slightly built, she absorbs masculine traits to suggest power through body language and voice; She loves wine and bidis, slaps and kicks people, and rides around in Bentleys. She is also attracted by deep emotional reserves.
The screenplay, by Bhansali and Vashisht (his debut script), is full of moments. While Gangubai rises to power—her rise is shown relatively easy in the film—it is careful not to portray her as a saint. Her turning point came when she was brutally raped, and asked for protection from real-life mafia don Karim Lala (Rahim Lala), and he publicly declared her his 'Rakhi Bhai'. After that the domination with mafia, police, ministers and ministers follows fast. It betrays someone close, slyly turning it into political capital during local elections; She also exploits girls like a brothel madam, as she used to do.
Boldly, in today's right-wing climate, Bhansali underscores a secular ethos that he had previously celebrated in Bajirao Mastani: not only does a Muslim don (a venerable Ajay Devgn as a generous guest) give protection to a Hindu woman ( It's in the book), but he also celebrates a Hindu-Muslim romance, and includes a feminist journalist Fuzzy (Jim Sarbh; Muslim? Parsi?). The film honors marginalized people; Not only a sex worker, but also a transgender (Vijay Raj, Fantastic) stand for election, suggesting a strong local democracy. There are delicious dialogues penned by Prakash Kapadia and Vashisht. When a school principal asks for the father's name for admission of girls, Gangubai replies, "Maa ka naam kafi nahi hai?" (Isn't mother's name good enough?") Adding, "Come on, father's name is Dev Anand." (Well, write Dev Anand). Shantanu Maheshwari as her estranged lover Afsaan, Indira Tiwari as sex worker Kamli and Seema Pahwa as brothel madam, do well.
Bhansali's lyrics are thought-provoking (with background scores by Sanchit Balhara and Ankit Balhara), and include the beloved qawwali complaint—qawwali, once a staple of mainstream cinema and Muslim society, are now nearly erased from Bollywood—and There are attractive dances like Dholida. Sudip Chatterjee's cinematography is as compelling as ever. Editing is brisk for a 152-minute film. The sound and production design are meticulous: more bleak than Bhansali's usually extravagant world, the sets tastefully pay homage to even older cinemas like Alfred and New Roshan Talkies. Prominent female talent includes screenplay and dialogues by co-producers Prerna Singh and Utkarshini Vashisht. Produced by Bhansali Productions and Jayantilal Gada's Pen Movies, the film is distributed internationally by Viacom 18 Studios and Paramount Pictures International. Kisse darneka nahi (never be afraid of anyone), as Gangubai says. Like, absolutely.
Meenakshi Shede is the India and South Asia representative for the Berlin International Film Festival, a national award-winning critic, curator of festivals across the world, and a journalist.
Contact him at meenakshi.shedde@mid-day.com