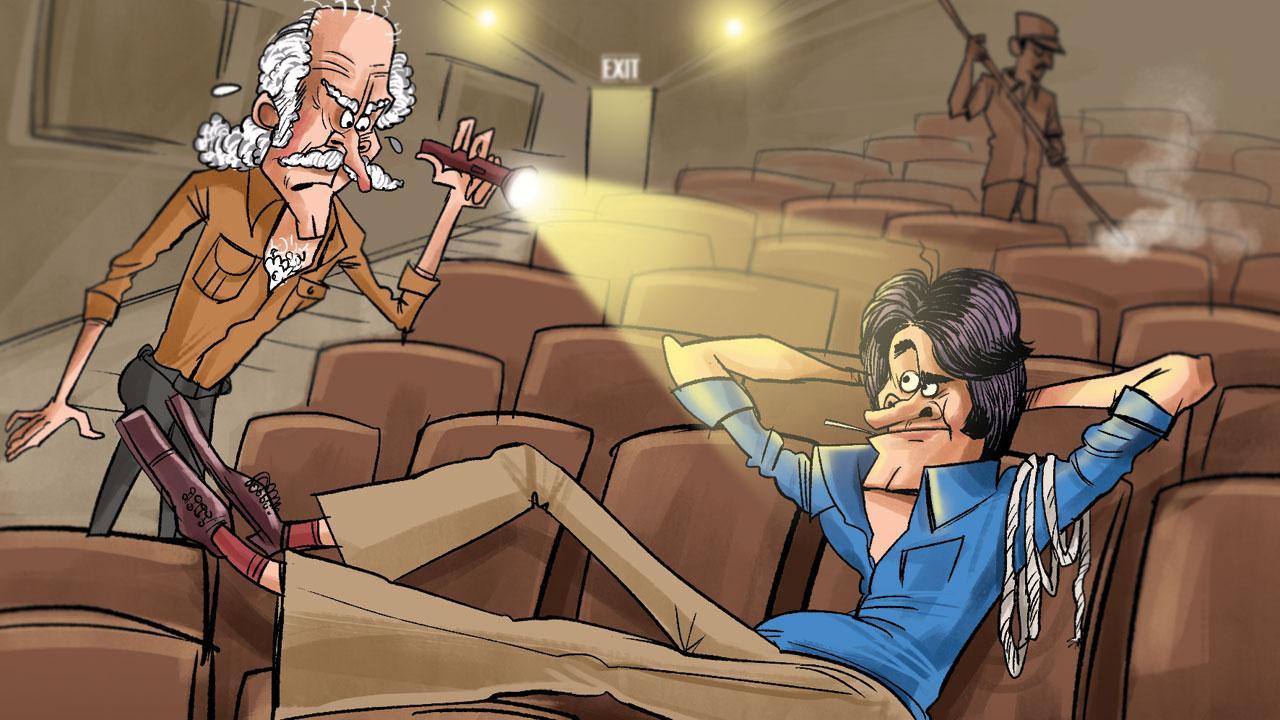 Last Tuesday my phone rang, a deep voice said-
"In a relationship, you ask us to be your father…"
"Hi Lobo Lobo, okay?" I asked
"Eh dicuna men, how did you know it was me, eh?"
"A hunch," I said.
"Anyway, I'm in Grant Road East, standing at the place where Minerva Teeter, Pride of Maharashtra used to be."
"Why… uh, are you there?"
"Because, Bossy, today is Big B's eighty birthday, and I'm going back to my hangouts when I was a Tingu Bugger, some of Bachchan's biggest big hits used to play here, chhe… so I was getting nostalgic. "
"You used to hang out at the Minerva Theater as a child, why?" Lobo Lobo's high tenure got cut short.
"Look men, I'll tell you a secret, when I was seventeen, our family was so 'crazy', I had to earn some side molars… so me and my older brother, Ansel, we used to sell tickets to Minerva. Outside of Black, it was our simple business!"
I had to sit down to digest these revelations.
"You sold tickets to the Black Market outside the Minerva Theater? Why?"
"Many Bachchan pitchers released Dere, no! All solid Golden Jubilee, Platinum Jubilee, Diamond Jubilee… Soko dosh we made."
"But why engage in this shady dicey activity at such a young age?"
"Whosay, like my dad Bachchan used to shout slogans in the 'wall' at De Mazagon Docks, I prayed that he become a smuggler and bring home cash in a VIP brief case.
But he only reached out to the supervisor, he hit the d bottle just like D'Silva's character in Zanjeer and we were still bitter. ,
"And that's why you took a life in crime like Bachchan in the movie?"
"No man, black marketing ticket-kiri is not a crime, a couple of times a day locks us up for a few hours. My grandfather was in Minerva showing people in dare seats with a torch in the dark, our neighbor Mushtaq uncle was D projectionist, so watch us movies, only for free. Me and Ansel always used to watch and watch Bachchan's blockbuster movies, Oh Main What Hungama Hoga, When His Movies Release, Vote Lines, Dikuna Main… Oohoho, I used to walk up and down and ask people, 'Dus Ka Tees,' Ten of thirty'.
When Sholay released, five years house full, five years we got our main earnings from Sholay…
Lobo Lobo paused, "Hey that bachchan, he was a lambo-sukdu fellow, but 'ow he'll take nine ten buggers and dem good pasting, dishoom dishoom… oops so good, even now Tiger chappy has stretched muscles of all dose can't match. and nachne ne mard… haha ​​very much… today, hrithik tikt has all kinds of all dose bosco scosco moves, but bachchan, bindaas. Needless to say No, tied a number dupatta on the head… and full on the toes… 'Kaike paan aur rasa wala'.
I tell you guys, Dikuna… Dose times no… '74 to '79… Date Lambuji till date no one can match. I wanted to be like him, I was an angry catlike man, I thought the world had given me some bad cards… Bell bots, dat hairdo- my mudder was a seamstress at a filmy tailor shop in Dongri.. .Glam Shem Tailors, I would tell her, to make all dose suits for me. When I wanted to date my wife, I'm sad that what she wore in The Great Gambler, arre I wore her just like Zeenat Aman. But the marriage was so opposed to me by her parents, her sister Magdalena had a husband, a very wealthy budgerigar. So tell me…, 'He has a car, a bungalow, money, don't you?'
And I told them, "I have myrtle!"
Rahul Dakunha is an adman, theater director/playwright, photographer and traveller. Contact him at rahul.dacunha@mid-day.com