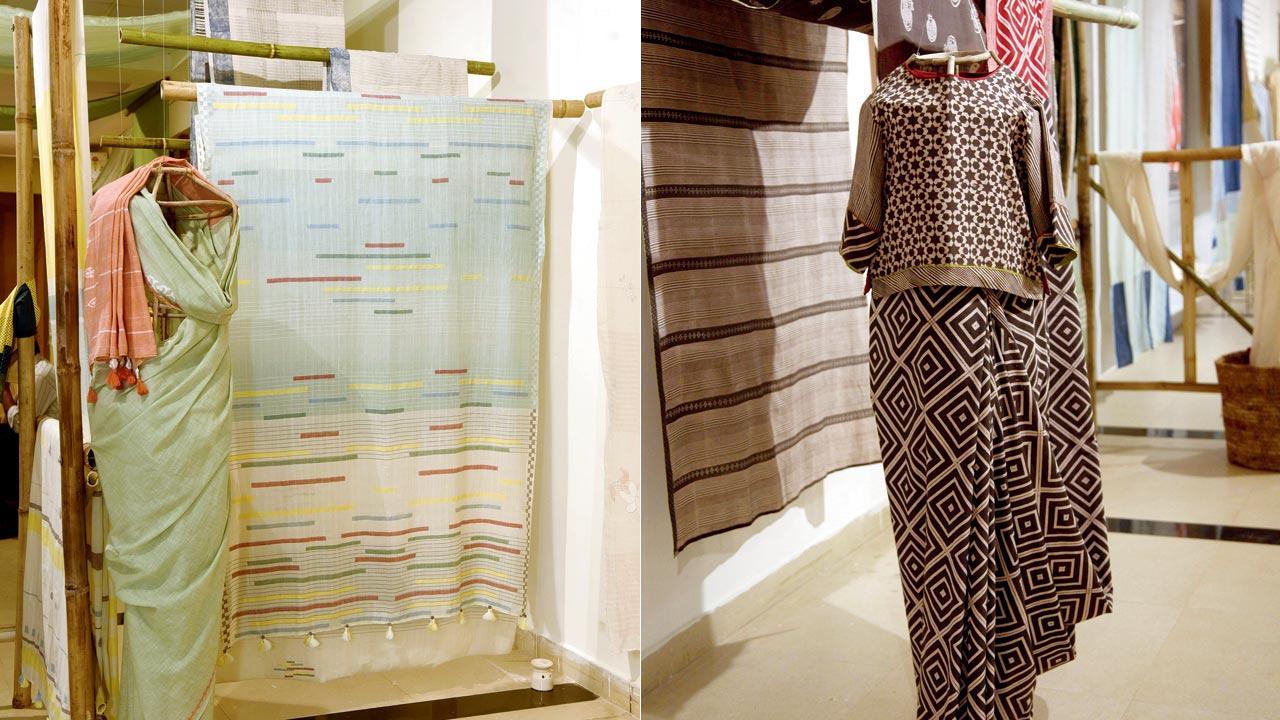 Textile designer Juhi Pandey is based in Shillong, where she heads a unit of the Khadi Center of Excellence (COEK). But his last seven months have been mostly spent in Guwahati, which is closest to two khadi institutions in Assam – Tamulpur Anchalik Gramdan Sangha and Gram Swaraj Parishad Rangiya, where he underwent extensive artisan training in organic indigo vat, yarn dyeing, fabric making Is. Creating a brand identity, and most importantly, for sarees made from the natural fibers of the Northeast.
Pandey, along with a small team of design associates, enlisted spinners and weavers from Tamulpur and Rangiya to create 12 limited edition khadi saris made from native Eri and Mulberry silks. The sample saris set a record of sorts as their weavers had so far made only plain non-colored sheets, gamchas and mekhlas.
New-Avatar Khadi sarees made in Tamulpur and Rangiya recently visited Pragati Maidan in New Delhi, as part of the innovative Khadi display organized by COEK, a joint initiative of Ministry of MSME and National Institute of Fashion Technology; CoEK aims to empower local Khadi organizations and strengthen Khadi's footprint. Jori sarees from Assam caught people's attention and got orders, giving Pandey what he had hoped for – connecting the customer to the artisan. Pandey now spends more time in Shillong, planning to replicate the success in khadi institutions in other northeastern states, notably Arunachal Pradesh and Nagaland. "As Jori's first collection goes into production mode after a positive response from designers and customers alike, we will continue to showcase the collection in Shillong and Nagaland over the next months, with an aim to encourage more Khadi institutions to adopt new benchmarks. to encourage. To spread awareness about techniques and Khadi to new markets.
Political activist and founder of Dastkari Haat Samiti Jaya Jaitley (first from right) inaugurating COEK's fledgling Khadi exhibition
Like the Jori series, the fledgling Khadi show features 75 prototype sarees aligned under 15 thematic ranges, from the colorful corners of India- Murshidabad to Gondal and Dindigul. The collection underscores Khadi's versatility, its social power and aesthetic potential, indigenous connect, but most importantly, the personal stories of creators whose design philosophy is reflected in the creation of the fabric.
The 135-page fledgling Khadi Saree Catalog, previewed by this columnist to understand the CoEK philosophy, places sarees in a trendy, chic and contemporary league of their own. It also does something else – it separates khadi from the dull sludge and lameness that manifests in many khadi village industries stocks, where counter workers are often on a mission to discourage sales. The catalog links Khadi to the determination, resilience, wisdom and strength of women. Interestingly, the saree chain from Tamil Nadu is called Thunivu, which translates to courage.
Saree Catalog respects experimentation and forges new avenues. This rectangular handpun six yards (Indian textile history cites saris between four and nine yards, and draping styles between more than 100) suggests several possibilities of marriage, with the region's original weaving techniques, regardless of Be it Jamdani of West Bengal, of Chanderi. Madhya Pradesh, Pochampally in Andhra Pradesh, Paithani in Maharashtra should not be forgotten. While some revolutionary steps remain to be taken, the catalog points to a promising start. This columnist was saddened to learn that Maharashtra is nowhere on the COEK's map of avant-garde khadi sarees. There are about 35 Khadi Manufacturing Institutes in the state. Apparently, no one responded to CoEK's let's-upscale-khadi call. It is educational that out of 2,800 khadi institutions in India, 20 units showed readiness for a clinical survey, which determined the extent of capacity building required for the design, production and marketing of "differentiated" khadi products.
Juhi Pandey
The fledgling Khadi collection stands out due to the introduction of a new color palette in Khadi. Nargis Zaidi, Head (Apparel), CoEK and Nodal Overseer of Ulhas Tusar silk chain, points to the presence of a festive tone of deep indigo with magenta. "Ulhaas, living up to its name, plays with contrasts – midnight blue and indigo against mustard and sour greens. It gives a whole new dimension to the khadi tussar sourced from Murshidabad," says Zaidi, adding that the finished product at Ulhas includes a gold pigmented printing in dotted pattern on the pallu and borders. The patli technique—the sari's pleats, border, and pallu distinguish it—also elevates Ulhas as a definite inter-generational choice.
Zaidi has also considered for the Shyamali handblock-printed collection – count 150 cotton muslins sourced from Murshidabad – which plays with the darkness of the evening by bringing in tones of charcoal and off-white. "Eclectic conversational motifs of pomegranate, floral buta and geometric make these sarees more contemporary, catering to Gen Z women." It takes three days to spin a plain sari, followed by another three to weave.
Zaidi's experience with the Paheli series is even richer, as it involves a women's handicraft enterprise (Sadhana) in Udaipur, which has played hand applause on striped khadi (from Tamil Nadu) woven with hand taka work. The interplay of vertical-horizontal and printed-woven stripes really makes this a puzzle; And as you solve the puzzle or puzzle, you can see two different regional corners of India converge in one piece.
Sunanda Davar, head of COEK, underlines another design collaboration in the textile, arc hand-blocked series, which are toys with asymmetric randomly placed checks, dots and stripes. The range is based on a count of 50 khadi cottons from Kanpur as well as 95 soft-skinned varieties from the princely state of Gondal. Chhap 75 was one of the first collections conceptualized in the fledgling Khadi Showcase. Since weaving of sarees in the local institution was not possible in the required time frame, the cloth was brought to Delhi for printing; This was followed by groups of women embroiderers doing handicrafts on the finished product.

Davar cites Kashish sarees as the example of Kanpur Count 50 Khadi (woven in Kajipur village), which has been aesthetically enhanced with metal and Mukaish handicrafts by male artisans of Delhi. "As you see, all the processes—spinning, dyeing, weaving, warping, weaving, denting, embellishment—bring many energies. Each component action deserves a celebration."
The fledgling Khadi exhibition has attracted popular response in New Delhi and elsewhere as well. In fact, the exhibition has lit torches not only on Khadi sarees, but also on the women weavers and spinners who make up the building of the industry. Dr. Sudha Dhingra, Director, COEK says that the fledgling khadi show itself never ended; The saree prototypes are on display in four-five cities and select institutions.
The display of 75 versatile hand woven sarees pays homage to 75 years of Indian independence. The showcase also points to the years it takes for Khadi to become interesting, trendy and marketable.
Sumedha Raikar-Mhatre is a culture columnist in search of subtext. You can contact him at sumedha.raikar@mid-day.com