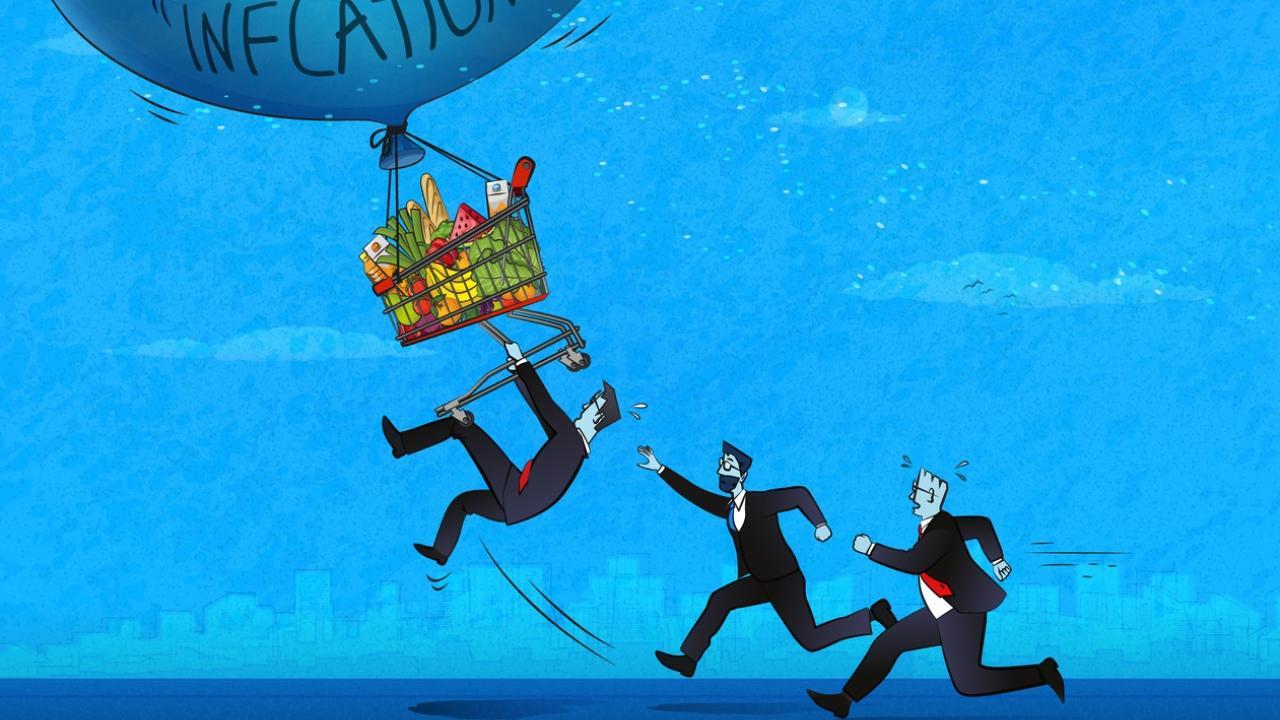 Inflation in India is expected to decline from 6.8 per cent in the current fiscal year ending March 31 to 5 per cent in the next fiscal and then to 4 per cent in 2024, the International Monetary Fund (IMF) said on Tuesday.
"Inflation in India, like other countries, is expected to decline from 6.8 per cent in 2022 to 5 per cent in 2023 and then towards the target of 4 per cent in 2024," Daniel Leigh, division head of the IMF's research department, told reporters here.
"This partly reflects the actions of the central bank," he said.
Nearly 84 percent of countries expect headline (consumer price index) inflation to be lower in 2023 than in 2022, according to the World Economic Outlook update released by the IMF on Tuesday.
Global inflation is projected to fall from 8.8 per cent (annual average) in 2022 to 6.6 per cent in 2023 and 4.3 per cent in 2024 – up from pre-pandemic (2017'19) levels of around 3.5 per cent, it said.
The estimated deflation partly reflects a fall in international fuel and non-fuel commodity prices due to weak global demand. The IMF said it also reflects the tightening effects of monetary policy on core inflation, which is expected to decline globally from 6.9 per cent in Q4 2022 (y-o-y) to 4.5 per cent by Q4 2023 . ,
"Nevertheless, deflation will take time: by 2024, projected annual average headline and core inflation will be above pre-pandemic levels in 82 percent and 86 percent of economies, respectively," it said.
In advanced economies, annual average inflation is forecast to decline from 7.3 percent in 2022 to 4.6 percent in 2023 and 2.6 percent in 2024 – in many cases above targets. The IMF said projected annual inflation in emerging markets and developing economies has declined from 9.9 per cent in 2022 to 8.1 per cent in 2023 and 5.5 per cent in 2024, higher than the pre-pandemic (2017-19) average of 4.9 per cent.
Also read: Pak rupee's fall slows down, PM Sharif hopes for IMF fund
In low-income developing countries, inflation is projected to decline from 14.2 percent in 2022 to 8.6 percent in 2024 — still high, but closer to the pre-pandemic average, it added.
Global inflation is expected to decline this year, but projected average annual headline and core inflation through 2024 will still be above pre-pandemic levels, Pierre-Olivier Gaurinchas, IMF chief economist and director of research, wrote in a blog post. . level in more than 80 percent of countries.
"The inflation news is encouraging, but the battle is far from won. With a slowdown in new home construction in many countries, monetary policy has begun to bite. Nevertheless, inflation-adjusted interest rates are low or negative in the euro area. remain and other economies, and there is significant uncertainty about both the pace and effectiveness of monetary tightening in many countries," Gorinchas said.
This story has been obtained from a third party syndicated feed, Agencies. Mid-Day accepts no responsibility or liability for its reliance, reliability, credibility and data of the text. Mid-day Management/mid-day.com reserves the sole right to modify, delete or remove (without notice) any Content at its sole discretion for any reason whatsoever.