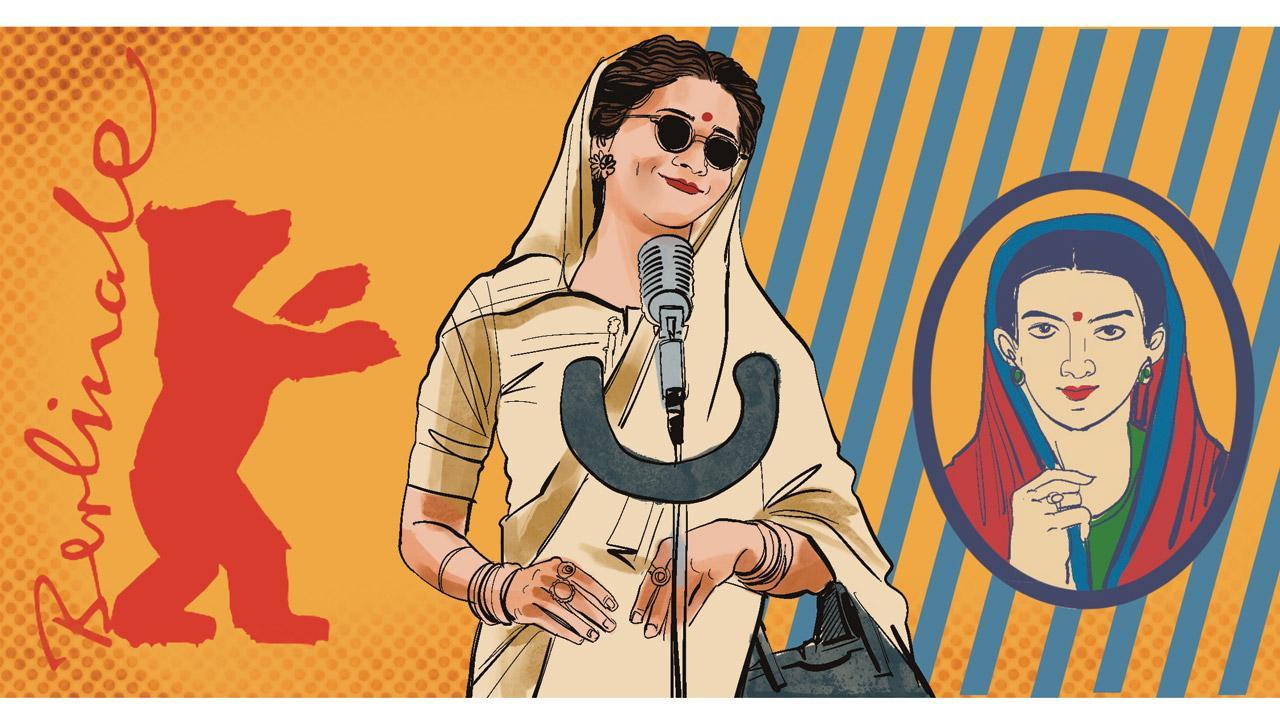 Oh, the 72nd Berlin Film Festival has started, and I'm not there! The festival runs from February 10-20, and I'm stuck in Mumbai due to COVID concerns; I am negative I miss it a lot as this is the 24th year I am working for Utsav; Now as India and South Asia representative, but much more because South Asia including India has such a powerful presence at the festival this year.
26 films and film talent from South Asia have been selected to participate in various categories including 14 films and talent from India. These include eight films from South Asia, four jury members, three projects in the Berlinale co-production market and 11 Berlinale talents. This is an amazing achievement, considering that each is selected from fierce competition around the world.
The eight South Asian films selected include five films from India. These are the much-awaited Gangubai Kathiawadi by Sanjay Leela Bhansali, starring Alia Bhatt, with Ajay Devgn in a guest appearance. It is a biopic based on S Hussain Zaidi's book Mafia Queens of Mumbai and our very own Jane Borges of Mid-Day. This kickass, feminist film celebrates the life of a sex worker who became a powerful matriarch of Kamathipura, Mumbai's red light district. Its world premiere will take place on 16 February at the Berlinale Special Gala at the spectacular Friedrichstadt Palast, where her Gully Boy first opened. This is Bhatt's third film in Berlin after Highway in 2014 and Gully Boy in 2019, a remarkable feat for an Indian actress, and whose estimated number is barely 28. The film opens in theaters on February 25.
Rebana Liz John's Ladies Only is an amazing, stylish, feminist, b/w documentary (79 mins) that asks the ladies in the ladies compartment of Mumbai local trains what makes them angry (male, male and female!). It is screening in the Perspektive Deutsches Kino section for German documentaries (the director is based in Cologne/Mumbai).
There are four filmmakers of South Asian/South Asian descent on the Berlinale's prestigious jury, and perhaps unprecedented. M Night Shyamalan is the President of the International Jury. The India-born, American filmmaker has directed 14 features, including his first film, The Sixth Sense, which earned six Academy Award nominations. Payal Kapadia is on the International Short Film Jury at Berlinale Shorts; His A Night of Knowing Nothing won Best Documentary at the Cannes Film Festival 2021. Vimukthi Jayasundara is on the International Jury for Best Debut Film (GWFF Best First Feature Award); The Sri Lankan director's Forsaken Land and Chatarak were at Cannes; His Between Two Worlds was in Venice. Shahrabanu Sadat is also on the International Jury for Best Debut: Feudal Female Director of Afghanistan, who was recently forced to flee into exile, having previously featured two, Wolf and the Sheep and Parvareshgah (The Orphanage) at Cannes.
Among other sections of the Berlinale are filmmaker Deepak Rauniyar's Four Nights (US/Mexico/Nepal) in Berlinale Shorts, a deeply moving short story on a Nepalese couple facing job challenges and marital insecurities in America, including Starring Dayhang Rai and Asha Magarti. The Generation KPlus short competition (for children and young adults) from Nepal also has Surya Shahi's wheels on the bus which comment on caste discrimination. The Forum Expanded section features four South Asian films, which explore the intersection of cinema and other arts. New York-based Bangladeshi filmmaker Naeem Mohmen's Jole Dobe Na (Who Don't Drown, Bangla, Indo-US-Japan-Sweden), a spectacular 64-minute narrative on the afterlife of caregivers, will be selected at the Berlinale in 2021 but is screening it this year due to COVID constraints. Teresa A. Braggs' documentary Sab Chang-A Si (All Was Good, India) is on the students' protests against the Citizenship Amendment Act (CAA) in India. Pallavi Paul's wonderfully titled installation The Wind in Your Body Is Just Visiting, Your Breath Will Soon Be Thunder (India, Germany), explores breath as a political exercise, and is presented by SAVVY Contemporary. His installation includes pyre litres, grave keepers and patients, and includes moving image fragments, screens and his film The Blind Rabbit (43 minutes). Sherlyn Bambot's If From Every Tongue It Drips (Canada, UK, Sri Lanka) explores the lives and culture of some of the women living in Batticaloa, Sri Lanka: Ponni Arasu, who writes Rekhti, 19th-century Urdu, queer poetry and Sarla . Who is the camera operator?
Overall, a prosperous year for South Asia in Berlin.
Meenakshi Shede is the India and South Asia representative for the Berlin International Film Festival, a national award-winning critic, curator of festivals across the world, and a journalist.
Contact him at meenakshi.shedde@mid-day.com