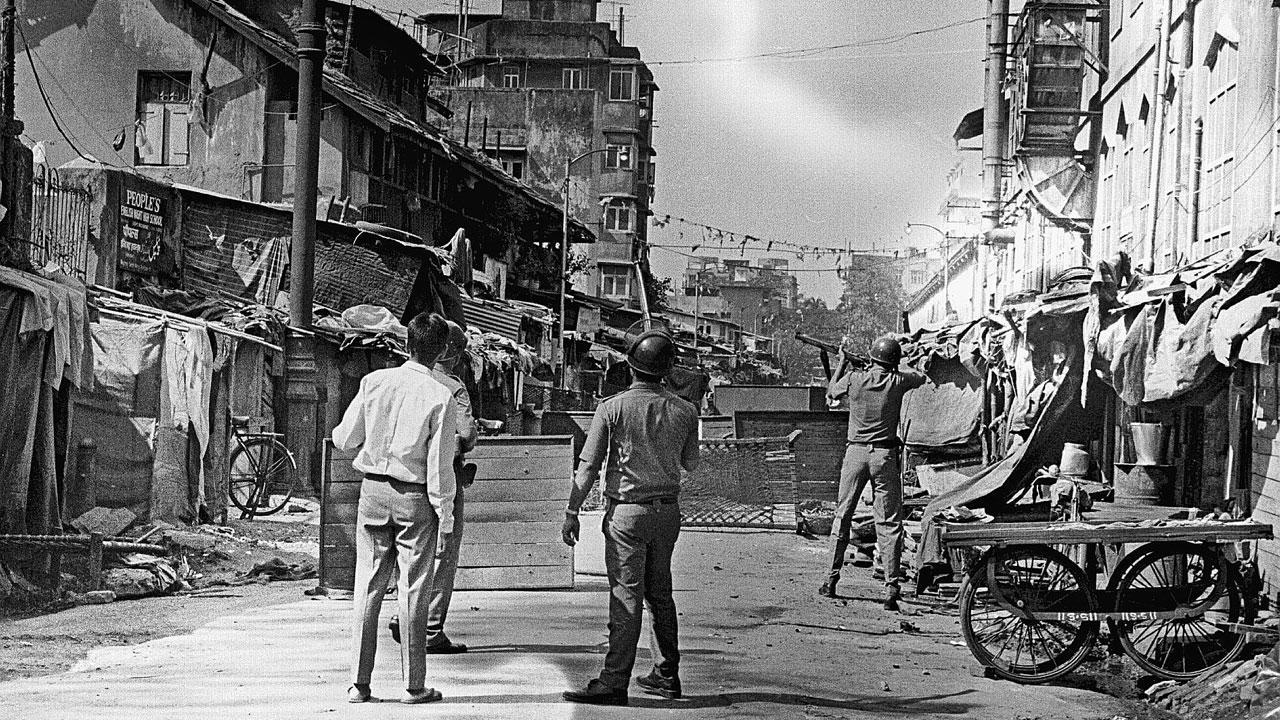 Rohit Shetty's blockbuster, Sooryavanshi (2021) is all about a sleeper (terrorist) cell who, after decades of going underground in the city, living with fake identities and being buried under arms/explosives, is back in Bollywood. gets activated from Earth, after the 1993 Bombay bombings—isn't fictional after all.
Soon after the '93 blasts, the Bombay Police swiftly recovered 2000+ kg RDX, 1000+ kg Gelatin, 63 AK56 – from the same cache that a rifle made at Sanjay Dutt's house. It is fair to assume that the police could not locate all the hidden tools in one go.
The consignment was brought by the underworld. Knowing the blasts would trigger another round of communal riots in Bombay. Only that there was no riot.
In fact, the then Chief Minister of Maharashtra, Sharad Pawar, listed on national TV the places that had been attacked in the blasts, including a mosque. This was to avoid the immediate religious ramifications of the bombings.
Seasoned, solid crime reporter Jitendra Dixit—in his excellent book, Bombay After Ayodhya, an essential primer for understanding contemporary Mumbai from a news lens—argues that Bombay often echoes events outside its periphery.
Also read: Mumbai: NCP chief Sharad Pawar receives death threats
Fatwas against Satanic Verses in Tehran, atrocities against Rohingyas in Myanmar, 2002 riots in Gujarat, Israel-Palestine conflict (a Jewish center was attacked during 26/11)…
Cover of Jitendra Dixit's Bombay After Ayodhya: A City in Flux
At the top, of course, is the demolition of the Babri Masjid in Ayodhya on December 6, 1992. My only practical memory as a kid in Delhi is that some inter-city trains were cancelled. Certainly the whole country was affected.
Nowhere near Bombay—where, according to Pawar's own memoir, 2,000 Indians were killed (the official estimate is 900; 2,000 were wounded)—under the supervision of Congress CM Sudhakarrao Naik, who had been sacked there.
Shiv Sena's Bal Thackeray, on the other hand, gained national fame as a kind of Hindu Hriday Samrat. His party had been practicing the intoxicating mix of religion with politics since the late 80s.
Writer Dixit herself, who lived in a chawl around Mohammed Ali Road, was in the midst of the December 6 riots, which subsided, and then resumed on January 6, 1993.
The latter was apparently instigated by one, Jasim, Dixit's angry school friend who, along with two others, killed porters at a transport company in Dongri. Both the installments of the riots seem to have ended on their own within a week or so.
As if a city so adept at the art of living (together) has practically lost it, thanks to a momentary lapse of reason. And then woke up from a night of horror, pretending that nothing had happened. Like it is after a monsoon deluge – so what, look up, clear sky, get to work.
According to Dixit, about two lakh people left Bombay. Seeing Hindu-Muslim mistrust at its peak, communally exclusive ghettos sprung up in remote corners – Mira Road, Mumbra, Kausa, Bhayandar…
There is also the political paranoia of a party that creates conditions of fear and insecurity, and plants itself as the only potential savior from its resultant anger. Shiv Sena came to power in 1995. Badla is a vote bank. Stockholm Syndrome was complete.
Certainly the '93 blast, partly in response to the '92 riots, would have sealed the deal for the Shiv Sena. What did this do with the Mumbai underworld, which is primarily run by Dawood, Rajan, Besides, Gawli, Naik, Salem, as competing crime syndicates called 'companies'? They were godless mafia. against gangsters.
The former can get away with anything, the latter cannot. Also, if you are neither friend nor foe of the Don, they usually let you stay.
With Dawood/the underworld's involvement in terrorism in '93 – and the world's first such terror attack – you would think that none of the above rules would apply. truth.
Yet, the highest number of daylight shootout, killings, including high-profile ones, Gulshan Kumar, Mukesh Duggal, etc., took place only in the late 90s. It could be a desperate statement from the underworld they still count on.
I think the crippling of the Bombay mafia also had to do with the economic reforms of 1991 – the second moment that changed India – made smuggling of bullion, foreign goods etc redundant. Firangi products became local. Customs duties were rationalised, the stock market skyrocketed, legal real estate investment boomed…
What did the rival 'companies' have besides making extortion calls? Bombay had a rich, colorful night-life, yes. But he was being destroyed by the moral upbringing of the Shiv Sena in the beginning.
In competition, a more rural-minded home minister, RR Patil, whipped up the city's 1,250 all-night, dance-bars. Until then, it was the brutal cops – Bombay's OG 'Bhai', openly empowered to deal with the mafia – who needed to be tamed. Obviously he got the most out of the dance-bar.
The paucity of space for a house anyway left little for a Bombayi to call life on – his name changed to Mumbaikar after 1996 notwithstanding. Night-life also gradually disappeared; Mostly over security concerns, apparently.
A lot of water has flown under the bridge since then: can't tell who the army is, or where David is now. But of course there is/was a Bombay before and after '92.
Exactly 30 years later, exactly 30 years later, on the same day driving down the unusually deserted Mumbai streets, my cabbie and I thought, "Why so quiet, brother?" We thought of several reasons: Ambedkar's death anniversary, perhaps, year-end, obscure festival holiday, etc. '6th December' did not even once cross our mind.
Mayank Shekhar tries to understand the mass culture. He tweeted @mayankw14
Send your feedback to mailbox@mid-day.com
The views expressed in this column are those of the individual and do not represent the views of the paper.