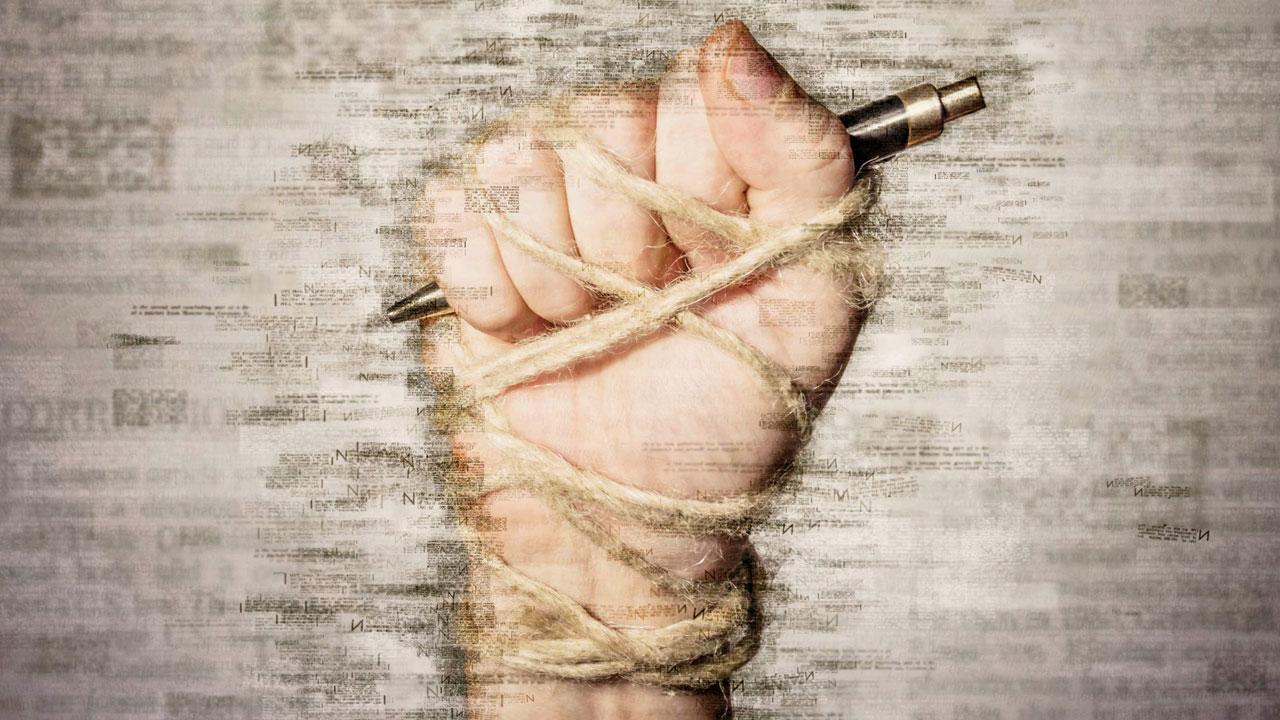 The story that the Article 14 website did on February 18 on intimidation of journalists in Kashmir was shocking in many ways, not least to the credit line of its anonymous author. It read, "The reporter of this story requested the Government of Jammu and Kashmir to anonymity for fear of reprisal." When journalists don't take bylines for specific stories, you know they're living in a country that is ruled by the ruler, not the law.
The Article 14 story was too cool to detail the fate of Fahad Shah, editor-in-chief of The Kashmir Walla, who posted on his website a family claiming that their son, killed by security forces, was not a terrorist. This claim contradicts the version of Police, which was also featured by The Kashmir Wala. "He said-they said" stories often define limits beyond which journalists cannot investigate. Yet Shah was jailed under the Unlawful Activities (Prevention) Act.
In Kashmir, the truth is what the government says, it is as undeniable as the Earth orbits the Sun, a claim that Galileo made four centuries earlier and was harassed for it. There are many Galileos in Kashmir. Article 14 It provides startling statistics: Since August 5, 2019, at least 35 journalists have been questioned, raided, assaulted or booked.
On February 20, a newspaper reported that journalist Gauhar Geelani was absconding. Geelani was summoned by a Pulwama court on charges related to apprehension of threat to peace. Since he did not respond to the summons, the court asked the police to produce Geelani before it. The police could not locate him. Geelani seems to have gone into hiding to avoid Shah's fate.
The paper also said that posters announcing a cash reward of Rs 50,000 to anyone providing information about Geelani's whereabouts in Pulwama had surfaced. The poster, released by an obscure civil society group, described Geelani as an "alleged journalist", a "stenographer of terrorism". There is a dangerous tone in the language. Can we blame Geelani for hiding it?
The news of Geelani reminded me of two incidents in his book, Kashmir: Rage and Reason. When Geelani was in class X, he was asked to crawl on his knees and elbows at a security checkpoint to step out on an "undeclared curfew day" to take the exam.
When Geelani was 13, he was asked by an officer to read aloud a poster in Urdu that was pasted in his locality. Since he knew the poster was a call for Kashmir's independence, he decided to censor the text as he began to read, for his own safety. The officer slapped him hard and said, "You're trying to fool us?"
I thought then, as I do today: What kind of childhood experiences do journalists create? Brave and fearless, unwilling to forget the wounds of the past and against India? Or eager to bow down and please the mighty? And, more importantly, what could be the effect of a child-turned-journalist state threat like Geelani?
The poster of the shady civil society group on Geelani was cited by social media users as another proof of how tired Kashmiris are of Pakistani terrorists and their preachers. Have Kashmiris really shown warmth towards Delhi?
For an answer, turn to journalist Pradeep Patrika's Not Just Cricket, which uses the sport as a lens to look at Indian politics. The book features a Kashmiri magazine, which is making many trips to Kashmir in search of its roots. On one such visit, a paramilitary personnel sitting next to him on the plane told him, "We are in enemy territory. The local people are not with us, and no matter what we do, kill or love, they are not going to be with us."
In 2013, the magazine traveled to Bijbehara, the hometown of cricketer Parvez Rasool, when he was selected for the Indian team. Twenty years ago, security forces opened fire on protesters in Bijbehara, killing 31 people. Would Rasool's selection have prompted the city to reconsider its relationship with Delhi?
To the magazine, residents of Bijbehara said that Rasool's selection could not make him forget the 1993 shooting nor did he transfer his allegiance to India. His refrain: If Rasool comes in the way of Pakistan's victory, he "will not support him either".
The magazine's book underscores the impossibility of Kashmiri journalists to erase their memory of traumatic experiences in the bloody past and present to set foot on the 'national' line, without giving room to competing narratives. It is the duty of journalism, anyway, to tell all sides of the story. Clearly, they can only be forced to publish the version of the government, which, as the story of Article 14 suggests, is cracking down on Kashmiri journalists.
People talk to themselves through an independent media, in this way collective aspirations are sewn up or considered too unrealistic to realize certain goals. The government can convert the Kashmiri media into its own voice. Yet it will be a voice that no one will believe, let alone joining it, as it did during the Emergency, because the afflicted cannot be assured that they will be in heaven, or in freedom. are living, or that the lack of it is good for them.
The author is a senior journalist
Send your feedback to mailbag@mid-day.com
The views expressed in this column are those of the individual and do not represent the views of the paper