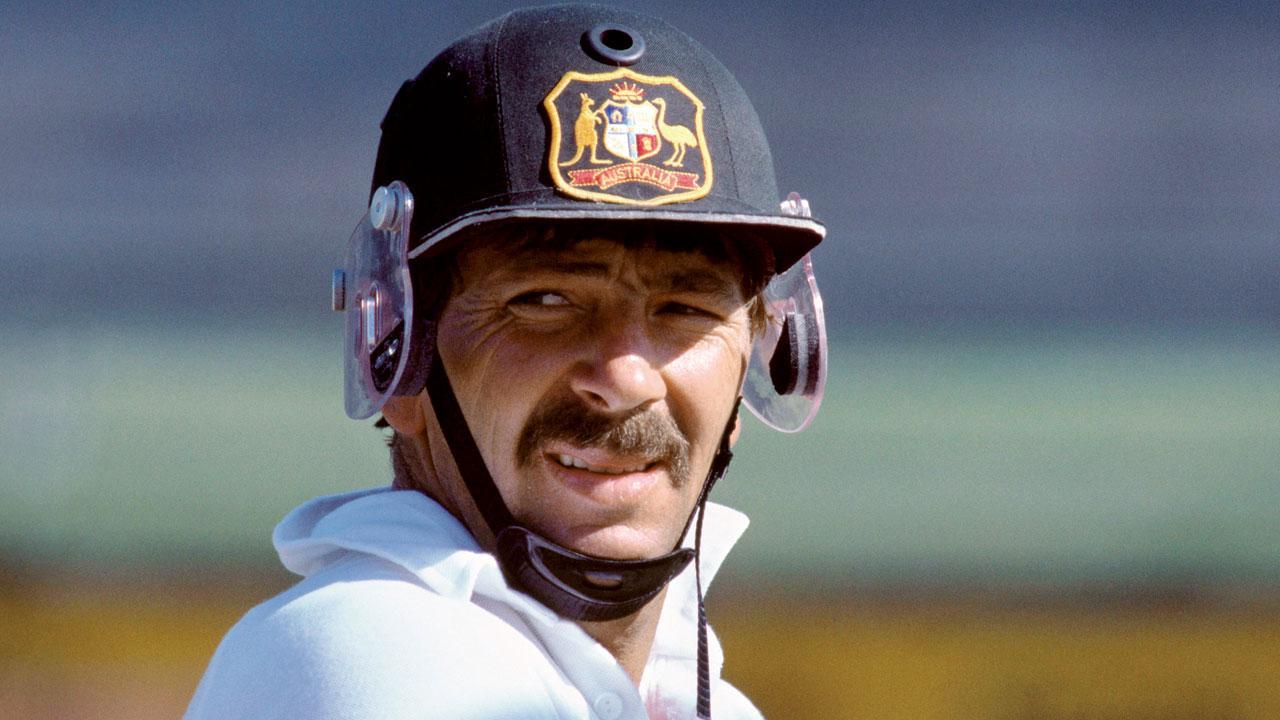 "Is Rod Marsh an Epilepsy?" Got a call in Sydney at around 11:30 am.
He was a former Queensland and Australian ODI player and now Bulls Masters owner Jimmy Maher. The answer was an emphatic no.
The next call was related. "Rodney really got attacked in the car," Maher said. "His heart would stop beating for several minutes before the hospital reopened."
Marsh, 74, is the best Australian 'keeper I have seen and has been a good partner ever since we played together in the 1970-71 Test team.
Marsh covered more field standing behind than any 'keeper' and while this was a huge asset, it could also be a source of frustration. When Tony Greig edged Gary Gilmour's away swinger in the World Cup semi-final at Headingley, it was going to my right hand.
Australian wicketkeeper Rodney Marsh (left) tries to run out England's Geoff Boycott during the Third Ashes Test at Trent Bridge in 1977
It never reached me. "Listen, fat bastard, the catches on my right are mine," I told him during the celebration. This is one reason why our friendship lasted; We both made our point clearly.
I was once asked who was the better 'keeper, Marsh or Ian Healy? It was a simple answer; "Take a look at their hands."
Marsh's hands, despite years of collecting the ferociously fast Jeff Thomson and the insanely fast Dennis Lilly, are spotless. If you look at Marsh's Headingley catch and then the diving leg-side where he caught Clive Lloyd, you would understand the area he covered while standing back.
I awarded Marsh the dubious nickname of Iron Gloves during his Test debut at the Gabba. I had read about the poor fielding of Pittsburgh Pirates first baseman Dick Stuart, aptly known as the Iron Glove. It looked like an opportune time to anoint Marsh who had dropped a couple in his first game.
world record
Years later, when Marsh claimed the world record for dismissal, Doug Walters briefly informed him; "Marshy if you had taken them all in your first Test you would have claimed that record four games ago."
It was after his first Test that former Australian opener and noted journalist Jack Fingleton approached me at the Sydney airport. "How's this cove, Marsh?" He asked.
I replied, "He is a good boy; He can bat and don't worry about the first Test, he can keep," I replied. "Why are you asking?" "Well," replied the flamboyant Fingleton, "he took his suit carrier Thrown in the luggage rack on top of my deer-hunter. I told him, Marsh is my hat down," Fingleton continued, "and he replied, It can only improve the hat."
I thought to myself that the budding artist had a sense of humour, but I actually said; "Jack, he's fine and you'll enjoy a game of golf with him."
We won that game of golf a few years later, thanks to Marsh's skill with the clubs.
Like all the best teams, we not only had a very good wicketkeeper, but also a smart wicketkeeper. Marsh argued that if you were the incumbent you should improve while working all the time.
He improved a lot, especially against spin, because he was naturally very good. As captain, he told me how fast his gloves were hitting him and he never lacked an idea. He also told me the truth and that's how I learned a lot about captaincy.
In 1972 between overs at Old Trafford he told me, "You are an adjective idiot." Marsh said it was a seamer's paradise and I had two spinners bowling. It warned me that I was captaining like the Adelaide Oval and that I had to adjust my thinking to the ground we were actually playing on.
Successful career as a coach
We kept in touch after his playing days. He enjoyed a very successful career as head coach in both the Australian and England academies. As a selector for both countries and chairman of the local panel, he founded the Dubai Training Center and even performed as an administrator.
Whatever work he gave he gave it his all and he told the truth. You always know where you stand with Rod.
He has a strong family with wife Ros, boys Paul, Daniel and Jamie and their wives and families. He is a widely acclaimed character and I received many encouraging messages when Rod fell ill.
The gist of these messages was the same; "He's a tough bugger, he'll pull."
I'm hoping so because he was a first class fellow and remains a great friend.