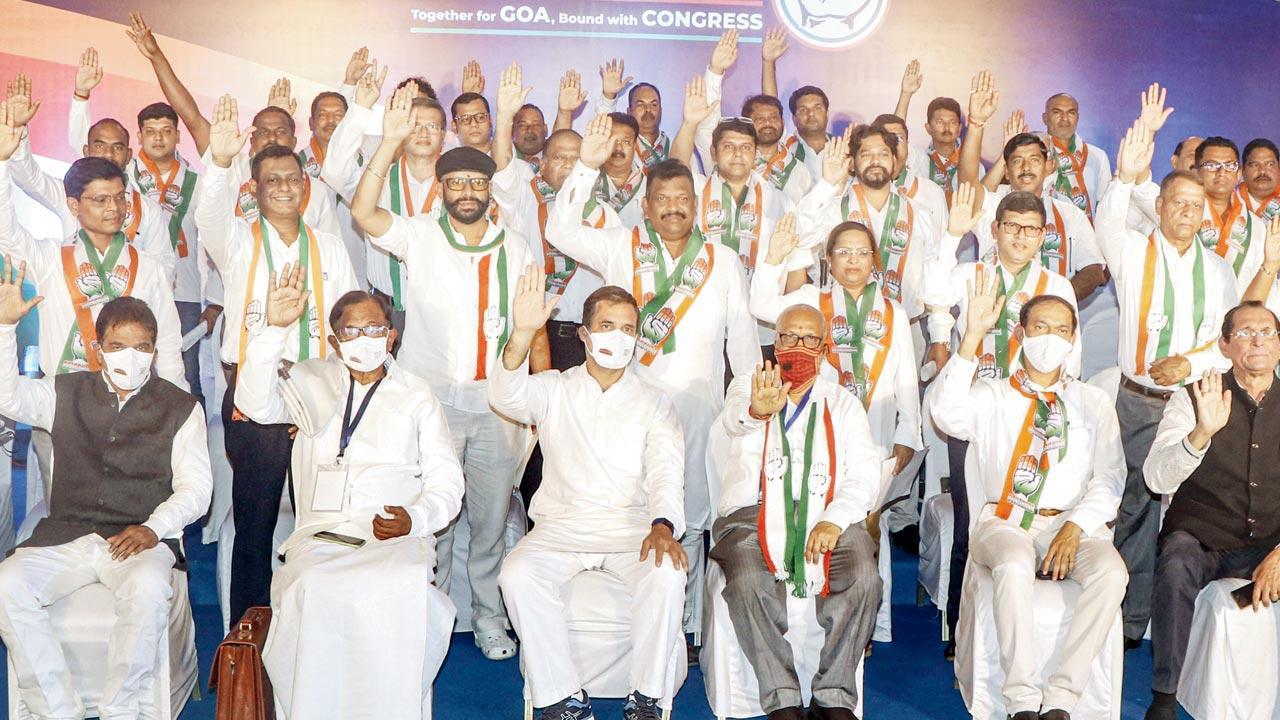 Today is God's test in Goa assembly elections. He was involved in Goa politics as the Congress took its candidates to temples, churches and dargahs, where he took an oath of allegiance to the party. It remains to be seen whether the fear of God will deter the Congress winners, to be announced on March 10, from switching to any other party.
Man turns to God out of faith or desperation. It is difficult to confirm the godly inclinations of Congress candidates. But in the last five years, the party fell into disrepair. In 2017, the Congress had won 17 out of 40 seats in the Goa Legislative Assembly. But the defection of the Congress enabled the Bharatiya Janata Party to form the government, although it had 13 seats. Ultimately the Congress was reduced to two MLAs.
In the last five years, 67 per cent of the MLAs have changed parties. The 2017 defection was challenged judicially. But the court's decision is yet to come, even as three Congress MLAs who resigned in 2017 were re-elected. When neither legislators nor voters seem to be concerned about constitutional morality, God is arguably the only safeguard against defection.
Since Goa became a state in 1987, it has had 11 chief ministers, some of whom have enjoyed that position several times. But only two of them had a continuous tenure of more than four years. On five occasions chief ministers who lasted less than 100 days were deposed because of defections. Still, Goa's conscience was not hurt.

For a kingdom that was reclaimed from the ocean, according to one myth, by Parashurama, the sixth incarnation of Vishnu, who was searching for a 'pure land' to perform yagya rituals. But the ill-health of defection has tainted Goa. One reason is the small size of its constituencies, each with approximately 25,000–30,000 voters. Fifteen candidates received less than 10,000 votes in 2017—and still won.
The Trinamool Congress is now also in the political arena of already congested Goa, and the Aam Aadmi Party seems to be a more serious contender in 2022 than in 2017. The more parties in the fray, the lesser the chances of any of them getting a majority. A hung assembly will cut deals.
This is where the divine factor can work. Goa's politicians, even if indifferent to religious and constitutional morality, may fear that breaching oaths taken at places of worship may enrage devotees to punish them. Yet, considering the flawed propositions, politicians will ask: Do the people of Goa care more about God than money?
After all, Goa has a past to contend with.
In 1964, a law was enacted treating the Mundkars or tenant farmers as the owners of the land to be cultivated by them. The Bhatkars or Zamindars could not evict the Mundkars, whose tenancy rights were also inherited. A person who buys land from a Bhatkar also inherits his tenants. In 1975, another law ruled that Mundkars could not be evicted from their residential units.
The Mundkars could buy land and their houses from the Bhatkars, but they lacked the resources to do so. After liberalisation, the demand for land skyrocketed, fueled by tourism, mining and wealthy metropolitans wishing to have their home in Goa. The laws of 1964 and 1975 were a barrier to land transactions, as developers would inherit even the shaven, which they could not evict.
One way to meet the demand for land was to de-notify government lands and change their land use. It became profitable for the politicians to seize the power of the state and help the realtors. Another approach was to persuade the Mundkars to sign off on their rights in exchange for a good payment. Academics Parag de Parobo writes, "Politicians made a profit … by negotiating land sales and dividing the loot, though disproportionately, between Bhatkar and Mundakar."
The objectification of land is precisely the reason why a handful of families, including the Bhatkars, dominate Goa. In the 2017 election, nine political families had fielded 16 candidates. In today's election, there will be 14 candidates in seven families, with some family members fighting from rival parties.
The formidable Pratapsinh Rane is in the Congress, but his son Vishwajeet and daughter-in-law Divya are BJP candidates. Former BJP minister Michael Lobo is now contesting on a Congress ticket like his wife Delilah. Churchill Alemao is the TMC candidate, as is his daughter Valanka; His nephew Yuri has a Congress ticket.
Irrespective of which party comes to power, the political families of Goa will take a shot. A hung assembly would prompt chancellors to move to the party most likely to form the next government, as they need state power to facilitate land transactions. The people of Goa forgive their defections because they too get a chance to profit from lucrative land deals.
There is also enough money to throw around. There are about 8,000 houses in each constituency. A gift of Rs 5,000 to each family means an expenditure of Rs 4 crore, loose change for political families. With almost half of Goa's 3.5 lakh families having below poverty line ration cards, Rs 5,000 is a boon for the poor. Lucre has always been Lucifer's unique bait. God's best bet is that Goa gives a clear majority to one party. He would then avoid taking the test of efficacy.
The author is a senior journalist
Send your feedback to mailbag@mid-day.com
The views expressed in this column are those of the individual and do not represent the views of the paper