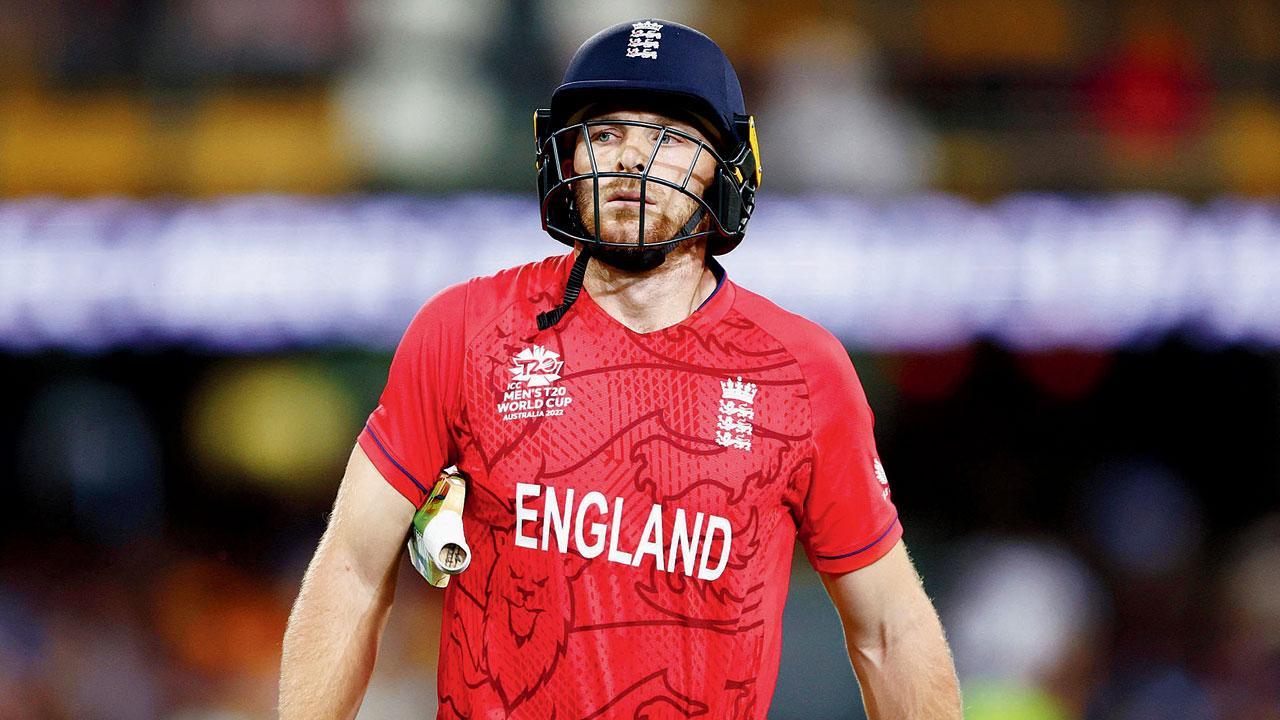 Imagine this scenario. World Cup Final. Two runs for the win off the last ball. Jos Buttler hits a cover for and starts running. Kane Williamson dives and takes the catch. New Zealand celebrate. Butler walks out of the crestfall until the TV umpire checks the replays and finds that the catch was not taken properly. it's a tie. Super over is coming.
But wait… a precedent is being set since November 1. Same position, dropped catch but it is considered a dot ball. That's why New Zealand wins the World Cup. There is chaos.
Exactly the same thing happened on Tuesday night at the Gabba. Butler was dropped, took a single but after a replay, when the catch was disallowed, Butler was back on strike and it was considered a dot ball. How can that be possible? It was a dropped catch, just as Moeen Ali dropped a straight catch later in the game and the batsman was given a run.
This is an anomaly that needs to be addressed before it causes serious embarrassment to the ICC. To borrow from George Orwell, are all dropped catches the same or are some more equal than others? Why were England denied runs as a result of Williamson's drop? To a large extent – if it is considered a fair catch, then the dot (wicket) ball and the new batsman is on strike. But why did England suffer from Williamson's lack? If that had happened on the last ball of the game, would the verdict still be the same?
There is an argument to suggest that the ball is dead as soon as the umpire calls for a TV replay. Or as soon as a player asks for a referral. This argument is flawed. What happens if there's a bump ball or a controversial catch in the outfield and the batsmen come back for a second run because it's a huge field like the MCG? If a fielder was careful enough, they would claim the catch, even if they knew they did not catch it. Using this latest precedent, following the replay rules that it was not a fair catch, runs would not be awarded, but it was also not considered a dead ball that needed to be re-thrown. This is a dot ball.
Take it a step further: Ben Stokes is out lbw in the last over. On replay, it was the umpire's call. What if the ball goes for a boundary or a run? If the DRS referral shows that the ball was missing the stumps, what runs were awarded? Is it considered a dead ball or a dot ball? That mistake of the umpire can determine the World Cup.
The ICC or MCC may have to reconsider what the decision is when it comes to referrals and at what point the ball is considered dead. Otherwise, it becomes open to a smart cricketer gaming system to ensure that as soon as he appeals or claims a catch, even if the latter proves to be a ridiculous appeal, any subsequent run or striker's claim. The change is considered invalid.
My mid-day piece of a few months is worth revisiting in light of what we've seen so far. At the time, I warned against teams taking liberties against the new ball on October pitches in Australia. My exact words were, "As tempting as it may be to fill your team with bash traders, pitches at that time of year, especially after an incredibly wet winter, will require some attentive and more traditional powerplay approaches that statisticians do." Can get it. Just by looking at Big Bash numbers."
Almost every game so far has confirmed my theory except for Finn Allen's opening attack on the very first night against Australia. It's not Asia – you can't get away early because the ball is soft and insured against reverse swing on death. The team that wins the cup will be the team that doesn't lose too many wickets early and count on almost doubling its score in the second half of the innings. Likewise, the bowling attack needs to use its deadliest bowlers to advance because it doesn't matter who it is—your best will go the distance at the end so use it at the start when it's most dangerous .
In the same article in July, I had said that it would be sheer madness to back Virat Kohli. His record on Australian pitches where traditional batting is important is second to none. I said it then and I will say it now (quoting a famous philosopher) that "A champion is one who is remembered. A legend is one who is never forgotten."
Apparently, some overzealous fan took it too far while trying to connect with King Kohli at the Crown Hotel!
Michael Jah is a former first-class cricketer based in Brisbane
Send your feedback to mailbag@mid-day.com
The views expressed in this column are those of the individual and do not represent the views of the paper.