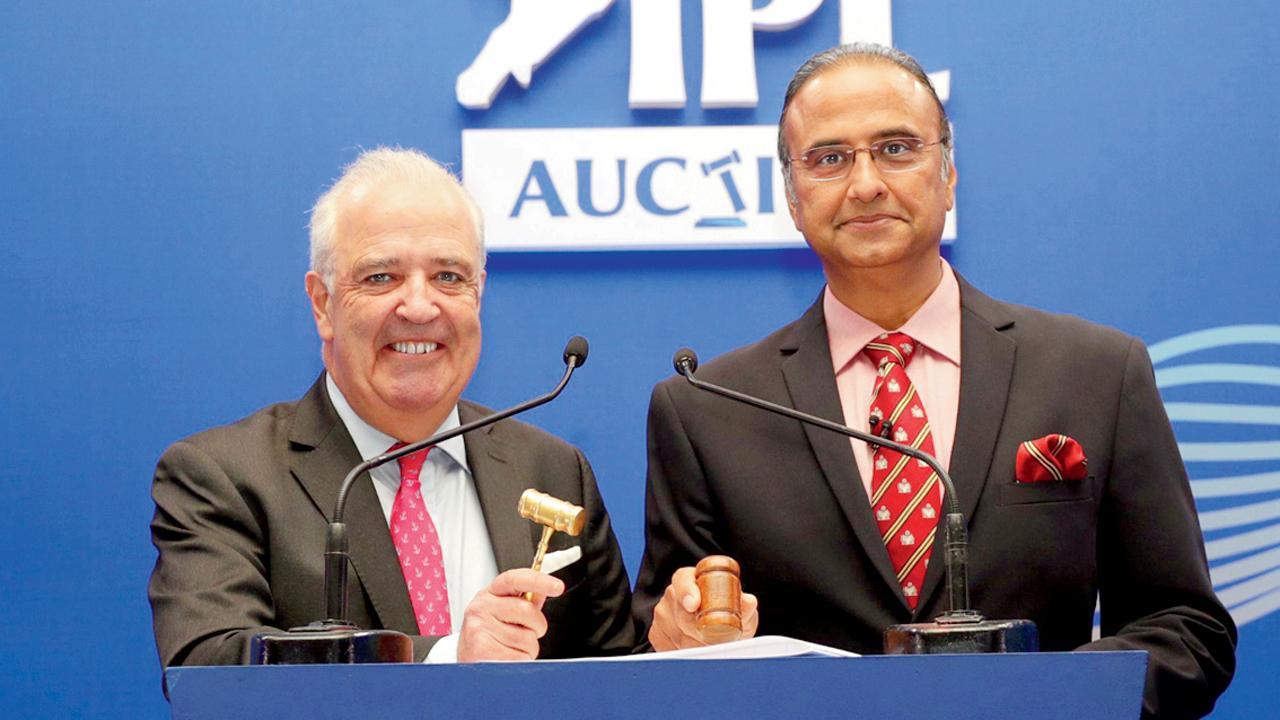 Charu Sharma proved to be a fine replacement auction for the mega auction of the Indian Premier League over the weekend, providing yet another gem in the history of cricket.
Designated auctioneer Hugh Adams suffered a downfall, something that led IPL chairman Brijesh Patel to ring up his Bangalore-based contact to check if he could fill up. Sharma, who obliged, told The Indian Express that he would have been at the golf course at the time. He himself did not suffer a fall and suffered a shoulder injury while traveling to organize an auction for a cricket league in Kathmandu.
Sharma's qualities as a pro auctioneer came to the fore on Saturday. He was quick without appearing impatient, and if the word cricket can be used, he did well with an over-rate. I also liked the fact that they requested teams to hold the pedals high enough for everyone looking to save time. The auction stretched to ridiculous lengths on both days and the BCCI—despite their indifferent attitude towards the media—must end the first so that the print media had everything in detail for the next day's newspaper.
It would be fair to say that Sharma was a savior for the IPL auction; The stars appeared to align and they did enough to get the Indian cricket owners to be considered for the next one. And if they were looking for someone to replace Richard Madley, who held all previous auctions, they had a good man right under their nose this time around. Sharma may have many more auctions, but he will be proud to tell his grandchildren about it.
Ultimately, it's about being in the right place to get on board in an emergency. Former England wicketkeeper Bob Taylor was at Lord's on the second afternoon of the Lord's Test against New Zealand when Richard Hadlee dropped Bruce French with a blow to the back of his helmet. French, playing only his third Test, had to stretch before a doctor stitched three. Bill Athe wore big gloves for a few overs before England captain Mike Gatting called his former England teammate Taylor, then 45 more years into retirement. Taylor was on coveted ground for some PR work with the series' sponsors, Cornhill Insurance. Taylor worked well for 73 overs before calling up Hampshire's Bobby Parks for England, whose father Jim and grandfather James played for England. Bobby held on for 63 overs before the French could resume on duty. As David Frith reports in Wisden Cricket Monthly, Bobby was set to go out for a day when he received a call to join the England team at Lord's. Little did New Zealand captain Jeremy Cooney think he would be a substitute like Taylor and Parkes two years later when John Wright's New Zealand team was struck by a virus in Bangalore. Connie (by then retired and in radio commentary) and television producer Ken Nicholson took on duty on the fourth day of the Test. It could have been a dream for Nicholson to be on the field during a Test match, but sometimes dreams don't come true. Just ask renowned commentator Henry Blofeld, a travel journalist for the 1963–64 tour of India and an opener who played first-class cricket for Cambridge. Blofeld thought of his chances of playing the Mumbai Test, for which the English camp was battling with injuries and ailments. The next day MCC fielded an unbalanced side, but Blofeld missed the opportunity and Mike Smith's team managed to draw the game at Brabourne Stadium.
Sometimes, replacements are on hand, but they may not fit due to likes and dislikes. My late friend Kiran Ashar, who started batting and kept wickets for Mumbai in the 1970s, told me how he was involved in the Vijay Manjrekar-led Bandodkar XI team (mostly players from Associated Cement Companies) for 1968–69. Bunny) were part of. Moin-ud-Daulah Gold Cup which was then a first-class tournament in Hyderabad. The team's regular wicketkeeper KS Inderjitsinhji was unavailable for the semi-finals and was in no mood to include the young and promising Ashar, despite protests from senior players like Manjrekar, Dilip Sardesai and Bapu Nadkarni. He had flown in from Mumbai to former Test wicketkeeper Naren Tamhane to keep wickets for the rest of the tournament. Ashar had tears in his eyes as Manjrekar said that he did not like the way he played in the team meeting. The next time Ashar played the Moin-ud-Daulah Gold Cup (1971–72), he was representing the ACC and scored a century in the semi-final against the Hyderabad Cricket Association, while sharing 183 runs for the opening wicket with Sunil Gavaskar. Make it , Manjrekar saw this and was one of the first to congratulate Ashar.
Coming to the congratulations, Sharma deserves a lot for his weekend work. It's one thing when Providence offers opportunities. It's totally different to take a chance and shine in less time.
Mid-Day's Group Sports Editor Clayton Murzello is a purist with an open stance.
He tweeted @ClaytonMurzello Send your feedback to mailbag@mid-day.com
The views expressed in this column are those of the individual and do not represent the views of the paper.