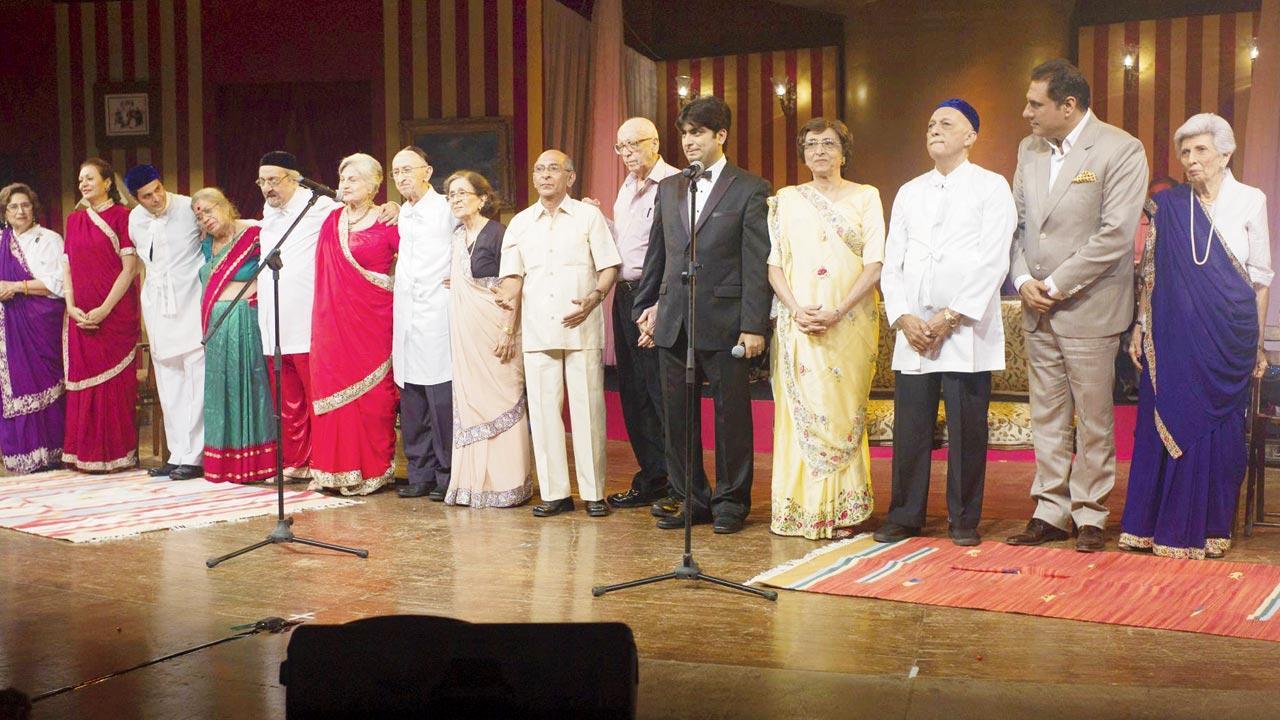 Anderi Ganderi Tipri Ten
eisen mesen jolly good man
Hey Mr. Ketla Vagya
8-9-10?"
It was the charming kitty kids of Dadi Seth's lanes around Babulnath-Chowpatty in the 1960s. They chanted this enthusiastically around their favorite vendor, who packed small portions of boiled peanuts and gandari (peeled peels) they craved as a daily fix. "It was safe to have roadside snacks in the years when every street was cleaned with water tankers," recalls one parent.
Slater Road, where a local matka king shouts amusing sparrows. file photo
Nonsense rhymes and luscious limericks, witty fun and soulful poetry offer hundreds of more formal literary pens to every corner of the city. As vitally capturing the people and places that shaped the quintessential Bombay, light poems and phrases colorfully cover everything—city transport, sightseeing, landmarks and monuments.

It's a pity that we lose a lot of rhythm and cadence, a lot of meter and cadence, reading these in print here instead of reading them. They provide entertaining, emotional reading, even relatively silent.
Apollo monkeys and the old Colaba lighthouse have inspired fascinating poetry
Writer Aban Mukherjee sings to me a cheerful thongwala's invitation to the children for a joyous ride in his horse-drawn carriage. A part of The New Era School's pre-primary repertoire composed by Indubhai Parekh and set to music, it goes:
"Avo Baba-Baby"
mari gaadi ma baso
Tamne Farwa Lai Jaavu
Chowpatty gave
palava monkey
Kamala Nehru Park
Tell me Rani Bagh.
horse carriage, horse carriage
a horse carriage
The horse went to the car and the motor car went away
Tabdak-tabdak locks, maro ghodo kevo mahale
come on boys and girls
jump in my horse carriage
Taking you by the sea to the Chowpatty beach
to palwa monkey
I'll show you Kamala Nehru Park
And Rani Bagh too.
Tabak-Tabdak blew my horse cart
it runs like a speeding motorcar
As glee dances my horse
to beat
Take him away from the hooves. ,
The sugarcane vendor near De Sa Hospital and Chowpatty Band Stand misses the children. file photo
The trot with which you hear in the voice of the tangwala playing, the palava monkey is an allusion to the Apollo monkey. Palla, a fish of the herring family, was sold on these shores. It is believed to be a variation of the Apollo fishing ship, Palava—"Palava la Javu or" means "Let's go fishing."
A stanza describing the Colaba Lighthouse in that vicinity has been shared and translated by the wonderful Shanta Gokhale – always trusted for the most amazing insights into what I wish for. Its last line indicates the colonial period that it may have been implicated in:
"Kulbyachi Dandi, Dandivar Diva
daryat ujed padle ho
Khanderi-Underi or Don Gawa
Mid-Culba Ghetto wind.
Mumbaikara tu far ka?
You are fair, you are fair.
Lighthouse at Colaba Dandi
shines its light in the sea
Between the islands of Khanderi-Undri
Colaba enjoys the breeze.
Man of Mumbai how do you look?
You look fair, you look fair."
In response to an earlier column on the Apollo Bunder row of beautiful harbour-facing buildings, this rant from a "Karachi advocate" who worked at BIT (Bombay Improvement Trust):
"We can't have Ballard Pier and travelers galore"
We can't have the Taj Mahal on our sandy banks
we can't live in apollo monkey's flat
But we don't have an improvement trust and thank God for that."
From skepticism to optimism… A sunny attitude welcomed me at the ever Dadar TT (Tram Terminus) Khodadad Circle. A florist who had settled for the day with baskets of flowers had started threading pylons on the pavement in front of Dayaram Damodar Mithaiwala. He found himself surrounded by a row of already irritable housewives. Tired of running late in rush hour trains regularly to and fro, he tried to beat the fatigue and smiled bravely to pacify the waiting customers. As he pointed to the sweaty T-shirt stuck to his chest in the scorching October heat, he softened, moving towards a good-natured smile. Across it, his younger daughter had splattered in paint, which was guaranteed to melt the angry stance: "Before defeat there is victory, before Dadar there is seat."
Due to slow central line locals at various stations, students like Bharat Gothoskar in his years at Somaiya Engineering College, Vidyavihar regularly used to sing "Sion Aaya, Sion Aaya / Dadar, Matunga, Zion Aaya". This is to the strains of "Sayonara, Sayonara…" from the movie Love in Tokyo. The expectation of fellow travelers eager to hear this routine grew.
Our friend Jerry Pinto highlights his neighborhood—usually within a quick minute—with particularly provocative words for the subject:
"I live in a place called Mahim.
Ram, Ronnie, Rahim's house,
Sheetla Mata, Mata Maryam and Guru Nanak.
With large markets for fish and spinach.
Parsi Bavas make our pav
we live without chiao-miao
because standing at the north end
St. Michael
guarding our gates
Small miracle. ,
A cosmopolitan mix of communities was even more flamboyant in Grant Road Alley. On Slater Road, near the Wimbridge compound (where Edward Wimbridge, who designed and engraved the cover of the opening issue of The Theosophist in 1879, was a furniture factory) residents remember the amusing diversion. Roughly a block down, where a family drank pungent sulfuric vinegar for miles, the Slater Road Parsi Mandal encouraged the little old ladies in the street to gossip. A popular topic of discussion was Ramu Dada's obstinate addon, which led to traffic jams at 8.30 pm on some evenings. A large number of gamblers gathered in the hope of winning the speculative jackpot. The Matka King shouted a town cry-type response: "Bawa aao, buwa aao, just don't be lucky enough – one come, all come, only the lucky should not come."
Talking about luck. Which Iranian cafe lover hasn't encountered the late Boman Kohinoor of Britannia at Ballard Estate? Enthusiastic and enthusiastic in every way we remember them from their college days, the restaurant served a history of thousands of lunch customers on a single plate. The Kohinoor family owned Britannia & Co since Boman's father Rashid had opened it in 1923, coincidentally the year Boman was born in Yazd.
Despite a slow pace and slow move towards 2019, when City lost his, bow-tie firm against wrinkled neck folds, Bowman shuffled while taking orders between tables layered with red-checked garments. He drew on customers to make them look individually, he treated each one with a staco-style couplet. Everyone's favorite was whenever he recommended a soft drink—"Try fresh lemon soda sweetened to beat the Mumbai heat."
From the mid-1950s, Parsi theater produced uniquely adapted Gujarati songs, which were sung by stars before or close to the screen. A spirited example, from the pen of the unique writer-director Adi Marzban, would be sung for the 1904 tune "Blue Bell" (albeit a complete departure from the original context of a soldier's departure to his beloved):
"Chaiye Hami Zarathosti"
A make ne dich gar,
Dhansakh ate pickles
Cricket ma khayya maar,
drama, cinema, race
Nathi regrets us,
Lagaan-navjote ni ses ma
Peravyacha rupee seven.
dance color ni hobby
very cheerful
jigere duli rahaje
Hey Parsi Qaumi
Tuj Per Che Afreen
stay happy
stay with us
Oh Parsi community.
we are proud parsi
swearing to each other,
Rich and Pickle Lover
Although we lose the cricket game
In theatre, cinema and running
We're sure we'll never be left behind,
Weddings and Navjot we meet
7. Gift slip of Rs.
enjoying the song, dance and festivities
we're out to have fun
community with such a big heart
bless you all
you always be happy
And the house full of laughter
O Parsis!"
The entire cast of Marzbaan's musical review erupted into applause from the audience in the traditional finale. To the cheerful riffs of "When Irish Eyes Are Smiling", their actors chorus:
"Heavy gossip home"
Otherwise, the hall mother was Karse Bahari
Ghar Jai Ne Faraghat Thavo
Khawanu Hosey Tayyar…
drama pacho jovo hoi
we are ready
re ticket vechati lejo
Khoda Bakst na tha tame!
it's time to go home quietly
or you'll be kicked out of the hall
go home, rest easy
Dinner is ready and waiting…
if you want to see the drama again
We're always ready to stage it
but pay for your own ticket
Don't come without shame!"
Writer-publisher Mehr Marfatia writes fortnightly on everything that makes her love Mumbai and love Bombay. You can contact him at meher.marfatia@mid-day.com/www.meher marfatia.com