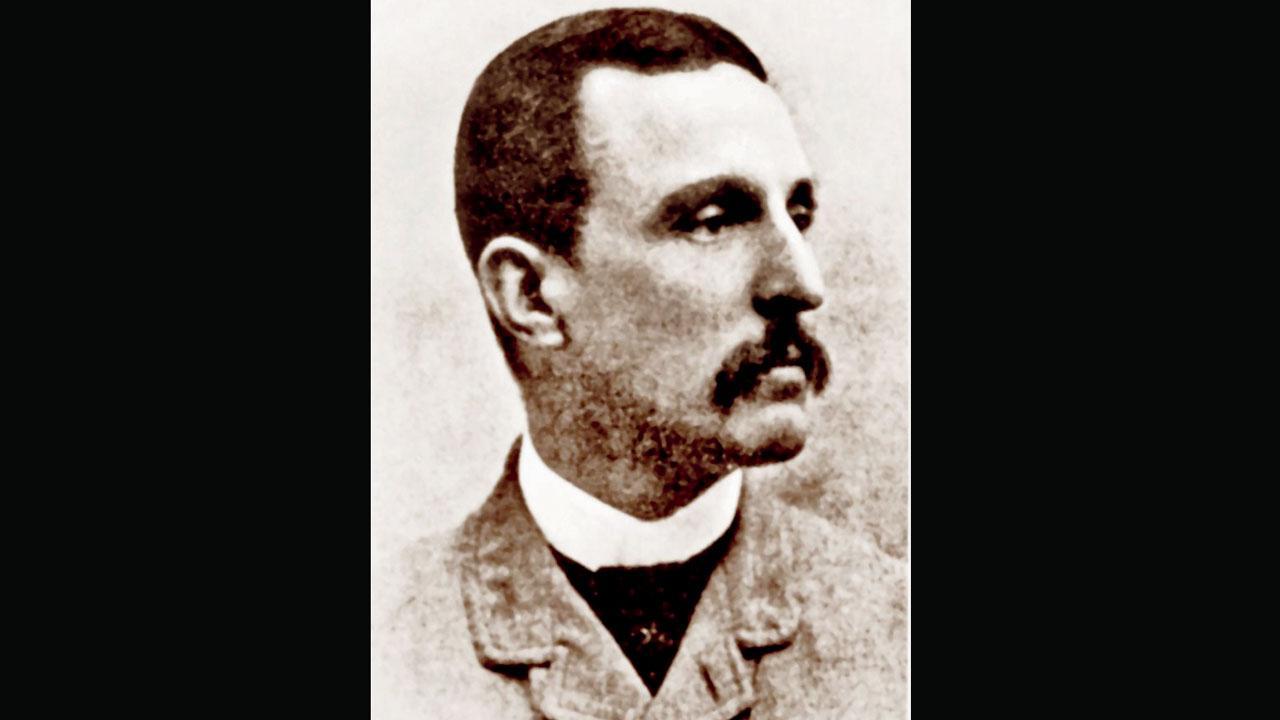 It was a bit of an anticlimax. Frederick William Stevens' simple gray marble gravestone inside Savory Christian Cemetery was nothing like we expected when we first saw it on the trail a decade ago. Eventually, the renowned architect planned several grand public buildings in the city, from its two railway termini to its municipal headquarters, commercial bank, offices and other sites including a water fountain. He was a visionary mind who brought the Gothic style of architecture to its fullest grandeur in one of the most important cities of the Raj.
Ask any city-based urban planner or architect where he stands among the best areas of Bombay when it comes to architectural thought and vision from a practical and visual point of view, and they will rank him high on their list. OK, so I'm no architect nor an expert who can uncover every minute detail that he got right in his plans, but I can safely say, after years of looking at his creations – Big and small – from near and far, that is, it adds a spectacular dimension to the landscape of the city.
Before I visited his mausoleum, I was curious to know more about the man and his remarkable contribution to architecture and design in the city. And so based on the suggestion of a city historian, after some amount of digging and browsing, I picked up Christopher W. London's well-researched title Bombay Gothic. a clear, bright read, it sheds light [and in less academic fashion] About Stevens' grand plans, and how he built these monuments. However, to me, one of the best things about Stevens was his ability to mix European with Indian. He modified Westernized design sensibility to tropical Indian conditions, his plans were inspired by Indian flora and fauna [who can miss the peacocks, mice and snakes that adorn the many facades of Victoria Terminus?], To shape these 'muscular' Gothic designs, he had a keen understanding of local materials that were suitable, reliable alternatives. Likewise with the workforce—be it students and professors from Sir JJ School of Art or skilled craftsmen and artists from the subcontinent—they saw merit in encompassing all of their services. And the results of these collaborations have been in front of everyone for more than a century.
The Gothic Revival style, by its purpose, was to be one that was adapted and adapted to local conditions, and Stevens' plans emerged as some of the best examples of this. Sir Bartley Frere, former governor of Bombay, was an administrator whose vision was to develop the city as the principal city of the subcontinent, and was the brainchild of Stevens, and others who were influenced by the Gothic style of architecture, including George Gilbert Scott, John Adams Were. , GT Molesi, Müncharji Murzban, and many others, who collectively left their mark on a city that was witnessing an exciting time in its timeline, from a trading, port city to one of the Crown's most important cities .
Stevens' work may be most evident given the grandeur and scale of his three major contributions—Victoria Terminus, BB&CI, Churchgate, and the Municipal Buildings. Most Bombayites are reminded of their contributions, as these places are often within their sight, and add definition to the identity of this great city. My respect for this great mind grew somewhat when, a few years ago, an exhibition was organized by the students of the Sir JJ School of Architecture where Stevens' hand-drawn plans for Vt. . I was amazed by the accuracy and detail of his work for this world-famous terminus. If you want to have a deco of some of these originals, browse through Sharda Dwivedi and Rahul Mehrotra's A City Icon, which has reproduced them splendidly.
Stevens was working at Standard Chartered Bank [then Chartered Bank of India, Australia and China] When he died on March 5, 1900. His son, Charles, who was also a trained architect, carried his legacy to some extent in the city. To this day, whenever I visit his grave, I wonder what the newspapers would have published the day after his death. Did she get a grand funeral? Or was it a quiet service in Sewri? We can't say. At the age of 52, his famous life was ended due to malaria, but his contributions still resonate today. The next time you're near one of these buildings, take a moment or two to marvel at its designs.
Mid-Day's Features Editor Fiona Fernandez loves the sights, sounds, smells, and stones of the city… wherever the ink and the swagger takes it. He @bombayana. tweeted on
Send your feedback to mailbag@mid-day.com