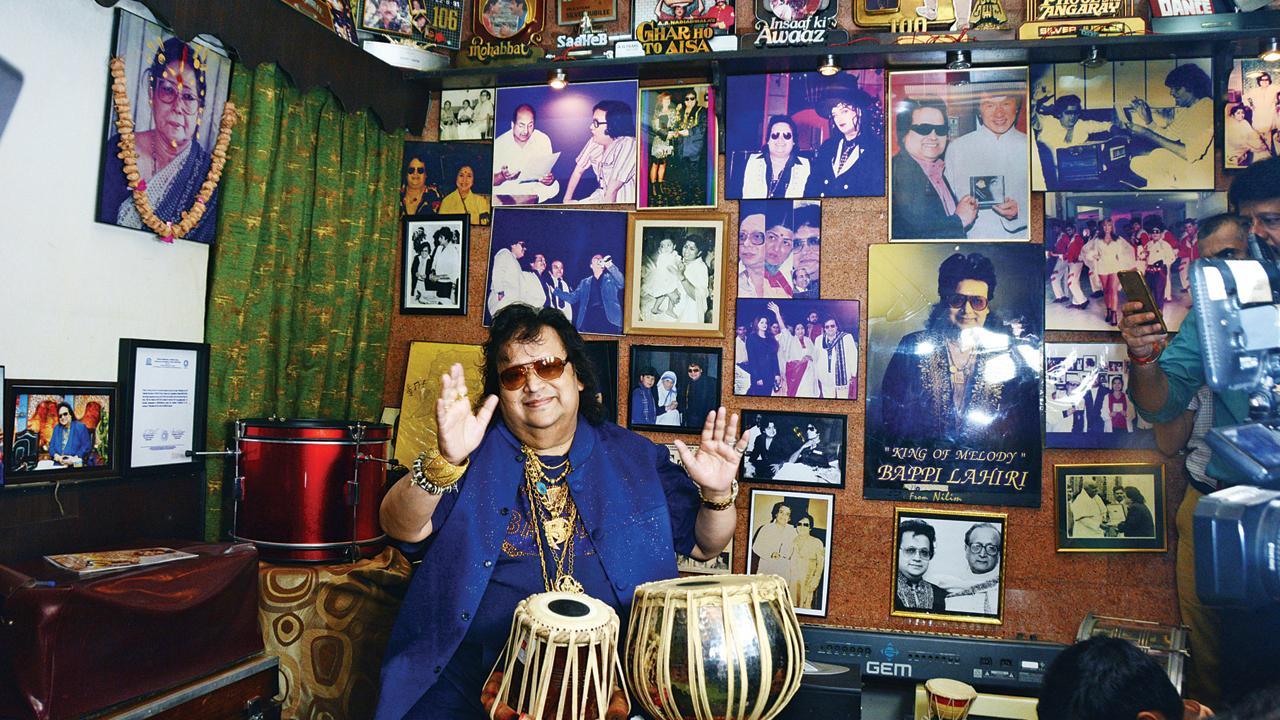 My association with Bappi Da began in 1978, when we collaborated on my directorial venture Takdeer Ka Badshah starring Mithun Chakraborty. It was on the sets of this film that I decided to make Disco Dancer (1982).
It all started when, one day, I asked my assistant to call Mithun for his shot, but was told that he was upset. When I went to meet Mithun, he said that he is honest with his work, but things don't seem to be going well. That's when I told him that I would make a disco dancer, which would make him a superstar. At that time, Bappi Da was working on popularizing the disco genre in India. Disco dancer paves the way to be Bappi Da, Mithun and herself [successful] trio type. The three of us worked together in several films like Kasam Peda Ke Wale Ki (1984), Dance Dance (1987), and Pyaar Ke Naam Kurbaan (1990). While every song from Disco Dancer became a hit, Jimmy Jimmy was in another league entirely, becoming hugely popular in China, Dubai, Israel, Ethiopia and even Russia.
When I first heard the song post recording, I told Bappi Da that [it wasn't quite doing justice to] The situation in the film. He got the idea to use dual voice. Here the artist sings it twice separately, after which both [renditions] are mixed. The result blew us away.
(Clockwise) B Subhash and wife Tilottama during a dance with Smita Patil, Amrish Puri, Mithun Chakraborty, Mandakini, Bappi Lahiri, Shakti Kapoor and Dalip Tahil
Apart from being a versatile musician and knowing how to play many instruments, Bappi Da was also an excellent sound engineer. He knew exactly what technique to use [to enhance a song], Along with Disco Dancer, we also introduced new singers like Vijay Benedict, Nandu Bhinde and Parvati Khan.
Did you know that the song Yaad Raha Hai Tera Pyaar was actually to be sung by Kishore Kumar? The lift was not working on the day Kishore Da was supposed to record the song at a new studio in Cuffe Parade.
Lahiri with Dev Anand
Kishor Da said that he will not be able to climb stairs due to health problems, and we can do scratch recordings [with someone else], So Bappi Da recorded the scratch. When I heard the rendition of Bappi Da, I felt that it brought out the emotions of the song effectively. I wanted to keep it, and told Kishore Da that I wanted to go ahead with it [the musician's] version if he agreed.
When Kishore Da heard the version, he told Bappi Da that he sang it very well, and that his vocals should be retained. Till date, whenever my actor friends like Jackie Shroff call me, they never say 'hello' but sing 'yaad aa raha hai…'. Such is the magic of Bappi Da.
Lahiri with Apache India
I used to shoot films during the day while making Disco Dancer. Bappi da used to make good use of time in composing music. At the end of the day, we'll have our music meetings at 10 p.m. When I first heard his composition Ae Oh Aa Zara Mudke, I told him the song didn't sound right, [given the context], In an hour and a half, he gave me a [reworked version] It was porous. At 11.30 pm, we decided that the song had to be written as well, so that Kishore Da could record it the next morning. So, I picked up the lyricist Anjaan Sahab and brought him to Bappi Da's house. Within a few hours the song was ready. [The next morning] When I told Kishore da how the song was made, he was praising Bappi da's dedication.
Bappi da was fond of food. He used to eat only biscuits during work. While traveling to international destinations, he used to shop for two things – a musical instrument or cookies.
As told to Hiren Kotwani