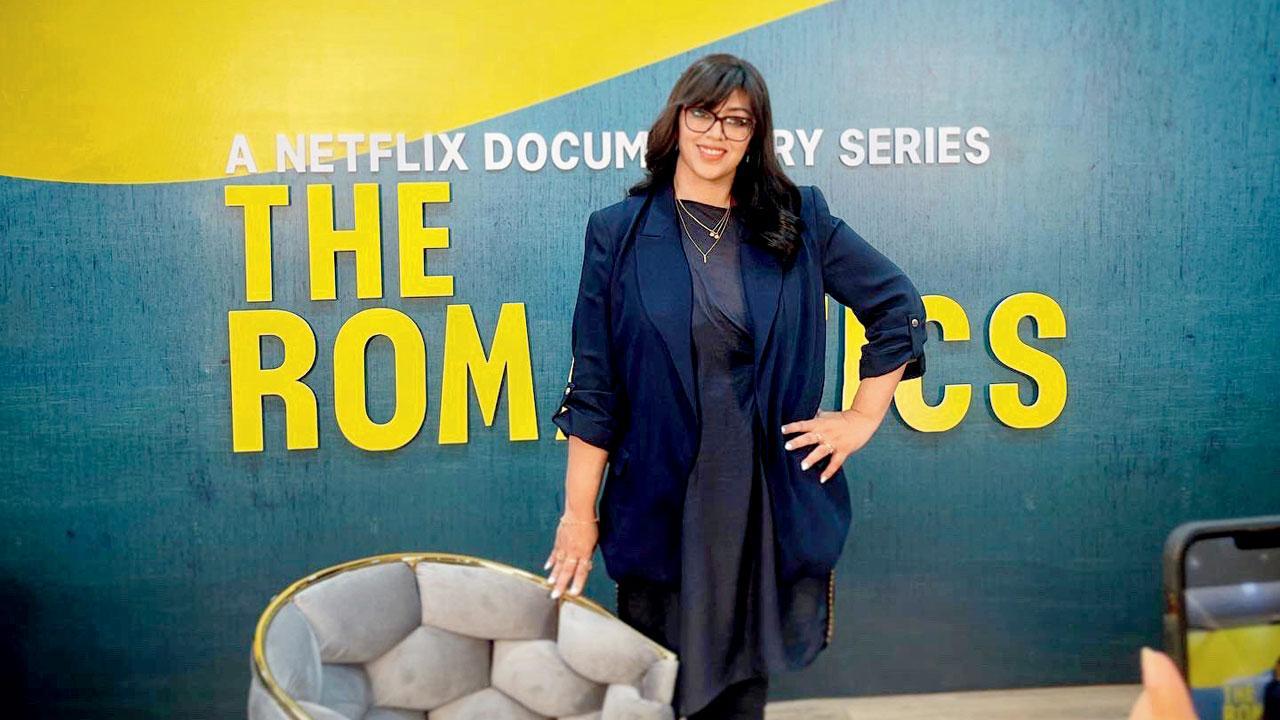 I am curious to know what US-based filmmaker Smriti Mundhra has to say, more generally, on the debate between documentary – which is a free narrative – and PR pap, or hagiography, which is a story controlled by a fan, if not the subject. Myself: Where does one draw the line?
He has, of course, countered this criticism with Bollywood's most loved studio flick, The Romantics (2023), which you'll love even more after watching the four-part series on Netflix.
Frankly, I can't see anything wrong with anything, unless it's half-truths (propaganda) or plain lies passed off as non-fiction. And people are entertained!
It's a valid debate, Smriti acknowledged, to point out how it depends on the motive/objective. Noting that the 'specific' is more of a cone through which to expand on something larger/universal, Smriti was interested in exploring Bollywood through the prism of the late, legendary producer-director Yash Chopra (1932-2012).
The intention was not to expose; It was some kind of "celebration", without, of course, "hiding difficulties" underneath. So, she approached YRF, before she became quite a global name in the doc circuit—as the producer of Netflix's superhit, unscripted series, Indian Matchmaking (IM, 2020). Also, importantly, his short doc, St. Louis Superman (2019), a great film on gun-violence and an Oscar nominee for #BlackLivesMatter (available on YouTube).
Producer Aditya Chopra. photos/twitter
Smriti's upcoming release—besides, obviously, IM, S03—is the story of a man on death row apologizing to the family he harmed. "It's light stuff," she jokes, and so the short doc won't exceed 30 minutes.
In fact, The Romantics is the only doc he's done that is purely "talking heads" + "archival material". To me, that often equates to tedious + academic, having slept through this tic-tac format for decades.
Instead, what Smriti finds to sail her through such a set-up is actually the story of a father (Yash Chopra), and his son (Uday; but more so, Aditya).
She says that all her works in one way or another concern the parent and the child. Including IM, starring the now famous 'Mumbai Se Sima Taparia'. Sima Aunty, by the way, was Smriti's own matchmaker, who briefly starred in her directorial debut A Suitable Girl (2017), which took seven years to make—originally Smriti, aged between 30 and 37 !
Read also: what are you saying, bro?
Having worked on production at the Coen Bros., Oliver Stone, and similar offices—he favored documentaries as a stepping stone because, unlike feature films, "no godfathers were needed; all you had to do was open your camera." Needed!"
But, really, what a time! His acclaimed doc debut coincided with an ongoing, global "non-fiction boom," thanks to streamers, primarily Netflix, who have brought the genre fully mainstream.
Talking about parents and children, Smriti is the daughter of LA-based director Jag Mundra (1948-2011). I once bumped into Jag at an event at IIT Bombay, chatting with Smriti before even realizing he was an alumnus.
He moved to America as an engineer – deeply infatuated with cinema – slowly making a home in Hollywood. He is best known in India for playing Aishwarya Rai in the female-in-jeopardy film, Provoked (2006).
YRF's romance with The Romantics has triggered a wave of nostalgia. The fact is, my older self—effectively the VHS generation of the '90s—owes little of its boyhood, as well, to Jag's racy/erotic thrillers, Tropical Heat, Wild Cactus, Irresistible Impulse, Monsoon (Gulshan Grover , Helen Brodie). , etc.
Before Smriti was born, her parents, the Chandras, ran what was probably America's first theater exclusively for Hindi films. This is where many Bollywood pictures, like YRF's Kabhi Kabhie (1976) went to Desi.
It must have warmed the people of YRF too, to allow them rare, full access to copyrighted footage as well as film stars, without which there is really no 'Romantics'.
And of course YRF boss, the invisible man, Aditya/Adi Chopra's first ever interview, in front of the camera! Smriti had strict instructions – everything is acceptable for the screen, but Adi will not be anywhere.
She will chat with him for "background" information. He would give her all the time in the world. He requested that his conversation be recorded, for YRF's personal archives/posterity.
"no video!" "Audio? OK." But the video team was there. "so why not?" With all that footage, Smriti said of the final cut of the film: "Anyone who understands editing knows what a risk it is."
"You weave a story. If he doesn't listen, eight-nine months of hard work is gone! I knew he was driven by creative integrity," she tells me. He let go Which means we now know what he looks/talks like!
Smriti started with a film/series on Yash Chopra – ended up with one that is more complete, and beyond her lifetime. That's how docs work—"you explore"—against fiction, which is absorbing reality, only to then reflect on it. The Romantic Ones also featured Rishi Kapoor's last interview- "They just talked for hours!"
Specifically, about what? Is there one item she wishes she could keep from everyone she's shot—"Possibly, an episode on the wall", "Actually, an episode on choreography" … "We call it, 'your Kill loved ones'; amnesia begins for what you can't use. But it's in the archives, perhaps, for another filmmaker to work on?
I get this dilemma. So we recorded this lovely hour-long chat with Smriti as an episode of the podcast titled 'The Bombay Film Story' – that's what the romantics are all about, isn't it?
Mayank Shekhar tries to understand the mass culture. He tweeted @mayankw14
Send your feedback to mailbox@mid-day.com
The views expressed in this column are those of the individual and do not represent the views of the paper.