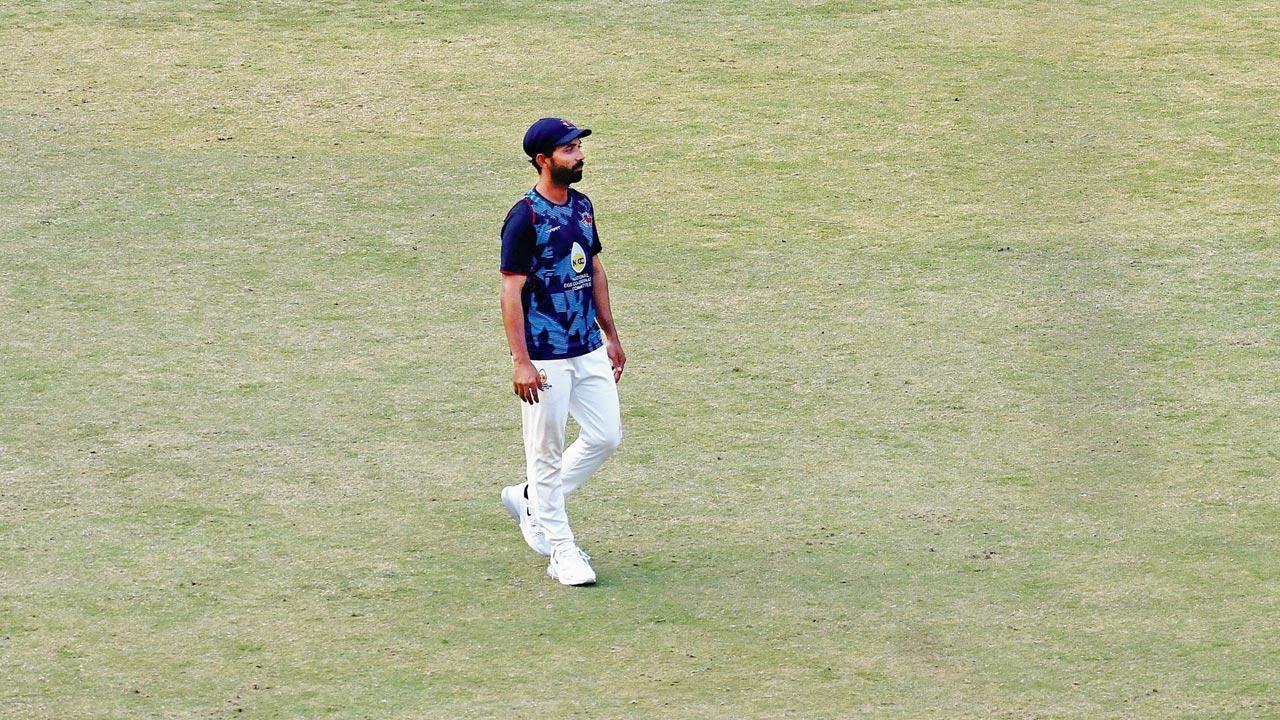 The silverware cabinet at the Mumbai Cricket Association office will not be opened to welcome the replica of the 2022-23 Ranji Trophy.
The Mumbai senior team has yet again missed out on the national championship honor of Indian cricket. The cut is deeper this season as Ajinkya Rahane's team missed the knockout rounds, which is a rarity.
Naturally, a section of the city's cricket fraternity is in shock and one can imagine what the captain and players must be going through after a very forgettable Ranji season. The last Ranji Trophy win in 2015-16 seems far away now.
Undoubtedly, he should have given a better account of himself. Clearly, he lacked the consistency to go the distance and challenge his hungry rivals. Wins over Andhra Pradesh and Hyderabad were followed by a loss to Saurashtra, a draw against Tamil Nadu, a win over Assam, a crushing defeat in Delhi and a draw against Maharashtra last week.
The loss to Delhi was a fatal blow, a crushing defeat by a team that was not expected to dominate Mumbai.
Before the first ball was bowled at the Kotla, Rahane's team had registered three wins against the winless opposition.
Also Read: City Cricket Has Lost Some Swing!
A big score in the first innings is important, but Mumbai could only muster 293, of which Sarfaraz Khan scored 125. With two Test players (Ajinkya Rahane and Prithvi Shaw) in the XI, they could have done better to grab the lead. Delhi piled on a total of 369 with efforts from Vaibhav Raval (114) and skipper Himmat Singh (85), before another storm struck. Australia- got a duck and a half-century from the blades of Rahane and Tanush Kotian, which was not enough to give Delhi a big target to chase. As it turned out, Delhi won easily, marking their last win over Mumbai at the same venue in the 1979–80 Ranji Trophy final 43 seasons earlier.
Sandeep Patil, recently aspiring to head the Mumbai Cricket Association, was out of town when Rahane's team failed to outright beat Maharashtra; The draw meant that Mumbai's Ranji Trophy campaign was truly over.
Patil called to see the results as he often does. After reporting Mumbai's fortunes, I offered to send him the match details. He politely declined my offer and I could feel the disappointment in his voice when he said so.
Patil is one of the few Test players from Mumbai to have experienced this type of Ranji Trophy 'knock out'. He was in the team in 1977–78 when the Milind Rege-led Mumbai team failed to qualify. For many years it was the only case of Mumbai
Not moving forward
It must be emphasized that he was without his Test man when Mumbai slumped badly in that 1977-78 season. Sunil Gavaskar, Ashok Mankad, Dilip Vengsarkar and Karsan Ghavri were all on India duty in Australia.
Acclaimed writer Sundar Rajan didn't mince words in his analysis published in the Cricket Quarterly magazine. He blamed the players and administrators for the infamous season, but also wrote, "Looking back, it is tempting to believe that the unseen hand of fate played a role in Bombay's misfortunes."
Rege, who appeared on my Mumbai Cricket podcast last August, was happy to set the record straight. He pointed out that the season-opener against Saurashtra in Mumbai saw no more than a day's play due to November rains. The following month, their game against Baroda at the Moti Bagh Stadium was marred by crowd disturbances. Rege also recalled how the BCCI, headed by M Chinnaswamy, turned down Mumbai's appeal for a replay.
Like Rege, current skipper Rahane may have good grounds to attribute it to factors that were beyond his control. Promising and in-form batsman Yashasvi Jaiswal was too unwell to be part of the team against Delhi (he missed the match against Assam as well). And what could have been a bigger blow to Mumbai ahead of the do-or-die last league game against Maharashtra, when run machine Sarfaraz was ruled out due to temperature.
Rahane made no excuses in his interaction with the media after the match and hinted that the players should show more commitment to the team.
The season saw an extraordinary piece of eliminations and selections. Suved Parkar scored 252 runs on his debut against Uttarakhand in the quarter-finals of last season. He scored a half-century in the final against MP. Guess when he played his first Ranji match of this season? In the crucial final league game against Maharashtra!
There are some bright spots in an otherwise dismal season for Mumbai. Sarfaraz's scores will top the list. Tireless left-arm spinner Shams Mulani has enjoyed another stellar season. Mumbai cricket is replete with tales of courage and a worthy new entrant in the book of bravery is Kotion. An injury to his right hand while fielding against Maharashtra required six stitches and he batted with great difficulty to score 93 in Mumbai's first innings.
First-innings centurion Prasad Pawar also has something to look back on with Santosh. One wonders why he was not sent out when Mumbai attempted the chase.
Ranji Trophy is the holy grail for Mumbai cricket. Failing to score a knockout is considered blasphemy. And although this situation is not unprecedented, everyone associated with Mumbai cricket has to accept the responsibility.
Pluck better next time.
Mid-day's group sports editor Clayton Murzello is a purist with an open stance. He tweeted @ClaytonMurzello
Send your feedback to mailbox@mid-day.com
The views expressed in this column are those of the individual and do not represent the views of the paper