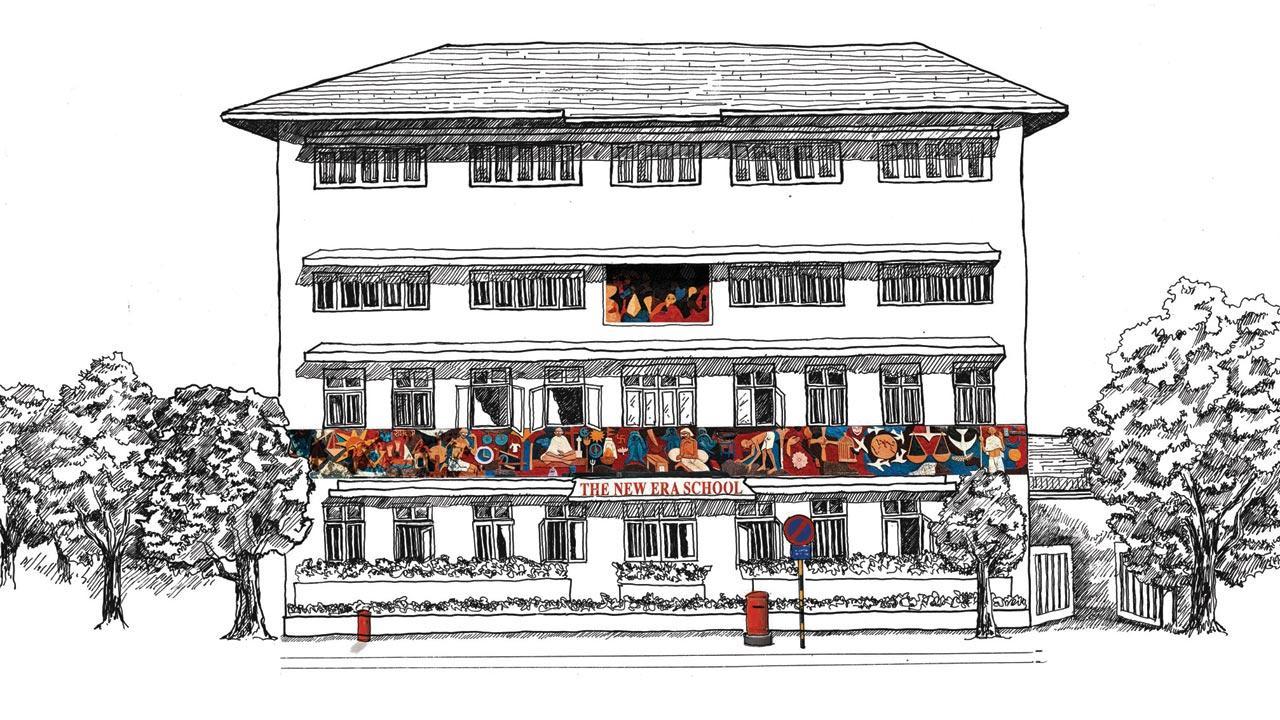 I loved school so much that when I was sick I pretended to be good so that I wouldn't miss going. Not an unimaginable move when you realize the philosophy sculptor Ruget, now an art director in London, went to The New Era School.
Guided by visionary headmasters, the essentially child-centred and life-affirming ethos of this school captivates students even during the holidays. It happily embraced progressive ideas, abandoning early 20th-century authoritarian notions of education.
Art teacher Dinesh Shah working on the facade mural in 1969. photo courtesy / Paula Mariwalla
Exemplary teachers from Rajpipla in Bharuch district, Maganbhai Vyas (widely known as MT) and his brother Chandulal, were heavily influenced by Annie Besant's Theosophical Society. Trained in his worldview by George Arundel at Adyar, he started an ashram school on the banks of the Narmada in 1922. Two years later, MT attended the London School of Education.
Returning was inspired by MT Gandhiji's Nai Talim (New Education). Aligning their teachings with the wider lessons of Shantiniketan, the Vyas family established the Co-educational Fellowship School in 1927 and near Hughes Road, New Era in 1930. MT declined the post of Deputy Director of Education, only then offered. to the Brits. He was determined to spread strong schooling in the indigenously splendid political and artistic soil.
Teacher Somnath Patel, Founder Principal Maganbhai (MT) Vyas and Music Head Pinakin Trivedi from Shantiniketan. photo credit/The New Era Odyssey
The New Era incorporated fine influences from Tagore's theories, Gandhi's secular nationalism, Besant's reformist ideals and Maria Montessori's teaching methods, drawing his philosophy away. Fortunately, Chandulal's son Kantibhai and his wife Bhanuben carried on the legacy of their enlightened ancestors.
The E-shaped design of the building – surrounded by the hanging gardens and the lush green hills of the historic Gowalia Tank Maidan – reflects the openness with which the institution nurtured the lives of thousands of young people in a completely casual, happy environment.
Counselor Zareen Zathar and librarian Raden Vanamali (second-third from left) at the Gowalia Tank Grounds on Sports Day
"When the iconic frescoes on its façade came down, so did the spirit of the school," says Paula Mariwalla (batch of 1981). Commitment embodied in. The prestigious IB organization of Geneva is astonished that this so-called modern pedagogy was practiced decades ago in a bilingual Gandhian school without pretense or fancy labels.
The sound of its large brass bell echoing in the Gowalia tank at 10 o'clock in the morning soon called for an awakening. From that ground (hence the August Kranti Maidan) the sound of "Quit India" was heard loudly, which was a turning point in the freedom struggle. In its wake local acts of disobedience increased. Revolutionaries Usha Mehta and Rohit Dave used to run a secret radio station from the school.
Principal KC Vyas with Jayaprakash Narayan
Raden Vanamali (1955) was from a Bohra household who was determined for independence. Her mother changed clothes for Khadar, which she proudly wore in the processions of the movement. After resting for a while in the bungalow of the Salt Satyagrahis, his grandfather went to Dandi with the Mahatma.
Vanamali's parents enrolled her in the new era against the joint family insistence on English medium schools. "That decision paid rich dividends. The Gujarati language exposure took root in me. Parsi teachers enjoyed English literature. Even students from professional backgrounds came without the lucrative lifestyle stuff."

In later years (1967–97), Vanamali, the school librarian, says, "It took longer to get information, today a touch opens the windows. Our graded fiction was selective and varied. Social Romance by Ramanlal Desai KM Munshi was as popular as his nationalist works.
Describing the fascination of the discovery by traditional and contemporary writers, Paula Mariwalla said, "We take pride in reciting Kalapi and Meghani as well as Keats and Wordsworth, The Scribe and the Comet by Ayn Rand and Somerset Maugham. study together."
An appreciable number of the first are inextricably linked within the socio-cultural fabric of the school. Approved by UNESCO as an affiliated school in 1957, New Era was listed among the best in Asia. The following year MT Vyas became the country's inaugural recipient of the Padma Shri for distinguished services in education.
The trauma of World War II led to efforts to promote universal brotherhood among disparate peoples. Kantibhai Vyas visualized the coordination. Similarly to sensitive schools partnering with the motto "We are one", the program extended from field trips in Vadodara to student camps in Scotland.
"Unity – the spirit of harmony – imprinted strongly. It was a curse to treat any Indian as inferior to other Indians," says journalist Salil Tripathi (1977). "Kantibhai often reminded us, we were Maharashtrians who spoke Gujarati. The subtle difference confirmed that we did not live in the island of Gujratita. The Sarva Dharma Prarthana Friday saw a large number of prayers from every community in Hindu and Jain schools.
The evening after the imposition of Emergency in June 1975, Tripathi and his friends went home raising the slogan of Liberty Equality Fraternity. "We must have seemed foolish to many and a Parsi uncle told us to be careful. But the teachers had already corrupted our minds by talking about the French Revolution."

It was about thriving without unnecessary pressure on the academic front. Transfer to grades from the normal system of marks, no exam was prescribed before Class 8. To put an end to rote learning, Kantibhai introduced open book examinations in the 60s. The surprise test reduced the preparation anxiety and an honor code instilled so much trust in the students that no invigilator could monitor the hall for the crucial class 10 preliminary exam.
"Ours was a laboratory of educational experiments," declares Dinesh Buch, a teacher of social studies and mathematics. "New Age Montessori was the first to follow concepts and modern mathematics. We undertook to adopt a combined approach to social studies, rejecting geography-history-citizen science as separate disciplines. Unlike most schools , Field excursions and picnics were deliberately organized in monsoons. Children complaining about the loads of protective rainwear parents provided for going out were delighted to hear Kantibhai reassuring, "No harm, who is forcing you to wear this?"
Mountaineer Harish Kapadia (1962) attributes his love for adventure amidst nature to those trips, his passion for history to Daulatbhai Desai. "Our teachers genuinely molded interests. They handled the pranks, yet remained disciplined. The protest was healthy. Caught talking about cricket scores in class in class, I could reasonably argue."
High on anti-regal fervor, the school replaces the classic Englishman's game—the singularly one—with an American one. "While dismissing cricket as a five-day waste fad that India could not tolerate, Kantibhai suggested changing the baseball bat," says Tripathi. "My mother believed that cricket was an addictive game, the British kept us behind. My brothers and I pushed Gavaskar after seeing him on TV."
According to Nandita Jhaveri (1972; Vice-Principal 1994–2005), the sporting scene changed over time into "ordinary, democratic, secular schools that are deliberately practicing gender equality". His mother worked as a capable wicketkeeper for a few cricket teams.
The melodious morning gathering resonated with Rabindra Sangeet by Pinakin Trivedi of Shantiniketan, who composed the school anthem, and Shastri Sangeet by Prabhakar Joglekar. Among the publishers who addressed the gathering were activist Ravi Shankar Maharaj, patriotic poet Sarojini Naidu, musician Zakir Hussain and dancer Rukmini Devi Arundale, apart from renowned writers and singers.
Regarding the unique intellectual stimulation and emotional nurturing of the formative years here, Ami Kantawala (1988), Adjunct Associate Professor at Teachers College, Columbia University, says, "The New Age established the principles of cultural identity and inclusivity. Art was contained in every subject. It aroused our curiosity, encouraged deep thinking while making connections in various fields. Creativity is placed at the heart of collaborative projects allowing students to make the classroom a deep space for possibilities."
"Other schools called them competitions," recalls Paula Mariwala, attending art shows at Mani Bhavan on January 30. Our art teacher Dineshbhai Shah did not believe in competition in creative processes. He refused to send us. It was to be an 'art festival' or an 'event to celebrate Gandhi'. The new age taught us to intercede, to be outward. Perfectly pronounced English and in a society obsessed with ranks in public examinations, this school in the heart of South Mumbai did not measure success against such parameters. ,
His views resonate with a dazzling roster of alumni including art scholar Devangana Desai, painter Ila Pal, composer Vanraj Bhatia, broadcast hosts Hamid and Amin Sayani, actors Shammi Kapoor and Satish Shah, stockbroker Hemendra Kothari, Nykaa founder-CEO Falguni Nair . and corporate lawyer Bijesh Thakkar. Like the faithful Marivals, there were unbroken lineages. Vice-Chancellor Jaisingh Mariwala (1949) claims, "Always a Mariwala in the new era, about 60 of us passed from 1932 to 1984".
Writer Aban Mukherjee (1969) remembers his parents, Dr. Kaikhushru and Parin Lalkaka being repeatedly asked the question – Why New Age? Surprised by Parsi relatives, he sent his daughter to a mainly Gujarati school. "We really 'got in translation'," she shared in an article for Parsiana titled The End of an Era, once the school closed in 2018 due to corporate takeovers. "I read Jules Verne, Victor Hugo and Leo Tolstoy initially in Gujarati, then briefly in English, and finally in short form. We ate Bengali novels and cried a lot over the sad stories of Sarat Chandra."

Pulin Bihari Dutt of Shantiniketan was the first to head the art department, urging unbridled creative expression. When Mukherjee finished schooling, Dinesh Shah took over – "Our drawings were torn beyond the bounds of large sheets of paper lying on the floor. No restraining hand stopped us."
Being an outspoken, quarterly bi-monthly magazine, Pratyancha allowed criticism and debate on any issue the students wanted
To discuss.
In the years since we stepped onto campus, generations of alumni and faculty members have acknowledged that they never pass Hughes Road without a deep sigh. Each intrinsically joyful, blessed new age!
Writer-publisher Mehr Marfatia writes fortnightly on everything that makes her love Mumbai and love Bombay. You can contact him at meher.marfatia@mid-day.com/www.meher marfatia.com