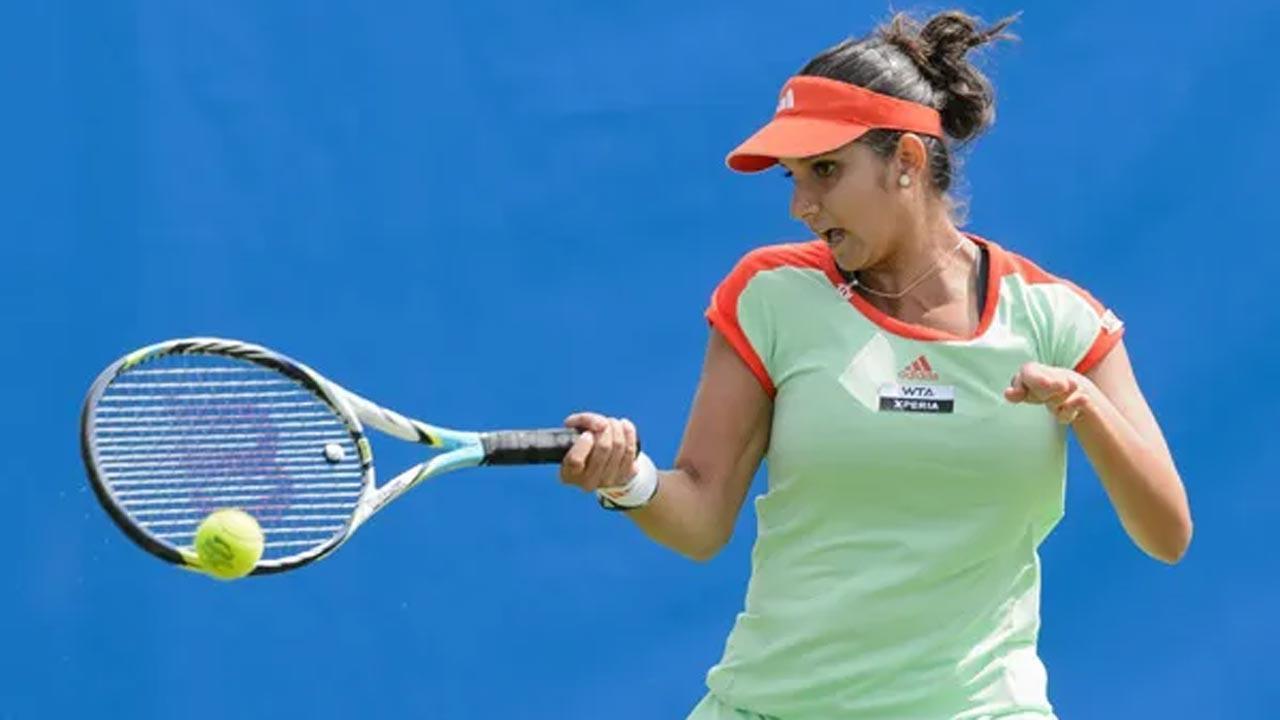 This columnist might call himself a culture and heritage nut, dripping with all the nostalgia and hat-tips for this great city's coolness quotient. But the game's addicting personality takes over from time to time when the ink and flack calls for it. Add to that list when champions decide to retire.
For most of the past week, I was torn between keeping track of scores at the Australian Open as well as the ODIs between India and South Africa. The latter didn't go in India's favour, but it didn't hurt even half as much as I did when I heard Sania Mirza announced that this would be her last year on the circuit.
I solicited Ace Against Odds from my bookshelf to recount those moments during an interview with her in 2016 about this fascinating, authoritative biography; It was a telephonic chat as she was in the middle of tours at the time of release. Reading the book felt like a teaser for the actual blockbuster. Sania was whole hearted, and at her best.
I went back to this one particular section of the book from 2010. She wanted to retire after a serious injury and went into depression. Even five-six years ago, it took a lot of courage for a female sports champion to admit to a position which is often equated with weakness. She grew out of it and accepted that tennis was not going to be a part of her life. Later, as his wrists healed from rehab, he dabbled in it for fun, building up his game, and working on his mental strength. Soon, she came back to win medals at the Asian Games and Commonwealth Games. "That phase brought me back to life," she admitted during that chat.
There were other points in that interview that struck a chord. Around that time, a famous male TV journalist caused a stir when he asked her about "settling down," possibly an oblique attempt to ask why motherhood wasn't on the cards. Sania hit a brilliant forehand like her idol Steffi Graf: "I was not offended at his question. All the credit for apologizing on National TV goes to him. I do not need any children to prove that I have settled down. Kids aren't everything and kill the idea." But she never ruled out starting a family with her cricketer husband Shoaib Malik. "That option is mine," she reminded me. Women to Tennis Star Received a plethora of mails thanking him for speaking on behalf of him.He would have liked to have asked a Sania Mirza on this subject too; her reply would have been like a soothing balm to those ladies.
This brings me to his longevity, as a resilient, reassuring symbol on the field. As women's badminton, boxing, wrestling and cricket winners emerged, every Grand Slam, Olympiad or Asian Games appearance reminded me of their impact and impression. While the Indian Express (Leander Paes-Mahesh Bhupathi) was garnering accolades, she also brought home the silverware, and soon, it was mentioned in the same breath. Sania was always around; Hardcore fans never thought that she would retire. She had one of my favorite frames in recent times with her son Izhaan at last year's Wimbledon. Cameras focused on the little munchkin cheering his mother from the shore. As she wrapped up every doubles match, she would run to hug him, and lead him around the court as fans shook mother and son's hand. In many ways, she would probably be trying to normalize things for him.
She did it all with panache—whether it was winning titles, motherhood, and being a public figure (including marrying an equally famous player from across the border). Sania always believes in fighting adversity. Even the title of his biography includes those words. a memorable quote [apologies for the endless feeding off from that interaction!] From that interview was, "Aren't we (women) fighting this all the time? Our lives are a little more difficult. Be it tennis players or you as journalists. Questions are always asked about our choices if they are a stereotype." I don't fit in. I want to fight it."
Beyond those columns of newsprint and airtime wasted at the pin-size of her new nose or the hemline of her on-court outfit, here it was the ambassadorial and fearless voice for women's empowerment in India that followed. He showed that it is possible to cross two worlds and be victorious in both. So, when she announced that 2022 would be the last year of her tour, it left us wondering about the void she would leave behind, and her legacy that inspired and opened doors for Ankita Raina, Karman Kaur Thandiy lamps. How many women were inspired by the court, we will never know. And that's the hallmark of a true icon – to be a role model in and out of the arena.
Will miss you, Sania.
Mid-Day's Features Editor Fiona Fernandez loves the sights, sounds, smells and boulders of the city… wherever the ink and the swagger takes her. He @bombayana. tweeted on
Send your feedback to mailbag@mid-day.com