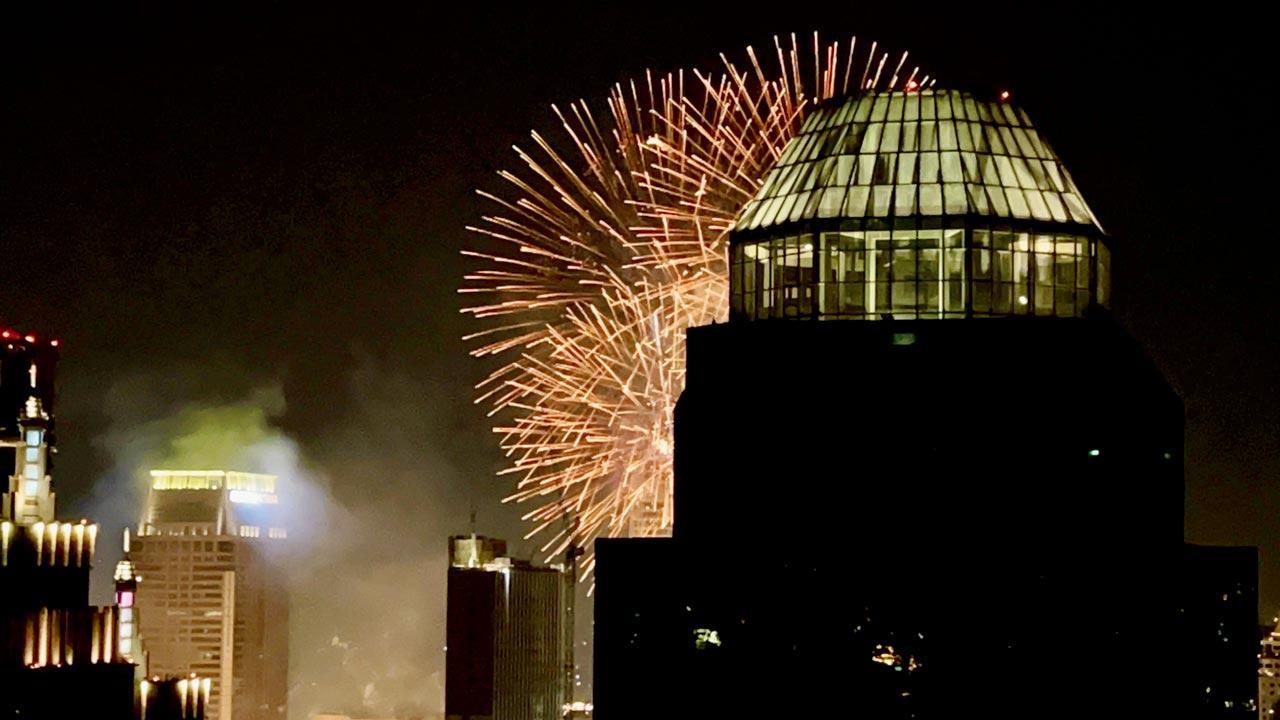 My plan was to start early, skip the countdown and the crazy hooting, and just aim for a good night's sleep as 2022 approaches 2023. The roof deck of my condo. Bangkok usually has two spectacular mall fireworks displays, one at IconSiam on the river and the other at Centralworld in the business district. Both are visible from my building, with a panoramic 360-degree view of the rest of the city.
As 2022 came to an end, I saw something I hadn't seen in my 16 years in the city—fireworks going off on hundreds of rooftops all over Bangkok. From my height and distance, they looked like twinkling stars and tiny comets. The city was twinkling, as if happy with something.
The real reason this sight surprised me so much is that January 1 usually means nothing to Thais; Their new year begins in April with the festival of Songkran. Yet it seemed like everyone was ringing in 2023.
I, too, felt optimistic about 2023, full of an inappropriately sweet glow and a belief that this year would somehow not be so bad, a certainty that something better might be around the corner.
Read also: Guide to Love in Hindutva's India
So—do we have reason to feel hope and optimism in 2023? Is there really a kind of silence in the whole world?
The last two years have sucked. No one disagrees with me on this. A virus that just won't stop if everyone hides in their homes. Meanwhile, around the world, it felt as though people had surrendered what little they had left after years of deception and harmful half-truths from politicians, marketers and influencers.
The authoritarians—Bolsonaro, Xi Jinping, a clown named Boris Johnson, a grifter named Trump, and at least one who cannot be named—are laughing from their rooftops, firing machine guns blank in the air. While the world watched, a land-grabbing Russian strongman named Putin decided to take over – just like that – Ukraine. The world again went to war. The word nuclear was pronounced.
We've heard that democracy is in danger, that the planet is doomed, that economies will crash, that lies will be the new truth, that this is what the beginning of the end looked like.
I've felt the resignation and anger of people at parties and coffee shops and the chilling silence of arrogant politicians who knew that the best way to feed violence and bigotry was to look the other way when it happened. Go
We have seen the media choke on its indignation and indignation, and then meekly swallow the spit and descend into self-censorship.
So here would be a good question – why are my friends in India full of unexpected hope? And why were the rooftops twinkling all over Bangkok?
Looks like 2022 was the year the general, overwhelmed, downtrodden, disheartened masses of planet Earth got tired, fed up of bullying. I first noticed this when Brazil's coward Jair Bolsonaro, the president who decided to set fire to the Amazon forest and sell trees for profit, was voted out of power by popular vote. beyond belief.
In the recent United States midterm elections, voters made it clear that they had had enough of a bully former president who lied about everything and incited murderous violence to stay in power. In state after state, Republicans, especially those backed by Trump, fell like dominoes.
In Iran, where anger waits patiently for decades and then emerges like a tsunami, women and children take to the streets—not for days or weeks, but for months, demanding complete regime change and independence from the ruling clerics doing. The Morality Police could not stop them with their guns and gallows.
Millions of Chinese people stood up and said no to Xi Jinping, one of the most feared men in power today. No no no zero-covid and more endless, punitive lockdowns. The world's most populous country chose to be ravaged by a virus when pushed by its heavy-handed supreme leader.
Putin could not crush Ukraine. Mighty Russians are being whipped and wet and thundering, while Ukrainians refuse to be governed.
In India, a young man decided to walk for unity from Kanyakumari to Kashmir—and the Bharat Jodo Walk has become a magnet for people of every dress and colour, caste and creed, who have had enough of division and lies. The sheer speed and size of the Gandhian movement, clearly growing before our eyes, beyond politics, parties and ego, is breathtaking.
I'm reminded of Andy Dufresne, the prison philosopher in the movie The Shawshank Redemption, who said: "Hope is a good thing, perhaps the best of things, and no good thing ever dies."
What if we really have turned a corner?
You can contact CY Gopinath at cygopi@gmail.com
Send your feedback to mailbox@mid-day.com
The views expressed in this column are those of the individual and do not represent the views of the paper